Following a weekend of bursting firecrackers to celebrate Diwali, residents of New Delhi woke up on Oct. 31 to some serious smog.
That's the result of a massive increase in particulate matter in the national capital following all the festivities, which pushed Delhi's Air Quality Index (AQI) into the red zone. The System of Air Quality and Weather Forecasting And Research (SAFAR) has issued a "severe" advisory, warning locals to avoid any physical activity outdoors on Oct. 31 and Nov. 01.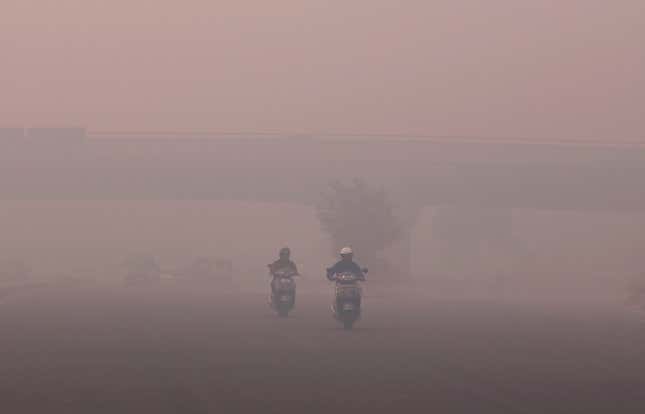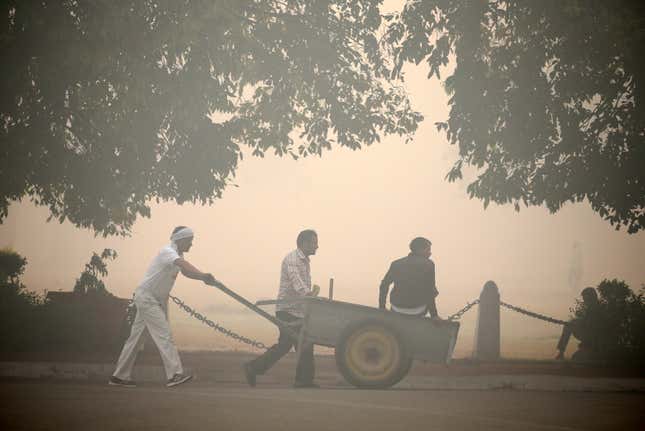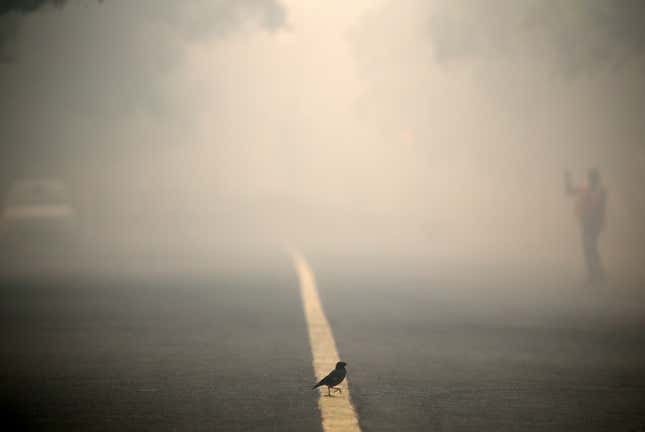 On Oct. 31, SAFAR's data for Delhi shows that levels of PM10 and PM2.5, two types of particulate matter, are at 785 µg/m3 and 491 µg/m3 respectively. That's far above the healthy limits of 0-100 µg/m3 and 0-60 µg/m3 respectively.
As a result of the Diwali festivities, PM2.5 levels hit an astonishing 1200 µg/m3 on the night of Oct. 30, according to Usman Nasim, an air pollution researcher at the Centre for Science and Environment.
Delhi is already one of the world's most polluted cities. But beyond its own air pollution Delhi also has to contend with the chemical residue that blows over from states such as Punjab and Haryana, where farmers have been burning the remnants of crops in preparation for the next sowing season.
"Whatever happens in the neighbouring states, Haryana, Uttar Pradesh, or Punjab, they have effects on Delhi's air," Nasim said, noting that the city's location makes it vulnerable to particulate matter from beyond its borders because of the direction of the wind.
And current weather conditions in Delhi are complicating the situation. Because of the moisture in the air and relatively stagnant wind speeds, the extra particulate matter isn't dispersing as quickly as it should.
SAFAR expects the dangerously high levels of particulate matter to continue through Nov. 01 and predicts that things won't improve significantly until the end of the week, leaving locals at high risk of respiratory diseases.
Here's SAFAR's yearly comparison of air pollution levels for PM10 and PM2.5: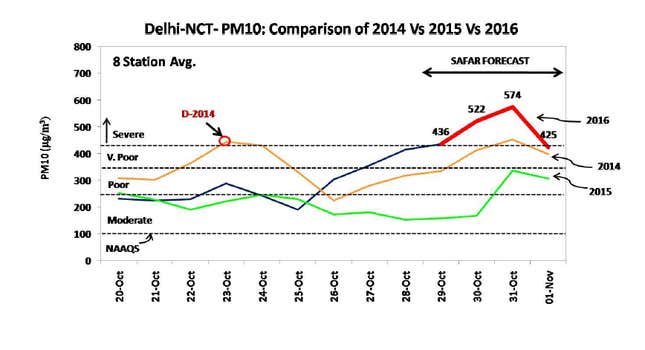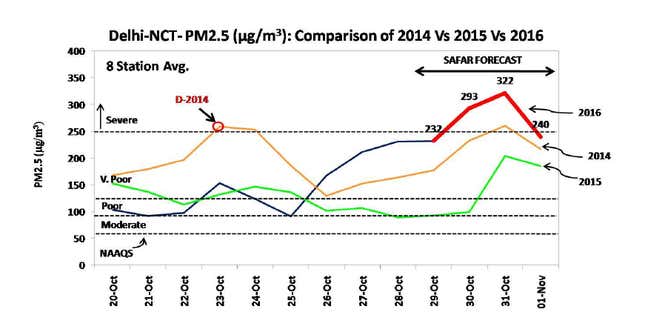 With growing awareness of the adverse effects of firecrackers on air pollution, sales have fallen around 20% year-on-year during the past five years, according to The Associated Chambers of Commerce & Industry of India. But the results of this year's Diwali celebrations show that even bursting fewer firecrackers can have deadly results.