In 2008, a few months before millions lost their jobs in the global economic crisis, Vijay Pasupulati took the biggest risk of his life: he quit his high-paying corporate job.
By then, Pasupulati had been a vice-president at Goldman Sachs in India for four years and was among the few handpicked by the New York-based investment bank to set up operations here.
"We were riding high. Business was well and I was doing well. That's when I decided to quit," 43-year-old Pasupulati said in an interview on Nov. 22. "I had this urge to do something on my own." So, he shifted from Mumbai to Hyderabad, his wife's hometown, to become an entrepreneur. "I have always believed we shouldn't be a small fish in a big pond. But rather, a big fish in a small pond."
The small pond that Pasupulati wanted to swim in and explore was India's online education sector.
"Education is the one sector that can create an impact, and at the same time be a business opportunity," Pasupulati explained.
Eight years on, Pasupulati's gamble seems to have paid off.
His company, GreyCampus Edutech, is India's fastest-growing technology company, according to a study by consultancy firm Deloitte. The Hyderabad-based startup provides online training for professional certification courses across areas such as project management, complex data, service management, and quality management.
Between 2013 and 2016, Pasupulati's company grew by a staggering 1,622% in terms of revenue. The Deloitte study required companies to have a base year operating revenue in excess of $50,000.
Small town boy to Wall Street
In many ways, Pasupulati's has been the quintessential Indian middle-class story.
Pasupulati's father was employed with Tata Steel in Jamshedpur. His mother was the vice-principal of a local school. "My interest in the education sector was inspired by my mother," Pasupulati said.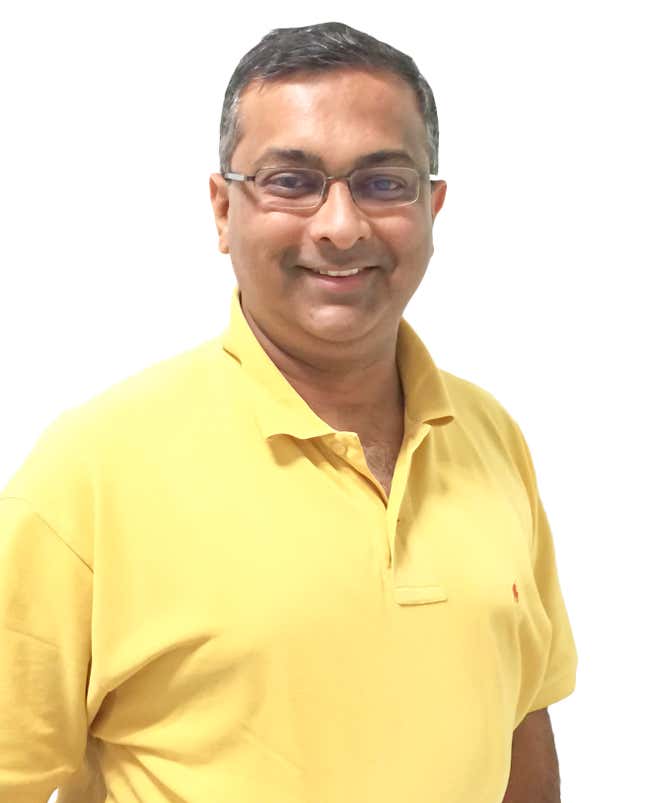 A good student, Pasupulati was fascinated by computers and graduated with a degree in computer science from the prestigious National Institute of Technology in Warangal, a town in Telangana. "That was the time email was fairly new and we had one common email for the students of the entire college. So if someone sent us an email, it was read thoroughly before being printed and passed on to us," said Pasupulati.
After graduating in 1996, Pasupulati was picked by Tata Consultancy Services, currently India's largest IT outsourcing firm, for a job in Singapore. A few years later, he moved to Citibank and then to New York to work for the Zurich-based Credit Suisse. In the meantime, he pursued a part-time MBA at New York University's Stern School of Business. By 29, he was vice-president at Credit Suisse.
In early 2005, Pasapulati joined Goldman Sachs in New York and was soon sent, along with nine others, to India to set up operations. "We worked from under tin roofs in Bengaluru to build what has now become Goldman Sachs' second-largest office after New York," said Pasupulati, who set up the technology needed for the trading floor in India.
Hits and misses
By 2008, he was bitten by the entrepreneurship bug, and quit his job. "I knew I wanted to be in the education space. But it took us a long time before we finalised and locked into a model that could be scaled up," he said.  The same year, Pasupulati registered GreyCampus in Hyderabad. He also brought on his friend, IIT Kanpur alumnus Sarath Sura, as co-founder. Sura had earlier founded Sierra Atlantic, an IT firm later sold to Hitachi.
Much of the initial funding came from World Bank. The Washington DC-based organisation had a program called Sponsored Research and Development (SPREAD) in partnership with ICICI Bank, which offered grants between Rs1 crore and Rs10 crore to technology businesses.
Initially, the company developed a virtual classroom under the name Learningware.in where it offered classes for engineering students. However, despite a user-base of some 30,000, Pasupulati realised that Indians weren't willing to pay for such services at that time.
The big break finally came in 2013. The company tied up with some of the world's best certification programs to offer online training programs and raised money from a few Hyderabad-based angel investors. GreyCampus would develop the modules and content that would be empaneled with the certifying agencies, but the intellectual property rights remained with the company. The certifying agencies included the International Association for Six Sigma Certification and Project Management Institute (PMI).
"We sensed an opportunity, one where we could develop a product that could be driven from India and sold anywhere in the world," said Pasupulati. Today, GreyCampus offers training programs on Java script, cloud computing and Adobe, among others.
It has trained some 30,000 professionals across the US, Middle East, and the Asia-Pacific regions. While some of the programs cost $400 for a few sessions, others are also offered at $40.
"Even today, most of the certification programs are run by brick & mortar companies," reckoned Pasupulati. "They probably have 75% of the market and the online companies haven't been able to scale up as much as they wanted to. So that's where the opportunity lies for us."
Pasupulati's competitors in the online certification space currently include homegrown players such as Simplilearn and Talentedge, as well as global players like Coursera. "This industry is still in its early stages," Aurobindo Saxena, the head of education practices at consultancy firm Technopak, said. "We need to wait for a few years to know how useful these certification courses are to a professional. Credibility is the key to the success of these companies."    
Next stop: Test preparations
Over the past few years, the online education sector has caught the attention of investors.
This year, private equity firms pumped in $208 million into the education sector. Most of this went to the online space, which is expected to be worth $70 billion by 2017. The kindergarten-to-grade 12 range is estimated to comprise around 40% of this.
"What was not possible two years ago is entirely possible now," said Pasupulati. "Ease of access to the internet has improved so much." With growing smartphone penetration, GreyCampus has also been building products that need much lesser bandwidth.
The company now plans to launch another portal, Fabmarks, through which it will focus on providing test preparation content and training students for various exams, such as GRE, GMAT, and SAT. Pasupulati sees a huge market for online test preparation in the coming years. Already, Byju's, an online education portal, has clocked revenue growth of 470% in this space in the last three years, according to Deloitte.
"There is huge potential that we are seeing in these sectors," Pasupalati said. "We have already built up a technology platform that will help us adapt to new requirements." Soon, GreyCampus will introduce a language certification and compliance training programs too.
So how will he fund these new projects? "We are about to raise our series A funding soon," said Pasapulati.
And that shouldn't be a difficult task. "The online certification program is asset-light and therefore a low-hanging fruit. That has also raised tremendous interest from investors," said Saxena.