The world's fastest-growing major economy has a serious problem when it comes to getting women to join the workforce.
India's female labour force participation rate is just 27%, one of the lowest in the world. The dismal number is the result of persistent gender inequality, as well as a lack of technical skills and jobs for women. And that's why, 83-year-old Ela Bhatt has dedicated her life to fighting for change.
In 1972, Bhatt founded the Self-Employed Women's Association (SEWA), the world's largest trade union (pdf) for economically backward and unorganised women workers in India. Since then, she's been working to provide women with social and financial security, becoming a crusader for women's economic rights. Bhatt was recognised for her efforts with the Padma Bhushan in 1986, one of the country's highest honours for civilians.
Her organisation provides benefits to promote income, food, and social security, including healthcare, loans, childcare, and shelter, to over 1.6 million women workers. These include street-hawkers and construction workers, as well as agricultural labourers and home-based artists.
SEWA's main goal is to engage women in full employment. "And by full employment, I do not only mean a job, but also work security, income security, food security and social security," she said in an interview in 2011.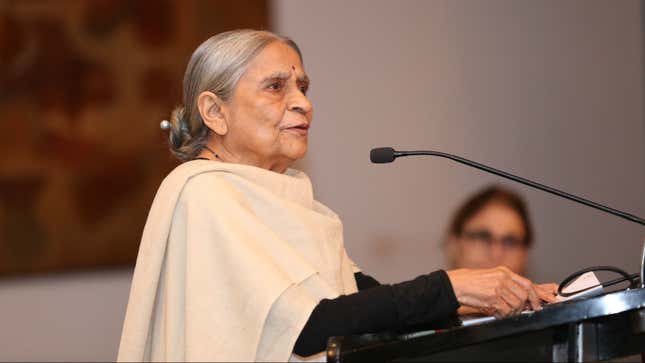 Estimates by the International Monetary Foundation (IMF) suggest that if the female workforce participation rate could match the rate for men in India, 217 million additional women would be working in the country, boosting economic output by 27%.
But Bhatt understands that getting more women to work is no easy task, given the many social and economic obstacles that stand in their way.
Where are the jobs?
Despite rapid economic growth and improved literacy rates, India's female labor force participation has actually declined over the last two decades. Conservative social norms are partly to blame, restricting women to familial responsibilities and denying them an opportunity to work outside their homes. But according to Bhatt, the decline in economic activity across key sectors, such as agriculture, is also part of the problem.
"I think while the service sector has grown, agriculture (and) those very basic employment sectors, they are getting smaller and smaller," Bhatt said in an interview to Quartz on Dec. 22.
With a shrinking agricultural economy, labourers from rural India are migrating to small towns and cities in search of work. In 1994, 61% of the country's total population was employed in agriculture, according to data from the World Bank. But by 2010, the number declined to 51%, as India began shifting from an agrarian economy to an industrial one.
When it comes to finding non-agrarian jobs, many women find themselves unable to adapt, lacking training in the new skills that are required.
"There are many types of technology that women are not able to adapt to. They will adapt, but the infrastructure hasn't reached them because of little public investment," Bhatt said.
Unrecognised labour
Another big concern, according to Bhatt, is that women's work often goes unacknowledged. Various studies show that women in India are largely employed in informal or low-skill sectors, such as domestic work, where incomes are low and benefits limited. The result is that their labour is unrecognised in the formal economy.
"So many types of their work is not even recognised as economic activity…" Bhatt said, explaining that if a woman was milking a cow, for instance, her contribution won't be recorded as work, even though it certainly added to the country's GDP. "For those women, the perception is all this kind of work is not work, because men do not perceive this kind of work as a job," she added.
The long road
For all of Bhatt's skepticism, she does acknowledge that there is a growing willingness among women to work and be financially literate, and that's a good sign.
"What has changed today from a decade ago is that today's woman is very eager for anything…" Bhatt said, explaining that women in rural areas are far more exposed now to trends and opportunities. That has made them more interested in being financially independent.
But Bhatt is convinced that it's going to take a lot more investment to help these women join the work force and stay there, closing the gender gap in labour for good.
"I don't see any investment in engaging such kind of women, educating such women to be involved in (the) social and economic activities of the country…" Bhatt said.