A survey of the broad themes that animated Bollywood in 2016 reveals that biopics are here to stay—but only the sanitised ones. Demonetisation did affect collections, especially at single-screen cinemas, but even before the decision, the Hindi movie trade had learnt that audiences and their money were not so easily parted if the film wasn't worth the trouble. Sequels got more popular. Censorship continued unabated. Filmmaking smarts improved, and realism became even more deeply entrenched.
The biggest controversy of 2016 wasn't the public row between alleged ex-lovers Kangana Ranaut and Hrithik Roshan. It was the banning of Pakistani artists and the burden of nationalism imposed on entertainers. The year ended with a well-directed but mildly worrying movie about a man whose authoritarian personality proved to be the factor that earned his daughters sporting glory. Dangal is the last release of 2016, but it is also a sign of things to come?
The cash crunch arrived early in Bollywood
Is the studio system dying in Bollywood? It isn't and won't, but months before the Narendra Modi government imposed demonetisation on the country, the Mumbai film industry experienced a financial crunch that was a result of its own making. Ruinous greenlighting decisions resulting in bad movies finally caught up with A-list players such as Disney, Eros Entertainment, and Balaji Telefilms. Disney released the dead-on-arrival turkeys Fitoor and Mohenjo Daro and relied on Hollywood produce (The Jungle Book) to salvage its reputation. Balaji Telefilms withdrew from film production after the non-starters Kya Kool Hai Hum, Azhar and A Flying Jatt. Cinestaan burnt its fingers with the star-crossed romance Mirzya.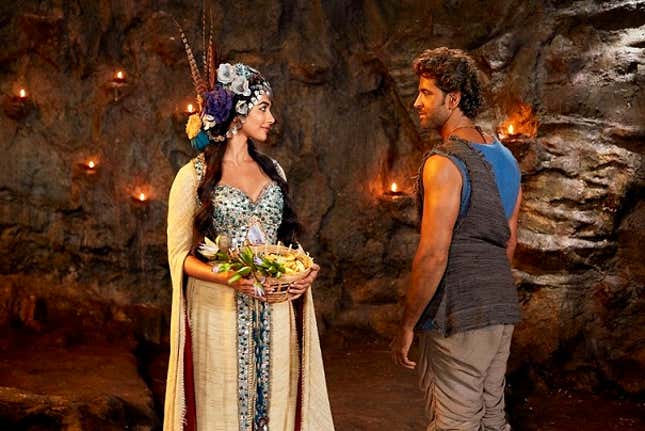 The business of cinema is suffering from a combination of weak scripts, overpaid stars, budget overruns and rising movie-going costs. Dubbed Hollywood films with cutting-edge visual effects provide metro dwellers with alternatives to Bollywood. The movies that worked in 2016 followed one of the oldest truths in the trade: if the script is strong, everything else falls into place. Big Bollywood is never going to collapse, but it is doing itself the biggest favour by not throwing bad money after bad.
All rise for the glory of the nation
The Supreme Court order that the national anthem must be played before every screening in movie halls was greeted with schadenfreude by residents of Maharashtra, where the practice has been in place long enough to invite heckling of and outright violence against dissidents.
Heightening jingoism during peacetime, one of the pet projects of Hindutva, has reached and breached the famously cosmopolitan and tolerant Hindi film industry. Anupam Kher, Abhijeet, Madhur Bhandarkar and Vivek Agnihotri are among those who represent the unfiltered and brutish face of Bollywood, and perhaps there is some comfort to be had from the fact that they are inconsequential players.
Yet, Bollywood has learnt the hard way that speaking its mind will invite a vicious backlash and affect box office business. The Khan superstars remain particularly vulnerable to attack because of their Islamic faith, and many others who dared criticise or venture a mildly different opinion on current topics were instantly torched. This has taken its toll. For instance, Aamir Khan, who was vilified in 2015 for suggesting that the attacks on writers had spooked his wife Kiran Rao so badly that she wanted to leave the country, has recently been championing Narendra Modi's highly contentious demonetisation decision.
The terrorist attack on an Army camp in Uri in September, the swift Indian response, and the hyper-nationalism that followed resulted in a ban on Pakistani artists in Hindi films that is unlikely to be lifted for a long time. The film that came directly in the cross-hairs of ultra-nationalists, Ae Dil Hai Muskhil, was released only after its filmmaker, Karan Johar, offered a grovelling apology.
Of all the images rolled out by the Mumbai dream factory in 2016, the video of Johar offering proof of his patriotism was unforgettable—and tragic. The restrictions on Pakistani artists is the most far-reaching and depressing of all the Bollywood controversies of the year, including the face-off between rumoured ex-lovers Kangana Ranaut and Hrithik Roshan; the non-issue of Tanmay Bhat's Snapchat imitation of Lata Mangeshkar; Saif Ali Khan and Kareena Kapoor naming their newborn son Taimur. The ban proves that an arrangement that has worked well for years can be undone in a matter of days. The right-wing suggestion that speaking your mind out in a democracy is tantamount to betraying the country has gained unstoppable force. Without any assurances of protection from the state or the central governments and no coherent opposition to hyper-nationalism, the only thing left for filmmakers to do is practice self-censorship.
Stripping to conquer
The year 2015 was routinely described as "the year of the women" (whatever that means) because of productions with strongly etched female characters (NH10, Piku, Margarita With a Straw, Tanu Weds Manu Returns, Dil Dhadakne Do, Bajirao Mastani). In 2016, Alia Bhatt shone in Udta Punjab and Dear Zindagi, Sonam Kapoor shook off her clotheshorse tag with Neerja; Kareena Kapoor played the woman who wears the pants in Ki & Ka, and Vidya Balan made Kahaani 2 credible.
Sexual assault took centrestage in Pink. But the more interesting developments were on the male front.
Perhaps no other year has offered such vistas of the male body as 2016. The bare-chested actor is fast surpassing the bikini-clad actress in terms of shock value. Stripping to conquer has been the way to go for actors with limited performance skills (Salman Khan, Hrithik Roshan, Ajay Devgn, and now, Tiger Shroff) for some years now, and 2016 reached peak optimisation.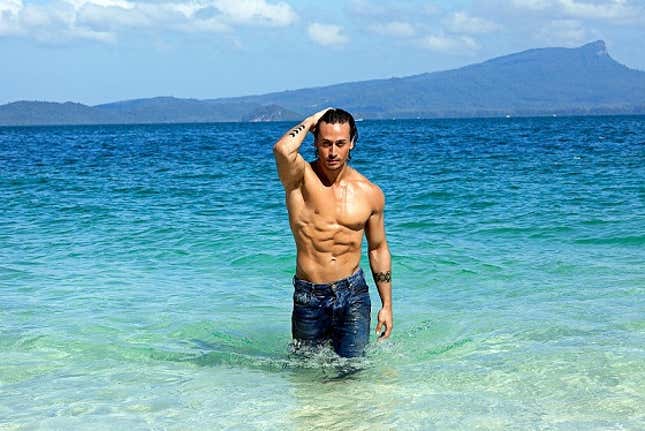 Shroff's frequently exposed chest provided a distraction from his frozen face in Baaghi. Salman Khan undressed to his briefs in the wrestling film Sultan, looking ever more like a Hasbro toy. Aamir Khan flashed his fit and unfit selves in Dangal in his effort to extend his interpretation of method acting. Varun Dhawan and John Abraham wore clinging Speedos in Dishoom to prove their manhood. And in Befikre, Ranveer Singh offered up his sculpted form for perusal, including a flash of his depilated bottom.
The other kind of exposure involved the psyche. Our male stars appeared vulnerable and in need of love, reassurance, and comfort. Sidharth Malhotra let the angst flash through the easy-going exterior in Kapoor & Sons and Baar Baar Dekho. Ranbir Kapoor played, yet again, the wounded romantic stumbling through the desert of love in Ae Dil Hai Mushkil. Shah Rukh Khan let himself become the subject of a meta-study on fandom in Fan and appeared as a shaggy-dog therapist offering lessons in life and love in Dear Zindagi. Even Salman Khan portrayed a man racked by self-doubt in Sultan.
The chest was bared alright; sometimes, the soul peeked through too.
The new midstream movie
If 2015 was the year of the dysfunctional family (Piku, Titli), 2016 belonged to the midstream movie. This is the realistic entertainer about underdogs, longstanding social divisions and complicated families and romantic relationships, all delivered through soft-focus camerawork, humour, glossy production values, and, often, an upbeat ending that leavens the heaviness. Aligarh, Kapoor & Sons, Nil Battey Sannata, Waiting, Parched, Dhanak, Pink and Udta Punjab are all instances of an arguably baggy category. These movies are new iterations of parallel cinema or the films made between the late 1960s and the early '90s that were in stark opposition to mainstream cinema.
The issue-based film, along with the personal-is-political narrative, has found audience-friendly ways to deliver enlightenment in the garb of entertainment. Such movies prove that for all their protestations, filmmakers do care about criticism and want to be taken seriously. They wish to make respectable and realistic cinema that reflects the real world without frightening away financiers and viewers. Most of these neo-parallel films end on a resolutely upbeat note. They leap over seemingly insurmountable problems in dues ex machinas and try to cushion their narratives through humour, songs, and pat resolutions. They don't have the fearlessness of parallel films yet, but in these cruel times, we are allowing ourselves some hope.
Sequels, remakes and reflected glory
No sooner did the April 22 release Baaghi leave the cinemas than a sequel was hurriedly put into place, perhaps to ensure that the follow-up to the martial arts drama will reflect at least some of the glory of the first film.
Are sequels and remakes part of a relentless milk-and-bilk raid on audiences? Even Hollywood, which pioneered the art of cashing in on warm memories, hasn't been able to answer this question. In Bollywood, sequels and remakes are gaining greater favour with the shortage of risk-free original stories, fatigue over well-worn genres, and Hollywood's monopoly over the special effects spectacle.
In 2016, there were sequels to Kya Kool Hain Hum, Masti, Housefull, Force, Tum Bin, Rock On! and Kahaani. Commercially, only Housefull 3 clicked; artistically, none did.
In 2017, there will follow-ups to Humpty Sharma Ki Dulhania, Bang Bang!, Jolly LLB, Judwaa, Golmaal and Krrish.
Sequels in Hindi cinema seem to work best with comedy and action franchises. But the sequels of thrillers such as Kahaani, which starred the original film's lead Vidya Balan as a fresh character, and Jolly LLB, which retains the original's lawyer setting with Akshay Kumar in place of Arshad Warsi, indicate that producers are not going to rest until they squeeze every last drop out of a good idea.
There were only a few remakes in 2016 (the disastrous Akira, for instance), but there will be more in 2017, starting with OK Jaanu, Shaad Ali's retooling of Mani Ratnam's 2015 romance OK Kanmani. Following the superlative performance of Nagraj Manjule's searing Marathi film Sairat, producers Zee Telefilms have sold remake rights to whoever came asking. Among the successful bidders was Karan Johar's Dharma Productions, which will use Sairat to launch a fresh pair of actors.
The small matter that Sairat simply cannot be remade is lost in the rush to keep the calendar filled with releases, some necessary and many others redundant.
The oxymoron of the authorised biopic
The biopic is here to stay as a genre, with several stories of struggle, survival, valour and victory inspired by true events and characters flooding the screens in 2016.
The cradle-to-glory account that was initially restricted to historical figures (Mahatma Gandhi, Vallabhbhai Patel, Mangal Pandey) has been extended to cricketers (Mohammed Azharuddin, MS Dhoni) and wrestlers (Mahavir Singh Phogat), politicians (Anna Hazare) and ordinary citizens who performed extraordinary acts (Neerja Bhanot).
In line for the biopic treatment in 2017 are Rakesh Sharma, the first Indian in space; Malavath Poorna, the tribal teenager who scaled Mount Everest at 13; the controversial actor Sanjay Dutt, and Mumbai gangster Arun Gawli.
It is safe to predict that most of these films will be blemish-free, and will find ways to transform hurdles, controversies, and downbeat phases into the darkness before the dawn. Most of these are sanctioned biopics, made with the permission of surviving celebrities or family members of the ones who are no longer alive. Bollywood has learnt the hard way that the unauthorised biopic simply does not pay. There are threats of last-minute petitions filed by irate kin and supporters, potentially violent protests, and the overall perception that Hindi filmmakers never get their facts right when adapting real life to the screen.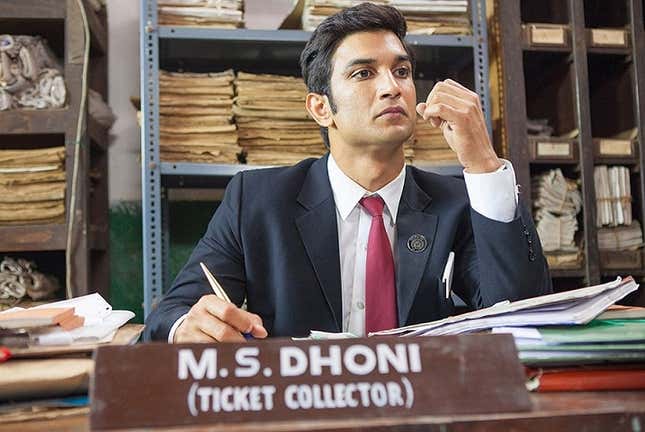 Rather than make movies that are true to the facts and characters even at the risk of disagreement and litigation, the Hindi film industry has fully embraced the purple prose philosophy. Sanctioned biopics are stepped in the necessary deference, elisions, and incomplete portrayals that prior permission entails. Biopics are announced only after the approvals of subjects and their families have been procured. Family members are integrated into promotions, and photographs, press releases and videos during and after the project's completion are bandied about as the equivalent of sanction letters. Everybody goes home happy, except the pernickety viewer who wants gray than rose-tinted.
One of the biggest sufferers of the syndrome was MS Dhoni: The Untold Story, a potentially interesting examination of one of India's most charismatic cricketers that collapsed into hagiography. Dhoni was also one of the co-producers of the movie that enshrined his exploits on the big screen. Perhaps the next step is the fully-paid-up biopic.
In a sense, this is already happening in the genre that has been singlehandedly been created by the insatiable ambitions of Punjabi godman Guru Ram Rahim Singh. The Dera Sacha Sauda cult leader has helmed three unwatchable films celebrating his genius in the space of two years. How else can one describe the MSG franchise but as a variation of the approved biopic, the one in which authorship is ceded to the subject and praise, rather than perspective, is the pursuit?
The slow demise of the lip-synced song
Goodbye, lip-synced song, hello, background tune.
The Hindi film song is nowhere close to extinction, of course, and will never be so long as soundtracks (along with trailers) remain drivers of curiosity and buzz over upcoming releases. But the welcome move towards greater realism means that lip-synced sings rendered by voices that rarely match the actors' are finally being regarded as anachronisms, interruptions, and symbols of an old-fashioned way of storytelling.
The mindless use of songs to express thoughts and ideas that should have been contained in the screenplay is giving way to background tunes, which spare actors the trouble of matching their lip movements to playback singers. Kapoor & Sons put its party number Kar Gayi Chull in the background; none of the wrestling trainees in Dangal break out into song in the middle of a tackle; Fitoor's tunes are set to soft-focus visuals of the lovers.
Great care is being taken, at least by A-list filmmakers to stop and ask themselves if a film about a deranged admirer (Fan) or a brave air hostess (Neerja) needs to have lip-synced songs at all. (The short answer is that they don't.) When songs do feature in films that don't require them, they are integrated into the narrative. For instance, the thriller Airlift, about a rescue operation, places a song sung by lead actor Akshay Kumar in a party situation.
There were, of course, plenty of Bollywood titles that encouraged its stars to stop whatever they were doing and start singing and dancing. These includes the hits Sultan, Rustom, and Dishoom. And for those who could not get enough of the romantic lip-synced number, there were such films as Sanam Re, Sanam Teri Kasam and Tum Bin 2, all of which resembled extended music videos in any case.
The Age of Pahlaj
Like his hero Modi, Pahlaj Nihalani has had a rollicking time in mind control ever since he was selected as Central Board of Film Certification (CBFC) chairperson in January 2015.
Nihalani, a successful producer of potboilers with the kind of content that his own board would have struck down, has managed to wear down his opponents. His single-minded war on profanity has had the desired result of self-censorship, as has the continuation of the CBFC policy of cutting down the length of screen intimacy.
His board's ill-advised raid on the A-rated Udta Punjab ended badly, but the message to the industry was loud and clear: if you have a script whose language mirrors the speech patterns of real-life people, be prepared to wage a long and hard battle.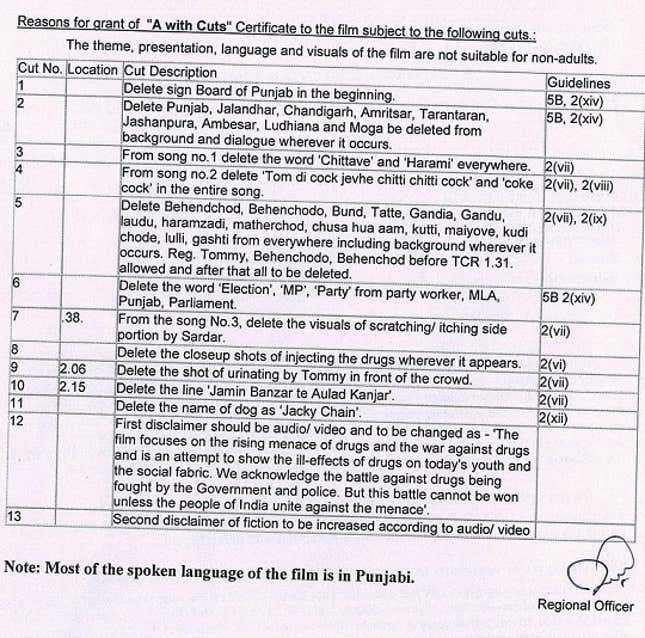 Nihalani is criticism-proof but he is not immune to influence, or to passing off dubious decisions with the same finesse as the Reserve Bank of India. Aditya Chopra's uninhibited romance Befikre, which features numerous kisses, suggestions of bedroom activity and at least one bare bottom, survived Nihalani's scrutiny (a lip-lock between two women in a song didn't). Nihalani's explanation, that Befikre was perfectly acceptable since the movie is set in a foreign country (France), provides a roadmap to future purveyors of sexual intimacy. If you want to take off your clothes, kiss, make love and generally behave like an adult, do it in a foreign country—and make sure you are grabbing a person of the opposite sex.
This post first appeared on Scroll.in. We welcome your comments at ideas.india@qz.com.