It is bonanza time for digital payment providers in India.
With demonetization leading to a severe cash crunch over the past two months, these companies have taken centerstage in Asia's third-largest economy, particularly with Narendra Modi's government pushing for a cashless economy.
Since Modi's historic announcement on Nov. 8, that two common denominations of currency would be pulled out of circulation, Paytm, India's largest digital payments startup, has seen its daily transactions triple to 7.5 million; last month it clocked 173 million users. Mobikwik, another such platform, has seen 400% growth in transactions.
Now, in what should worry the private players, a government app has emerged as the new favorite.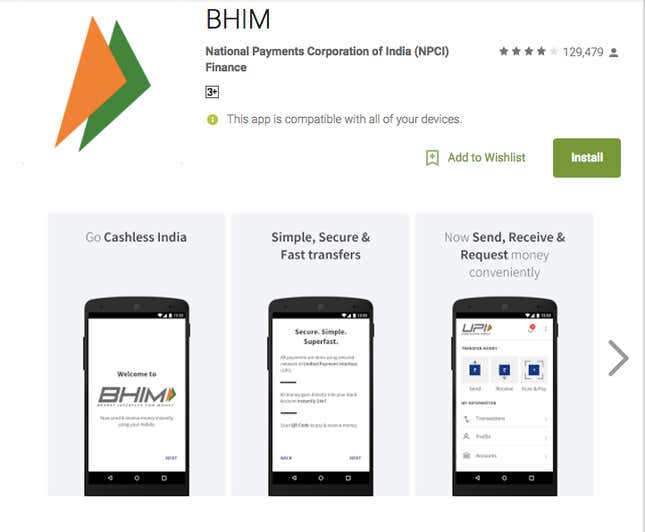 The Bharat Interface for Money (BHIM), a digital payment app launched by Modi on Dec. 30, is already hot property on the Google play store, with a staggering 5 million downloads so far. In the four days since its launch, BHIM has recorded 700,000 transactions. And the government has yet to launch its iOS version.
"The time is not far when all the transactions that we used to perform using coins and notes would be done through BHIM," Modi said while launching the app.
Developed by the National Payments Corp. of India, BHIM is based on the existing Unified Payments Interface (UPI). However, unlike Paytm or Mobikwik, BHIM is not an e-wallet, but only a payments platform. The app makes it easier to access bank accounts to make payments and transfer and receive money. It is linked to over 30 private and public sector banks.
Once installed, it enables payments through phone numbers backed by the UPI or through the Indian Financial System Code and Mobile Money Identifier to even those users who don't have a UPI-based bank account. It also provides the option of creating a quick response code. Once generated by a customer, this code can be used by the retailer to make the deduction from the BHIM user's account. It does, however, involve a cap of Rs10,000 per transaction. There is also a cap of Rs20,000 per 24 hours.
BHIM will eventually become Aadhaar-based, wherein fingerprint impression-based transactions will be possible. For now, it is also being criticized for the numerous bugs in the app and a lack of support for most Indian languages.
As BHIM created ripples, Paytm announced on Jan. 3 that it had received the Reserve Bank of India's nod to set up a payments bank. Paytm had earlier said that it would merge its wallet and payments bank facilities.
India's financial technology industry, from payments platforms to apps that help you pay taxes, has seen an unprecedented boom in the last couple of years. The industry is estimated to reach $2.4 billion (pdf) by 2020, up from $1.2 billion in 2016, according to Nasscom.
Let the digital payment wars begin.