Over the past few years, India's stand-up comedy scene has exploded.
Thanks to YouTube videos and Snapchat filters, comedians such as All India Bakchod's Tanmay Bhat, Kenny Sebastian, and more have become household names by skewering India's social mores and its stereotypes. Today, they draw millions of viewers online and huge crowds when they perform in real life.
But no one becomes a comedy superstar overnight. Nearly all of India's top comedians can attest to working long hours for many years in relative obscurity before they started getting any interest from viewers.
On Jan. 08, at a panel discussion about comedy in India at Bengaluru's Under 25 Summit, comedians Tanmay Bhat, Kenny Sebastian, and Mallika Dua revealed their best advice for making it big in India's new and thriving comedy business.
Talk to your parents
In a society unused to unconventional professions (basically anything that isn't engineering or medicine), comedy as a career is a tough sell for many Indian parents. But Bhat, who is 29, believes that being really clear and open that this is what you want to do can make a big difference.
"At the end of the day, your parents are just concerned for you…I was able to speak to my parents and say, 'I really want to try this, I really want to try this,'" he said, adding that eventually, when he started getting attention, his parents came around.
YouTube doesn't guarantee success
All three comedians emphasised that it takes years to succeed as a comedian. For instance, Sebastian said he began putting up videos on YouTube in 2007 but no one really watched them until the success of All India Bakchod prompted viewers to start looking for more home-grown comedy. But through all those years of obscurity, Sebastian says he continued putting out videos, waiting for the right moment.
"I didn't stop. So when I did get discovered, people were like, oh, he's done 100 other videos?" he said.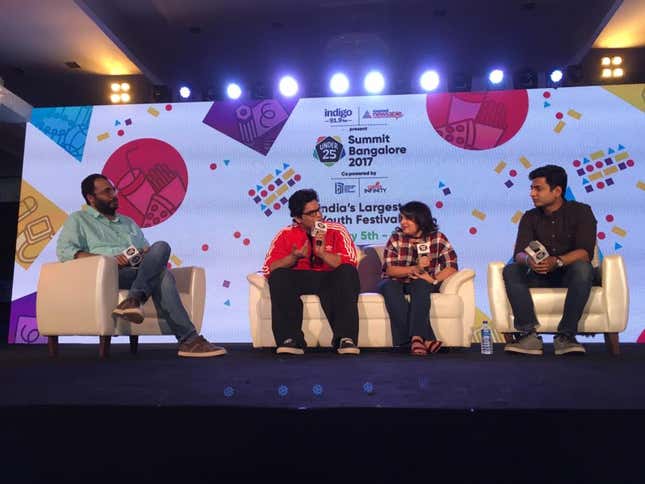 Bhat agrees, noting that it's all about persevering despite the odds and being relentless. That's how he got his first meeting with Vijay Nair, the CEO of Only Much Louder, the force behind some of India's most popular music festivals and comedy groups.
"Seize every opportunity that you can (and) be shameless about harassing other people," Bhat said. "If you find someone, badger them with 20 questions."
For Dua, whose star has been rising ever since her portrayal of Delhi's stereotypes went viral last year, the key is to avoid being discouraged, even if you can't quite achieve your dreams immediately.
"If your circumstances are stopping you from doing it right now, don't stop believing that you can do it later," she said. "There is no 'now or never'."
But be more than just a stand-up comedian
Their stand-up performances may have got them noticed but today Bhat and Sebastian believe it's important to do more than just perform. Bhat says it's essential to have other skills, including acting and editing, that will come in handy later on.
"No successful comedian in the world doesn't do this," he said, pointing to American icons like Louis CK and Chris Rock, all of whom are polymaths in the field.
Comedy is a job
It may not involve sitting in an office but it does take real work to be a comedian, particularly one that makes and edits videos, too. All three comedians maintained that though the work is fun, it is demanding, and takes a lot of focus and dedication, every single day.
"Work on yourself; get better." Dua recommended, adding that even on holiday she finds herself thinking about what to work on next.
But most importantly, take the leap
Ultimately, the best advice these comedians have is to just go for it—make the decision and then take a step forward.
"As clichéd as it sounds, the only way to make your dream come true is to take that leap…just give it a shot," Bhat said.
And if you're lucky, it will pay off big time. Because as Sebastian puts it, "Doing comedy is the best motherfucking job on the planet."