Amazon could be shut out of India, all thanks to some ill-advised home goods for sale on the retail giant's Canadian website.
The controversy started after Twitter user Atul Bhobe made India's external affairs minister, Sushma Swaraj, aware of doormats being sold on Amazon's Canadian site that featured the Indian flag on them. On Wednesday, Swaraj tweeted at the Indian High Commission in Canada to "take this up with Amazon at the highest level," and called for Amazon to tender an unconditional apology" and withdraw the doormats immediately. Failure to do so, she said, would result in the denial of Indian visas to Amazon officials.
While Amazon offers a variety of patriotic doormats—there are mats featuring the Union Jack, the American flag and the Canadian flag—outrage in India stems from the country's Flag Code, which the doormat violates in a few ways. The Indian flag cannot be trampled on, printed on any cloth material apart from that used for the flag itself, or allowed to touch the floor.
A petition to remove the doormats from Amazon.ca had close to 3,000 signatures. The Hindustan Times reported last week that the flag doormats had been removed from Amazon's Canadian site following protests, but the mats were still available when Quartz checked on Jan. 10. Each product page includes furious reviews from Indians rebuking the company.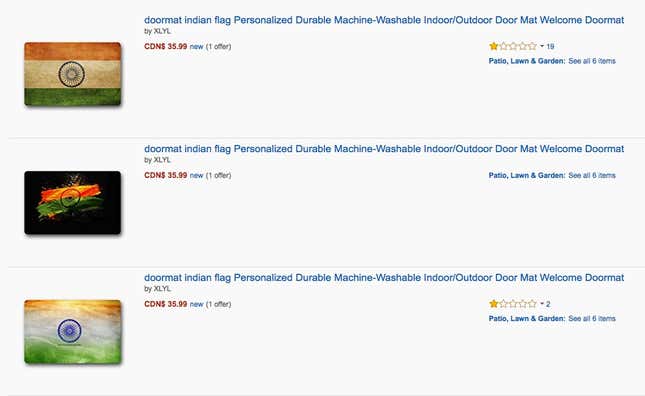 Amazon did not immediately respond to Quartz's request for comment, but its verified customer-service Twitter account, Amazon Help, responded to Bhobe's original tweet, saying the flags were never sold on Amazon's India site, adding that they had "escalated [the issue] to [the] concerned teams."
The Seattle-based company has been in hot water over doormats before. In June 2016, Indians called for a boycott of Amazon because it was selling doormats featuring images of Hindu deities and the Holy Quran. Amazon ultimately delisted the products.
Controversies or no, it's unlikely Amazon will ever abscond from its second-biggest market after the US: Over the past year, the company has pumped more than $5 billion into India, more than competitors Flipkart and Snapdeal put together. The company may be in the middle of a firestorm, but its exit from the burgeoning market would likely cripple the country's investment climate.