Meenangadi, India
In November 2015, Thomas Isaac, a 64-year-old economist and finance minister for the Indian state of Kerala, traveled to Paris to present a paper on waste disposal at the United Nations Climate Change Conference. He came back to Kerala with an audacious plan: Turn Meenangadi, a south Indian settlement of some 34,000 people, into the country's first carbon-neutral village by 2020.
India is battling a pollution crisis. The country is poised to overtake China to become the country with the most air pollution-related deaths in the world; according to the State of Global Air Report 2017, a joint study by the Health Effects Institute in Boston, Massachusetts, and the Institute of Health Metrics and Evaluation in Seattle, Washington, 1.1 million Indians die annually because of toxic air. The state of India's water bodies is no better; 80% of its surface water is polluted.
The problem is largely centered around its urban clusters—10 of the world's 20-most polluted cities are in India. But Meenangadi has been severely affected by pollution too.
Meenangadi is located in the Wayanad district of Kerala, nestled amid the Western Ghats mountains. The region has one of the world's largest levels of endemic biodiversity under threat from humans. Decades of mining and deforestation in the Western Ghats have shrunk forest cover by 35%.
The region's people are suffering as well. Thanks to man-made climate change, the area has become especially vulnerable to severe climatic variations, including floods and droughts. Lately, the village, a sprawl of single-storey houses hidden behind coffee plantations and coconut trees, has suffered prolonged dry spells, hotter summer days, and unpredictable variations in rainfall. The annual monsoon rains were scant this year and much of the 57-sq-km (22 sq mile) area under the administration of Meenangadi's panchayat—village council—is parched today.
In fact, Kerala is facing its worst drought in over 100 years; 300 sq km of agricultural land in the state has been damaged and there's little drinking water for locals.
Researchers predict the yearly average minimum temperature in the Western Ghats will rise between 2 and 4.5 degrees Celsius by 2050 if nothing is done. For Meenangadi, that could mean a decline in rice production in paddy fields (pdf); the devastation of heat-sensitive crops like cardamom, coffee, tea, and black pepper; and the emergence of new livestock diseases, driven by dramatic temperature fluctuations season to season.
To do their part to stem the tide of environmental disaster, over the next three years, government agencies, nonprofits, and community groups will come together to transform this rural hamlet into a revolutionary experiment. The goal is to "serve as a model for villages across India," says Beena Vijayan, head of the panchayat, that any settlement can become carbon-neutral—without sacrificing material comforts.
                                                                                                          * * *
Meenangadi's carbon-neutral project was officially launched last year, on June 05—the World Environment Day.
To bring the town's net carbon dioxide emissions down to zero, Vijayan says, they will "conserve and expand our forests, plant more trees, reduce carbon emissions from households, promote self sustenance through organic farming, and recycle our waste."
Parts of the plan have already been put into action. For example, the village crematorium, which once used wood, now runs on liquefied petroleum gas, a much cleaner fuel. In 2016, the panchayat planted trees on some 38 acres of land—equal to the size of 21 football pitches—on both public and private land. These include 450,000 coffee plants, 32,500 cardamom trees, and over 20,000 other shade trees, including neem (Azadirachta indica) and coconut, all of which were provided to villagers for free.
The administration also gave villagers free organic vegetable seeds and buds—like cauliflower, cabbage, tomato, beans, bitter gourd, lady's finger, tapioca, and chilli—and plans to launch an awareness program to promote organic farming practices.
Globally, the agriculture sector currently produces one third of the world's greenhouse gases, according to the Consultative Group on International Agricultural Research (CGIAR). Much of this is due to conventional farming practices, particularly the use of synthetic fertilizers. A shift to organic farming practices could reduce carbon emissions per hectare between 48% and 66%, according to the Food and Agriculture Organisation of the United Nations.
Meenangadi took to organic farming immediately. "There is a sense of paranoia and fear among our public about the food that is consumed [because] most of them are coated with pesticides and insecticides," says Mary Mathai, a 62-year-old local farmer. "We want to grow our vegetables organically."
As the Meenangadi people plant organics, Meenangadi officials are trying to figure out exactly how much carbon the village emits. To do so, they've called on the M. S. Swaminathan Research Foundation, a nonprofit set up by the eponymous agricultural scientist credited with helping lead India's green revolution program in the 1970s that tripled crop yields, and Thanal, an environment advocacy group based in Kerala's capital city of Thiruvananthapuram. The two organizations are currently conducting soil and energy consumption audits by assessing each and every home that comes under the panchayat's control. A report is expected in March.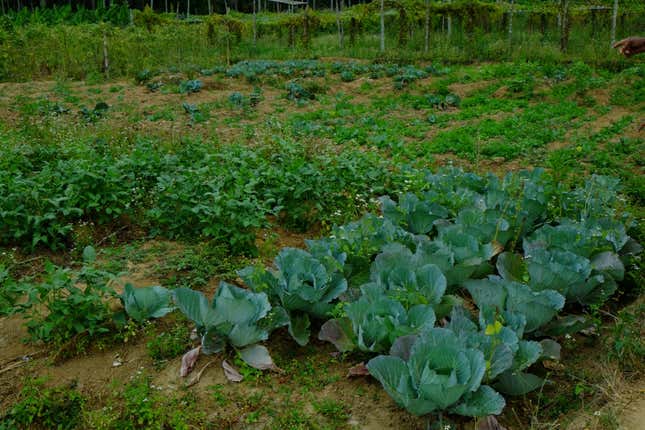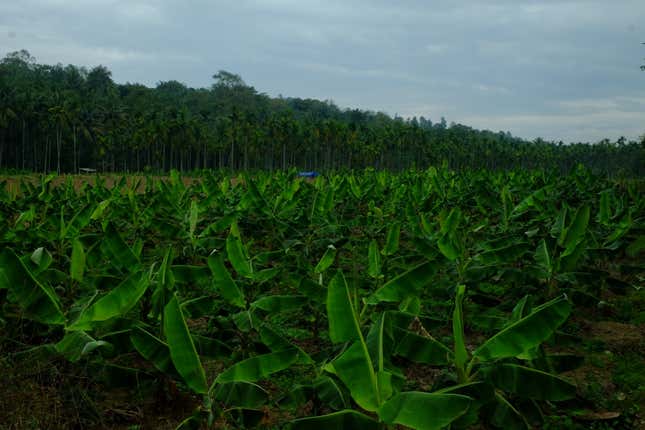 So far, the panchayat has financed the project, but the village is now turning to the state government for more money. That's because Meenangadi has even bigger plans in the pipeline.
Over the next two months, the village wants to ban the use of plastics. It's also planning to set up a set up a new aerobic composting unit. Organic waste—food scraps, rotten vegetables, animal remains, and hospital waste, for example—will be composted using bacteria from cow dung. The composting process doesn't produce any carbon or methane waste.
There is also a proposal to build small biogas plants in select households to turn organic waste into energy, and authorities are drawing up a plan to build a small solar park that will add power to the electricity grid. To counter the effects of droughts and water shortages, the administration also wants to build more ponds to store water.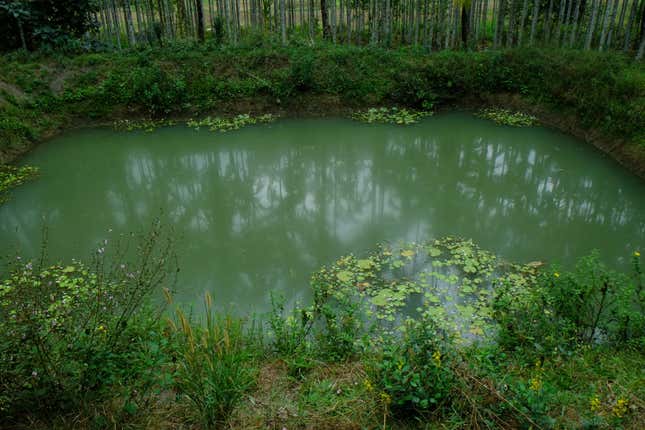 There is also a proposal to locally manufacture LED lamps, which are 80% more efficient than incandescent lamps.  The idea is to create new jobs while also making it easier for locals to buy environmentally friendly products. Authorities are currently considering whether it makes more sense to build a small LED manufacturing facility—which would add more carbon emissions that would then need to be further offset—or to organize it as a cottage industry, carried out in people's homes. Either way, the project would let Meenangadi tap the resources of a federal government committed to promoting LED lamps.
Since coming to power in 2014, the Narendra Modi government has focused on making India an electricity-surplus country. Currently, India produces 4 gigawatts of solar power; the goal is to reach 100 GW by 2020. The government currently offers a 30% subsidy (pdf) on solar panels to customers. Similarly, a program launched in 2015 to distribute subsidized LED lamps has helped bring prices down by a full 88%. Through the scheme, the government procures LED bulbs from private manufacturers through competitive bidding and then sells them to the public at cheaper rates. Since January 2015, the government has sold 215 million LED lamps, leading to a 22 million-metric-ton reduction in carbon emissions.
Protecting the environment also makes for good marketing. Isaac envisions selling local products—coffee, for instance—around the world with a "carbon-neutral" tag.  "Once the district becomes carbon-neutral, it will also transform the economy, because the products that come out of the village will have a better brand value," says Isaac.
For his part, Isaac seems confident in the project's success; he's already thinking expansion: "Over the next few years, we want to extend this program into the entire district of Wayanad. We are soon looking to tie up with international green funds, universities, and institutions that can help us achieve these targets."
                                                                                                            * * *
Nothing of this sort has ever been attempted in India, so there are no off-the-shelf plans, blueprints, or systems. There is one good international benchmark: the English village of Ashton Hayes. In 2006, the town of about 1,000 people attempted to become England's first carbon-neutral community. Over the last decade, Ashton Hayes has managed to cut emissions by 24%, but still isn't carbon-neutral.
Still, both those involved with the Meenangadi project and outside experts think the town has a real chance at success.
"There is already a sense of resolve among the public to achieve the target," says Varapurath Suresh, a member of the panchayat's welfare standing committee.
"I wouldn't think it is an impossible task," says Chandra Bhushan, head of the industry and environment program at the Centre for Science and Environment, an environmental advocacy organisation, in New Delhi. "These are excellent initiatives and in line with what needs to be done to make a village carbon-neutral."
"It is certainly not going to be an easy task," says Suresh Jain, the head of the energy and environment department at New Delhi's TERI university. Planting and maintaining trees won't be easy given the droughts and unpredictable rain, and there are still a lot of details to be worked out when it comes to the LED manufacturing project.
However, even if Meenangadi doesn't entirely succeed in becoming carbon-neutral, it could certainly serve as a model for bringing change to India's heavily polluted cities. "Tackling climate change is as much a task that needs to happen from the bottom up as it is led by the governments, and villages like Meenangadi are positive role models," says Chaitanya Kumar, senior policy advisor at UK-based Green Alliance, an environmental think tank. "It also shows how far the issue of climate change has percolated to the grassroots where people understand its significance and are taking proactive measures to mitigate and adapt to a changing climate."
Vijayan, for her part, isn't particularly perturbed by the detractors. All they need is for Isaac to put his money where his mouth is: "We are quite certain," Vijayan says, "that once the government starts to allot more funds for the program, Meenangadi will lead the way in showing the world how to go carbon-neutral."
Image by Vinayaraj on Wikimedia licensed under CC BY-SA 3.0.