Khichdi might be a quick-fix, a one-pot meal for the rest of the country; not so for the Bengalis. Typically served with an array of vegetables, either deep fried or made into fritters, or a mushy curry made with a medley of leafy greens and vegetables called lyabra and deep fried fish (Hilsa, preferably) or omelettes—a khichuri meal is a rather elaborate affair, one not to be trifled with.
Be it the sweet and spicy bhog'er khichuri served at Durga Puja pandals, the pulao-like bhuni khichuri studded with chunks of meat, or a homemade version loaded with obscene amounts of ghee, the bona fide khaddoroshik or food-loving Bengali goes schmaltzy when it comes to khichuri.
Now, Kolkata has an eatery dedicated wholly to the khichdi and its classic accompaniments, aptly named Khichdi Khichri. "The idea was to step away from greasy junk, and serve nutritious, comfort food steeped in home-like flavours," said co-founder Dolly Punjabi.
At Khichdi Khichri, the menu is curated by consultant chef Nikhita Patel and packs in an array of khichdis from around the country along with a few innovative numbers, like the achaari khichdi infused with typical pickling spices or the salad khichdi made with sprouts. There's the Himachali khichdi loaded with kidney beans and chickpeas, fiery bisi bele bhath loaded with veggies, ghee-laced ven pongal and typical Bengali-style khichuri, served in clay pots for a rustic touch.
Often dismissed as innocuous gruel, apt only for the ailing, khichdi has been misunderstood and underestimated. The khichdi is perhaps the most versatile dish in our repertoire—a fantastic medium for culinary expression that effortlessly lends itself to diverse regional flavours. The variety is mind-boggling.
Common food to gourmet treat
In its simplest interpretation, khichdi is rice and dal cooked together. Its curative virtues have been effusively extolled in ancient Ayurvedic texts. Ibn Batuta, the Moroccan traveller who visited India in the 14th century, wrote, "Munj is boiled with rice, then buttered and eaten. This is what they call Kishri, and on this they breakfast every day."
Soon enough, it caught the fancy of the mighty Mughals. In Ain-i-Akbari, Abu Fazl is known to have mentioned several versions of the khichdi prepared in the imperial kitchen. "There are references to Akbar's penchant for khichdi prepared with equal measurements of rice, lentils, and ghee," said Sohail Hashmi, the Delhi-based historian. In his book The Story of our Food, KT Achaya writes that Jahangir's favourite dish was the "lazizan which was enriched with ghee, pistachios, raisins and spices."
Of course, such opulent experiments with khichdi were not limited to the Mughal matbakh, or kitchen. In stately kitchens across the country, the modest khichdi attained the exalted status usually accorded to sophisticated pulaos (a rice dish) and meat-laden biryanis. Perked up with luxurious ingredients like aromatic spices, saffron, dried fruits and nuts, fresh cream, and of course, different kinds of meat and seasonal vegetables, khichdis were often part of regal repasts. An outrageously extravagant rendition of the dish was prepared at the dastarkhwan of Nasir-ud-din Shah, erstwhile king of Oudh, where ingenious khansamas or royal chefs trumped up a rich, slow-cooked khichdi made entirely of almonds and pistachios, deftly, and painstakingly, sliced to resemble grains of rice and lentils respectively, cooked in equal or double the amount of ghee.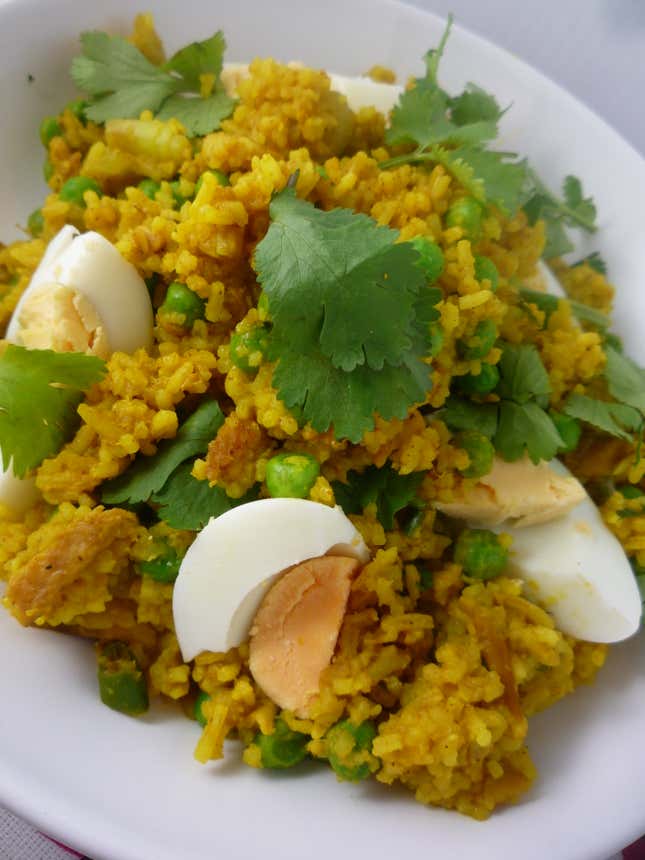 Down south, the Nizams of Hyderabad are often credited with the creation of Hyderabad's illustrious keeme ki khichdi—a spice-laden mix of rice, lentils (which are sometimes omitted entirely) and minced meat. This is traditionally paired with the khatta, a thin, sour soup of sorts, made with tamarind, onions, chilies and tempered with cumin, though some argue this rice dish is more of a biryani than a khichdi. Karnataka's feted bisi bele huli anna is a fiery mix of rice, lentils, and a medley of seasonal vegetables—cooked with tamarind, a host of fresh ground spices like cardamom, cloves, coriander cumin, fenugreek, dried coconut, byadgi chilies and kapok buds which give it a distinct flavour. It is finished off with unsparing drizzles fragrant ghee. According to one school, this dish originated in the kitchen of the Wadiyars of Mysore, over three centuries ago.
In her celebrated recipe book, Niramish o Amish Ahaar, Pragyasundari Devi, niece of Rabindranath Tagore, archives another intricate recipe for the versatile dish—the sweet and savoury khejurer khichuri. Dates, almonds and pistachios along with a host of aromatic whole spices, are first stewed in sugar syrup. This syrup is poured into the partially cooked khichuri, which is then allowed to cook until the liquids dry up completely. The khichuri is layered with the reserved, syrup-soaked dates and nuts with thick sar (or thick cream skimmed off milk, piled in layers and allowed to rest until firm) cut in diamonds and served.
In fact, in her book, Pragyasundari Devi records numerous elaborate and costly renditions of the dish like the til khichuri made with sesame paste, saffron and a hint of asafoetida, the aloo bokhara khichuri enriched with fresh coconut cream and aromatic spices like cinnamon and clove, the malai bhuni khichri prepared with coconut milk, onions and whole spices which requires a particular variety of fragrant rice called bak-tulsi.
In Parsi Food and Drinks and Customs, BJ Maneckshaw writes about yet another layered treat. "Medium sized capsicums are filled with a sharp prawn patio and fried," he writes. "When the khichdi is half-cooked, half of it is removed from the pan. The capsicums are put on top of the khichdi in the pan and then covered with the khichdi that was removed. The dish is then allowed to cook till done."
Regional flourishes
"The household version of the Parsi-style khichdi is rather simple," said archaeologist Kurush F Dalal, a mine of information on Parsi cuisine. "Unlike the wet khichdis savoured around the country, the typical khichdi made in Parsi homes is a dry dish of rice only freckled with lentils [masoor or toovar]," said Dalal. The khichdi is typically paired with sweet and sour gravies like prawn or fish patia, or the sas, a delicious white sauce made with rice flour or even chickpea flour, eggs and vinegar, finished with loads of fried onions and garlic. "Or there's kheemo, a slightly soupy curry of minced meat and diced potatoes," added Dalal.
In fact, the Parsi repertoire boasts of quite a few unique interpretations of khichdi. Take the Bharuchi vaghareli khichdi, from the eponymous Bharuch region in Gujarat. Bombay duck, an out-and-out Bawa favourite, is smothered with a marinade of vinegar, green chilies, fresh mint and coriander, garlic, ground turmeric and cumin, with a dash of Parsi garam masala and fried. The fish is added to the spicy muddle of rice and lentils—often a mix of arhar, chana, masoor and moong which is cooked three-quarters and finished on a gentle flame. Or there's the kolmi ni khichdi, cooked with prawns and coconut milk.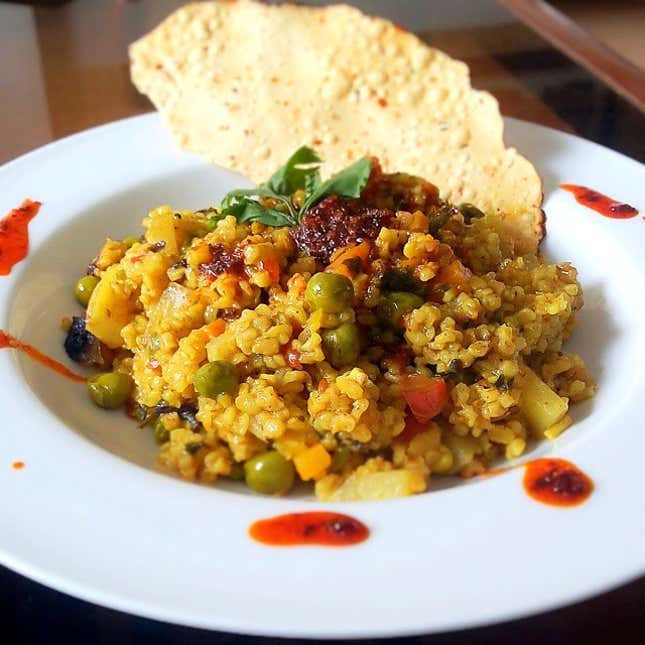 Gujarati cuisine boasts of quite a few delicious versions of the khichdi too. There's the spicy Ram Khichdi, loaded with an assortment of vegetables like cauliflower, brinjal, peas, and beans from Kathiawar. A quintessential Surti treat is the mildly spiced Sola Khichdi. A carnivore's delight, it is typically made with rice, an assortment of lentils like masoor, white urad, toovar, and minced meat, cooked with a splash of milk and some fresh malai or cream in pure ghee—a prized recipe among the Bohris of Surat. In Dawood Bohra families, the delicious kheeme ki khichdi is served with a mandatory bowl of a delightful meat and milk stock called the khurdi.
In neighbouring Rajasthan, where rice is scarce, subtly spiced khichdis made with millets like bajra, or with whole wheat, and lentils, are immensely popular. While moong dal (with or without skin) might be the most popular component of a khichdi, a wide variety of lentils—arhar, chana, masoor, urad, etc—are also used widely. In Maharashtra, where val (or field beans) grow in abundance, the piquant valachi khichdi is typically served garnished with roasted groundnuts, cashew, and grated coconut. "A unique dish from the Kangra region of Himachal Pradesh is the Balaee—a khichdi made with rice and Bengal gram," said Divya Sud Qureshi. Subtly spiced with roasted coriander, fenugreek and cumin, the Balaee is cooked in buttermilk, which gives it its distinct tang.
Food for the Gods
The most popular version of the khichuri in Bengal is the niramish, a vegetarian recipe sans onion or garlic, which typically uses sona moong (yellow split moong), the deliciously fragrant, short-grained gobindobhog rice that no Bengali pantry is complete without, and an assortment of seasonal vegetables like potatoes, fresh green peas and cauliflower. Tempered with cumin seeds, aromatic whole spices like cinnamon, cardamom, cloves and bay leaves (some recipes call for a pinch of asafoetida), the khichuri is livened up with some peppery ginger, green chilies and a host of ground spices like turmeric and cumin, sometimes cashew nuts and raisins too. Finished with a generous splash of ghee, the niramish khichuri is anything but innocuous.
Another popular version is the aamish (non-vegetarian) khichuri, cooked with rice and masoor dal, which is considered a non-vegetarian ingredient. It is the niramish khichuri which served as the bhog'er khichuri, a treasured component of Bengal's ritualistic cuisine.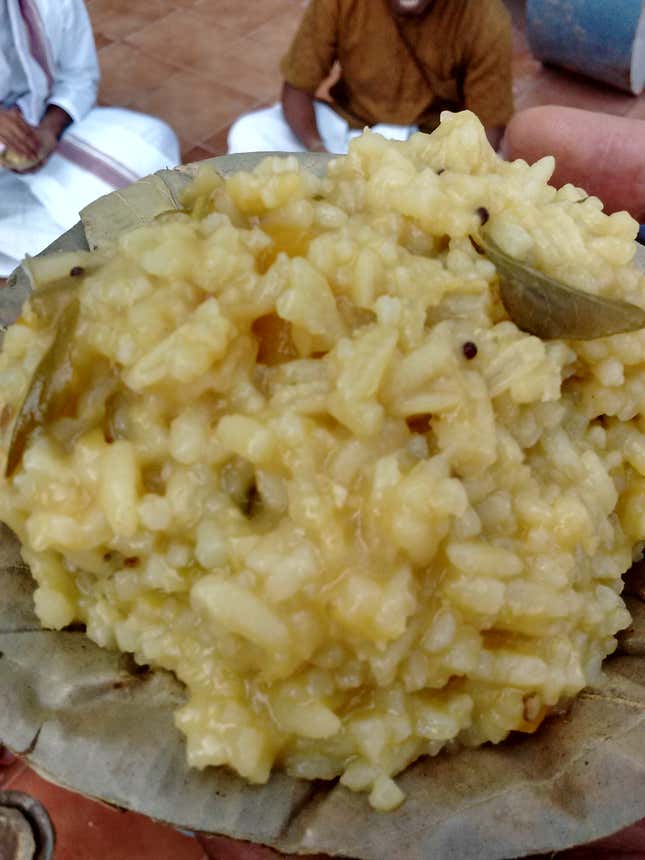 The ritualistic importance of this ancient dish is not restricted to Bengal. On Khetsimavas, a festival peculiar to Kashmiri Pandits which falls in the month of December, khichri is offered as sacrificial food to Kubera, God of the yakshas. At night, a plateful of khichri is anointed with mantras and kept on the wall of the courtyard with the belief that a yaksha appears to eat it. "This khichdi is anything but the bland gruel for the sick people have come to associate khichdi with," said Sanjay Raina, an authority on Kashmiri cuisine and the founder of Mealability, a boutique catering service that specialises in Kashmiri food in Gurgaon. "The khichdi is typically served with kadam ka achaar (pickled knol khol)."
Khichri is inextricably linked with Makar Sankranti. In Uttar Pradesh, the festival is also called Khichri, after the dish considered mandatory on this day. "On Makar Sankranti, we make the amal khichdi," said Divya Sud Qureshi. "It is typically made with rice and mah/kali dal (split black gram), to which we add some amla (Indian gooseberries). The amla also signifies the onset of winter."
In Tamil Nadu, the festival of Pongal, a four-day affair, is unimaginable without the eponymous pongal, yet another rendition of the ubiquitous khichdi. The savoury khaara pongal is tempered with curry leaves, lentils and black pepper. Also a classic breakfast dish, there is the spicier milagu pongal, and the sweet sakkarai pongal made with jaggery and nuts. A similar sweet, cardamom-scented khichdi, made with rice and moong dal, ghee, grated coconut, dried fruits and nuts and loads of ghee, is a treasured recipe in the Konkan region. In his book, The Indian Cuisine, Krishna Gopal Dubey writes about a unique tribal specialty called the asur khichdi, which is spiked with mahua flour made from the seeds of the hallucinogenic mahua flower. Comfort food? Maybe not.
This post first appeared on Scroll.in. We welcome your comments at ideas.india@qz.com.