India is one of the best and worst places to launch a tech startup these days, a contradiction epitomized in a recent survey (pdf) of 170 entrepreneurs across 15 industries. Sixty-five percent of those surveyed said India is in the midst of a tech bubble, even as 63% said they were struggling to find funding.
For the past few years, India has been a hotbed of startup activity, even if a good portion of those ventures ultimately don't make it. Between June 2014 and July 2016, more than 2,280 Indian startups began operations; nearly 1,000 of them shuttered. While "fail" is less of a dirty word in tech than elsewhere, Indian entrepreneurs cite a range of factors in their struggle to find footing, including a lack of funding, lack of innovation, and an oversaturated marketplace. Most of the entrepreneurs surveyed by InnoVen Capital, an Asian venture-lending firm, said that finding cash was their biggest barrier to growth.
"[Sixty-three percent] of respondents who attempted to fundraise in 2016 did not have a favorable experience," reads the company's February 2017 Startup Outlook report. The average startup had to pitch to more than six investors before securing funding.
(Only 18% of the companies whose leaders participated in the survey were backed by venture capital; a quarter were funded by angel investors and nearly half were self-funded.)
Among other obstacles, e-commerce and healthcare startups rated revenue growth as a top business challenge, while enterprise startups cited customer acquisition and customer churn. Artificial-intelligence startups cited trouble discovering and hiring talent. Many of those surveyed also called for India itself to foster a more entrepreneurial environment by, for example, increasing investment in digital infrastructure, allowing for more foreign investments, creating stronger intellectual property laws and making updates to public education.
The Indian government has made some strides on this front, including Startup India— a plan to reduce taxes and bureaucracy, create incubators and sources of funding, and introduce patent reforms—and Digital India, a campaign to improve online infrastructure and internet connectivity.
In the InnoVen Capital survey, fintech CEOs noted their appreciation for "policies promoting Digital Payment [and] the Unified Payments Interface," and entrepreneurs in the e-commerce, consumer, and logistics sectors rated the Goods and Services Tax—it proposes to offers relief from India's cascading tax system by subbing in a simplified tax structure—as the most helpful government initiative of 2016. One in five entrepreneurs called for more tax-policy improvements this year.
Crowding is a different beast. Although entrepreneurs listed having a robust business model as the most important facet of improving investor sentiment this year, more than 20% of them also said that more exits would help. Seventy percent said they were open to an exit, and nearly two-thirds rated an initial public offering as the most preferred route.
While India's entrepreneurs are finding inspiration from within—demonetization has done wonders for digital payments startup Paytm—foreign tech majors like Google, Airbnb, Amazon, and Uber are still among [at least some] Indian entrepreneurs' favorites. Tesla/SpaceX CEO Elon Musk also has lots of fans in the country.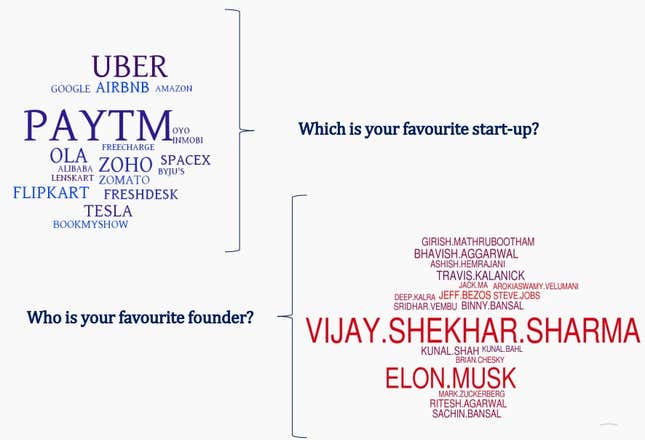 Challenges or no, 94% of survey respondents said they would be looking to fundraise in 2017—some $800 million between them. But they'll have to hurry: Nearly 20% believe that tech bubble is about to burst.