When the verdict came, V K Sasikala, accused number two in the disproportionate assets case of 1996, broke down. The announcement that the two judges of the supreme court would read out their judgments separately had raised hopes of a split verdict, which would have given her a legal reprieve to become chief minister of Tamil Nadu. But the unanimous order killed her political ambitions.
"No force on earth can separate me from the All India Anna Dravida Munnetra Kazhagam (AIADMK), no matter where I will be," said Sasikala, wiping her tears, while addressing her party leaders. A 21-year-old case had come to bite her just at the doorstep of political glory.
Over the past 10 days, Tamil Nadu politics has witnessed a tsunami and Cyclone Vardah rolled into one. They were sparked by Sasikala's desire to take the top job, what many interpreted as "naked ambition." On Feb. 05, a meeting of the AIADMK legislature party unanimously elected her its new leader.
For 48 hours, nothing went wrong except that the acting governor of Tamil Nadu, Chennamaneni Vidyasagar Rao, a former Bharatiya Janata Party (BJP) leader, was away from Chennai and showed no hurry to return to the state capital. And then the bomb dropped on Tuesday night. Caretaker chief minister (CM) O Panneerselvam, who Sasikala sought to replace, revolted against her decision, alleging that he had resigned under duress.
Overnight, a new leader had emerged in the AIADMK, a party that prided itself on working only under one supremo and military-level discipline. Sasikala openly accused Panneerselvam of being a DMK hand, though most AIADMK leaders suspected a BJP connection to the rebellion.
However, that is not the way the cadre and the man on the street interpreted it. Panneerselvam is perceived to be the good man who stood up to "those who rule by fear" and ought to be backed.
K Ganga, a party worker, was among the first to reach Panneerselvam's residence and said, "The party has split. Under his leadership, we will be a different kind of party."
This largely reflected what the cadre and public felt: Sasikala was trying to usurp the throne. Panneerselvam himself spoke of being repeatedly humiliated by her. "Several MLAs who want to leave Sasikala are in touch with me. Dharma will prevail," he said.
Sasikala looked on as a dozen-odd members of parliament and senior party leaders jumped ship. But by moving all her 120-odd legislators to a resort, 60km from Chennai, she ensured that the Panneerselvam camp was not able to poach her flock. It was realpolitik that Sasikala engaged in and largely successfully as well, as till Tuesday night, her camp was arithmetically far more superior to Team Panneerselvam.
Except that the court verdict spoilt her best plans.
Who is Sasikala?
A Class 10 dropout, Sasikala was a videographer who came into contact with J Jayalalithaa in the mid-1980s. She offered to shoot the late CM's public meetings, hoping to make money out of it. Jayalalithaa was then a rising political star in the AIADMK as its propaganda secretary. A successful film star, Jayalalithaa also wanted to impress her mentor and then chief minister MG Ramachandran (MGR) and thought audio-visual evidence of her work would help her cause.
Sasikala worked her way into Jayalalithaa's household. Since the actor-turned-politician was single, she found in Sasikala a companion she could trust. MGR's death in 1987 made Jayalalithaa lonelier and she leaned heavily on Sasikala and her husband, M Natarajan, a public relations officer with the Tamil Nadu government.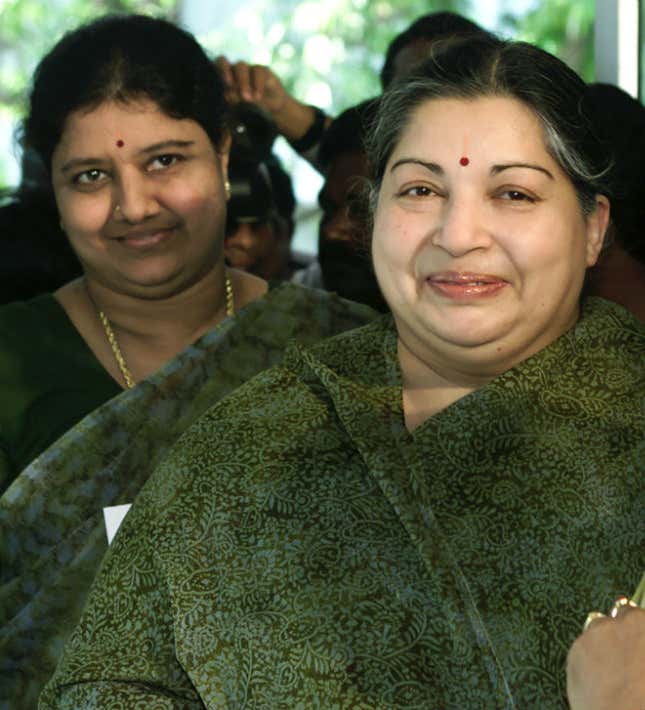 The relationship hit a couple of bumps, once in 1996 and then again in 2011, when Jayalalithaa suspected Sasikala and family of trying to harm her. On both occasions, Sasikala was banished from Veda Nilayam, Jayalalithaa's residence in Poes Garden, only to be taken back after an apology.
It is this 33-year-old relationship, which lasted till Jayalalithaa's demise in December, that Sasikala saw as her passport to political success. Which is also the way it panned out. Sasikala became Chinnamma (mother's younger sister), to connect in a motherly manner to the cadre at large, just like Jayalalithaa was Amma (mother).
A tearing hurry
Sasikala's mistake was to be in a tearing hurry. With clinical precision that betrayed her desire to step into Jayalalithaa's shoes, she took on the role of the general secretary less than a month after the former CM passed away. Eyebrows went up as Jayalalithaa had not groomed Sasikala in any political role. The flip side, however, was that there was none in the party who enjoyed Sasikala's pan-AIADMK acceptability.
What happened in Chennai in January should have been a warning sign for Sasikala. During the unrest at Marina beach by people protesting against the ban on Jallikattu, the bull-taming sport played in Tamil Nadu, there was a large number of slogans and abuses directed at Sasikala. The anger and dislike for her was evident. Yet Sasikala, without her ear to the ground, decided to replace Panneerselvam who had slowly begun impressing people with his work.
Sasikala, though, suspected he was getting too close to the BJP, the ruling party in New Delhi, which was averse to her taking over.
What next?
Politically, it is the end of the road for her. She is barred from contesting elections for 10 years. However, if she succeeds in anointing Edappadi K Palanisamy as CM, it is a given that she will remote control the government through her family outside prison.
An indication of the influence was the manner in which her nephew, TTV Dinakaran, also embroiled in an economic offences case, sat next to Palanisamy when the AIADMK delegation met the governor to stake claim to form the government on Tuesday evening. It is this dislike for the family from Mannargudi that the Tamil people have articulated all these days. And Sasikala does not seemed to have learnt from her mistakes.
With the manner in which both camps—Panneerselvam and Palanisamy—are fighting for legislators, it is more than likely that neither side will have a majority. This could lead Tamil Nadu to a snap poll in 2017. And Sasikala will have no one but herself to blame for squandering Jayalalithaa's mandate, won less than a year ago.
On Wednesday, Sasikala will surrender in a Bengaluru court. This will be the third time that she will have been jailed. But there is a finality to this sentence. Sasikala's conviction, in a strange way, is being interpreted as an acquittal for Tamil Nadu.
We welcome your comments at ideas.india@qz.com.