Indians who considered Trump's America a safe haven are in for a nasty wake up call. Like Muslims and Jews, Indians are not immune to racist attacks.
On Thursday, a Kansas man open fired at a bar in the city of Olathe, killing 32-year-old Srinivas Kuchibhotla and injuring his colleague, 32-year-old Alok Madasani. Both men were Indian immigrants who work in GPS-maker Garmin's aviation department. The gunman also wounded a local American Ian Grillot, 24, who tried to intervene when the man started shooting.
Garmin has a customer service center a mile from the scene of the shooting at Austins Bar and Grill—a joint the two men reportedly frequented. Garmin took to Facebook to offer their condolences.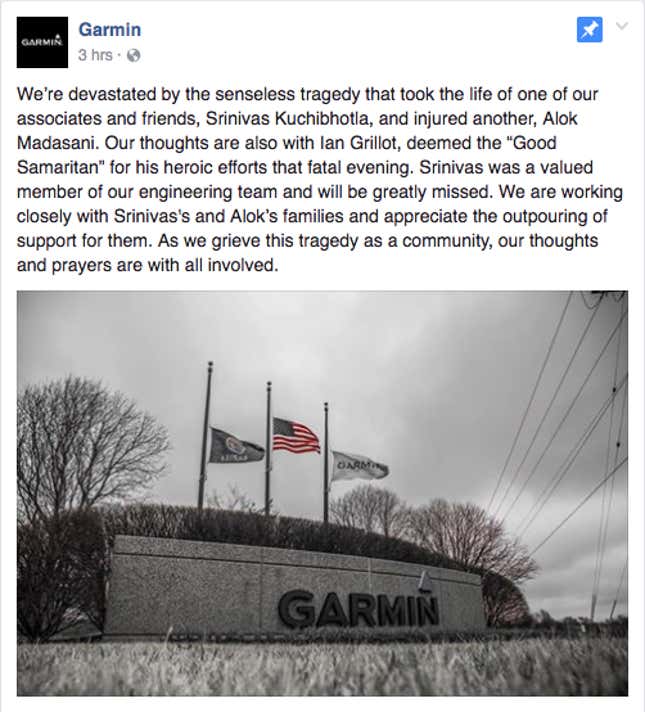 Five hours after the incident, 51-year-old Adam Purinton was arrested at an Applebee's and charged with one count of premeditated first-degree murder and two counts of attempted premeditated first-degree murder in Johnson County, Kansas, District Attorney Stephen Howe said.
While fleeing, Purinton allegedly told an Applebee's employee that he needed a place to hide because he had killed two Middle Eastern men, the Kansas City Star reported. A bystander at the crime scene recounted the gunman yelling "get out of my country" before attacking the Indian men.
Though violence and hateful rhetoric has escalated since Trump's inauguration, many Indians—in America and abroad—interpreted the US president's calls to clamp down on Muslim migrants as support for their Hindu-majority country. The loyalists applauded Trump's separatist politics in tackling terrorism. The major concern under the new administration was a possible restrictions on work visas for many Indians. They remained blissfully ignorant of the threat their skin posed.
In the weeks after the election, Muslims living in America encountered racist graffiti, threatening fliers, and physical attacks; anti-semitic attacks have risen too. When Trump banned people from several Muslim-majority countries, his supporters backed him—even those who themselves are immigrants. However, the brutal shooting shows that bigots don't seek out differences in religion or nationality—for many, color is excuse enough for discrimination.
In recent months, Madasani's father Jaganmohan Reddy had been asking his son to come home as the racial climate in the US worsened with Trump's campaign trail and eventual election. "I appeal to all the parents in India not to send their children to the United States in the present circumstances," Reddy told the Hindustan Times.
Although federal investigators have not yet labeled the incident a hate crime, Indians around the world are realizing the harsh reality of Trump's "America First" policies.