As Bangalore evolved into India's Silicon Valley, the architecture of its colonial-era cantonment past has receded further into the background, replaced by the concrete and glass of endless shopfronts, offices, and apartment buildings. And nowhere is this more apparent than in the city's busy commercial centre, the Mahatma Gandhi (MG) road, where its first ever bookshop, dating back to 1905, now faces a cavernous metro station, with trains rumbling in the sky above and traffic building down below.
For many years, the faded, white facade of Higginbothams, with its Palladian architecture and its big, blue-lettered sign perched above the doorway, was a remnant of another era, squeezed between modern shops and the office of the Deccan Herald newspaper. Inside the two-storey structure, built in 1897 when MG road was called South Parade, book lovers of all ages experienced time standing still.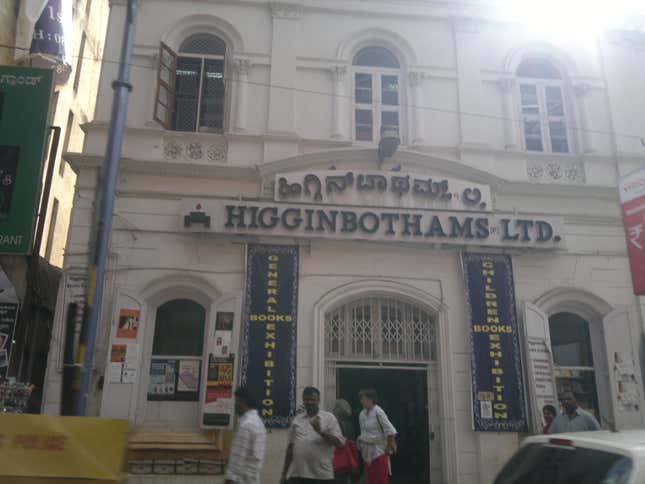 But like everywhere else in the world, the rise of e-commerce websites such as Amazon and Flipkart has changed the book-selling business in Bengaluru, prompting a number of large of once-beloved bookshops to diminish in size, relying more on the sale of toys and electronics instead of novels and periodicals.
However, the modern-day owners of Higginbothams, the Chennai-based conglomerate Amalgamations Group, refused to resign themselves to this fate. In 2015, the store in Bengaluru shut shop for a year-and-a-half to revamp its interiors. This weekend, it reopened its doors with a brand new, colourful look, and with books arranged front and centre. There's also a courtyard event space for readings and the bookshop plans to launch an in-house cafe.
"Though many people are buying books online, they still head to offline stores to get a feel and look of the physical book," Gautam Venkatramani, director of the chain, told The Hindu newspaper. "Unlike many other bookstores that have reduced the space for books and started selling merchandise, we plan to sell merchandise that is related to books only. Our focus will remain on books, especially academic books."
And that's a smart plan—reading books may be a bit of a niche interest in India but textbooks always sell.
Higginbothams's historic exterior also remains, albeit with a fresh coat of paint. An updated logo sits atop the doorway, marking a new era for a business that started out small in neighbouring Tamil Nadu before evolving into south India's most iconic bookshop chain.
The Chennai connection
Some reports say the Englishman Abel Joshua Higginbotham was a stowaway on a ship who was unceremoniously dumped in Madras when the captain found him. In any case, he went on to establish the first outpost of the bookshop bearing his name in the city in 1844 by buying the remaining stock of the struggling Wesleyan Book Depository, where he used to work as a librarian.
Higginbotham was reportedly a born bookseller, possessing that useful ability to recommend just the right book, sourced from all over the world, to his customers. And that really boosted business; by 1859, his bookshop was the beloved of the British, especially the governor of Madras, Lord Trevelyan, who raved about it in a letter to the historian Lord Macaulay:
"Among the many elusive and indescribable charms of life in Madras City, is the existence of my favourite bookshop 'Higginbotham's' on Mount Road. In this bookshop I can see beautiful editions of the works of Socrates, Plato, Euripides, Aristophanes, Pindar, Horace, Petrarch, Tasso, Camoyens, Calderon, and Racine. I can get the latest editions of Victor Hugo, the great French novelist. Amongst the German writers, I can have Schiller and Goethe. Altogether a delightful place for the casual browser and serious book lover."
In 1875, on the occasion of the Prince of Wales's visit to India, Higginbotham's bookstore was even appointed the official bookseller to His Royal Highness. Over the next few years, the business went on to supply books to numerous government institutions and even sold stationery. It expanded into publishing, putting out its first book, titled "'Sweet Dishes: A little Treatise on Confectionery," in 1884. The bookstore would go on to have an illustrious list of customers, including Clement Atlee, the future British prime minister, and the maharaja of Mysore Jayachamaraja Wodeyar.
Between 1888 and 1889, when Higginbotham was sheriff of Madras, his son CH Higginbotham got involved in the business, turning it into a real family affair. Following Abel Higginbotham's death in 1891, his son took over, presiding over an era that saw the bookshop spread to other southern cities, including Bangalore.
Under the leadership of CH Higginbotham, the bookstore moved into a new building on Mount Road, specially designed with a high, sloping ceiling and few windows in order to keep all the books inside safe from dust and deterioration. This would go on to become a landmark in the area, and remains so to this day.
The younger Higginbotham also oversaw the expansion of the business into railway book stalls. For many years after that, over 50 stations of the South Indian Railway and the Southern Mahratta Railway housed Higginbotham's book stalls that were a hit among passengers lacking any other form of entertainment on long train journeys.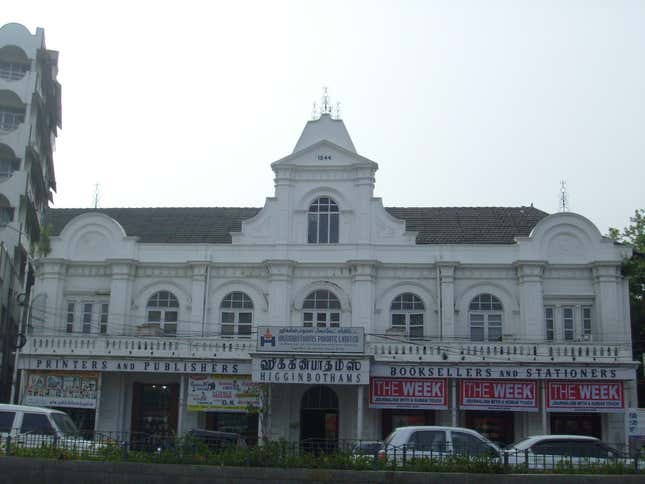 In short, with its wide range of the latest periodicals and books, its productive printing press, and its regional reach, Higginbotham's became an essential part of south India's literary history.
But it took over a century before the iconic bookstore came under Indian leadership. First, the shop changed hands in 1925 when John Oakshott Robinson of the conglomerate Spencer's took over, merging it with his printing company, Associated Printers, to form Associated Publishers.
In 1945, Associated Publishers was purchased by Amalgamations Ltd, then a holding company with just one Indian director, industrialist S Anantharamakrishnan, one of the few locals who made it big under British rule. After Independence, Anantharamakrishnan went on to become the chairman of Amalgamations in 1953, presiding over a new kind of empire in modern India, and marking a new era in Higginbothams' history: by the 1990s, Higginbothams was India's largest bookstore by floor space.
Past, present, future
The Bengaluru outpost of Higginbotham's has remained much the same in appearance since the beginning, even resisting the allure of air conditioning, despite the city's changing climate. Now, in its new and improved avatar unveiled on Feb. 25—the brainchild of the industrial designer Michael Foley—past and present collide in a good way.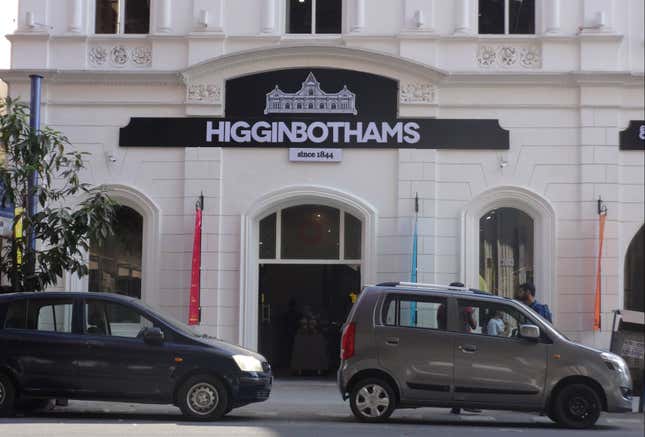 The white facade is now decked out in colourful flags and the arched windows boast pops of colour, too; a wrought iron gate leads to a passage connecting MG road with Church Street, soon to be lined with photographs describing the long history of the store.
And just like in the old days, book lovers of all ages browse amidst the stacks, barely registering another new addition: a small counter by the cashier selling Kindle e-readers. Steps decorated to look like the spines of books lead up to the second floor stocked with a vast range of non-fiction (everything from philosophy, self-help, and history books to coffee table tomes, with a few surprising finds in between). There's also a shelf of adult colouring books and one wall in a corner set up with gaming devices and screens, a nod to a different kind of customer.
It's an inviting interior, designed to entice Bengaluru's residents into leaving their computers behind and making that trip to a real bookstore once again.