In trying to be like Uber, the world's most-valued startup, some Indian firms may be following the example a little too well.
A Medium user writing under the name Indian Fowler—inspired by Susan Fowler, the software engineer who posted a lengthy account of rampant sexism at Uber—has come forward with disconcerting claims about India's digital media powerhouse, The Viral Fever (TVF), which creates viral short-form comedy content on the web. In a blog post, she recounts nearly two years of alleged "abuse and molestation" by TVF co-founder Arunabh Kumar.
Three weeks into her stint with the startup that now ranks at the top of Indian digital entertainment, the blogger was asked to return to work in the evening. Shortly after she reached the office, it emptied out and only Kumar remained. This is what she alleges happened next:
He looks at me and asks me — "Chaturbhuj Sthan ka naam suni ho"? (Have you heard of Chaturbhuj Sthan?) I am stunned. For Non Starters, Chaturbhuj Sthan is the Red Light District of Muzaffarpur. I didnt respond. His second question- "Humko Chaturbhuj Sthan Bahut Pasand Hai. Udhar commercial deals hoti hain. Tum Bhi to commercial deal pe aayi ho". (I really like Chaturbhuj Sthan. Commercial deals are made there. You, too, have come on a commercial deal.)  I was getting where he was leading the discussion to. I avoided an interaction. I said "Arunabh, aap bade bhai hain. Meri tabiyat thodi theek nahi hai. Kya karna hai bataiye. Hum karke ghar jaayenge" (Arunabh, you are senior. I'm not feeling well. Tell me what I need to do. I'll finish it and go home.) He suddenly holds my hand. Says "Madam, thoda role play karein". (Madam, let's do a little role play.)
That day, she says, she locked herself in the bathroom until Kumar went away. But the problems didn't end there. For two years, Kumar would allegedly try to lift her up at parties or fall on her under the pretense of being intoxicated. Once, she says, he walked out of a meeting and asked her for a "quicky." When she threatened to complain to the authorities, Kumar supposedly remarked,"Police toh meri pocket me hai" ("The cops are in my pocket.")
The alleged victim says she tried to walk out but the company's legal team labeled her attempt to leave a "breach of contract." Her mother also discouraged her from going up against Kumar. "Because a 24 year old girl cant fight an IIT guy with so much of money," she writes.
When the writer tried to report her discomfort, she says she was met with apathy. Naveen Kasturia, an actor on TVF's wildly popular web series Pitchers, supposedly told her "Duniya hai. Hota hai" (It's the world. It happens.) Countering the allegations, Kasturia told The Quint that he's "100% sure that the blog is fake."
In a statement on Medium, TVF deemed the allegations "completely ludicrous and defamatory" and director Amit Golani reminded people that the company has often been a flag-bearer of feminism in its content.
The last straw for the blogger was when she allegedly heard that the TVF boss was "acting as a pimp," soliciting some of the women for sex to others. Since then, she has walked out and not looked back. The legal team still sends her reminders of her legal obligations, she says. (We have contacted TVF for comment, but have not yet heard back.)
While there's some skepticism over such claims made on a faceless and pseudonymous account, other women have come to the fore since the scandal gained steam. Former filmmaker and Mumbai-based digital content startup CATNIP co-founder Reema Sengupta called Kumar a "sleaze" in a Facebook post, alleging that he placed his hand on hers and found other ways to touch her body during a five-hour promo shoot.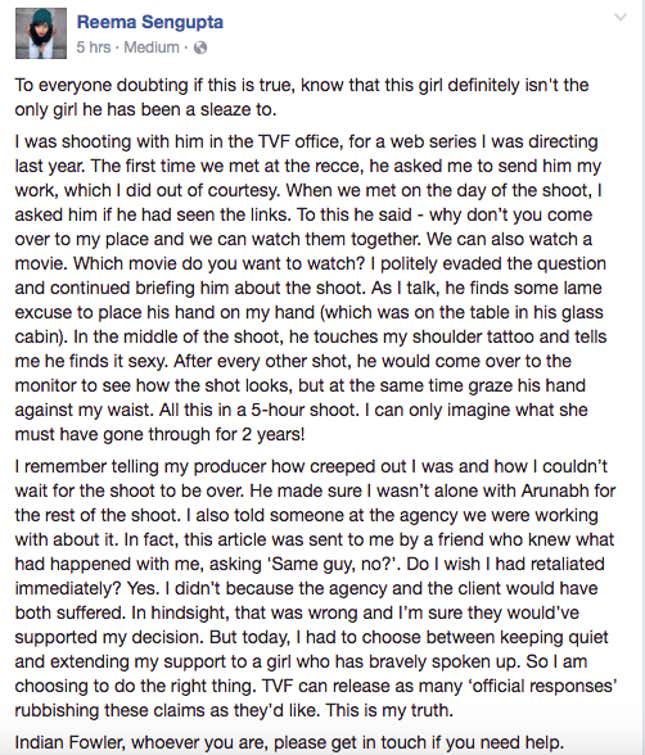 Another woman, Reshma Patra, reacted to the allegations by writing on Facebook of an encounter with Kumar in 2012, while she was working at PwC. (Her LinkedIn profile confirms her employment timeline and contains endorsements from several former PwC colleagues.) She met Kumar, who like her is an IIT Kharagpur alumnus, for coffee, and he asked her if he wanted to come home with him, strip, and dance for him.
Another Medium user going by the name Aayushi Agarwal, who claims to be an ex-TVF employee, replied to Indian Fowler's post saying she had had a similar experience of harassment, but there was no way to independently verify her identity.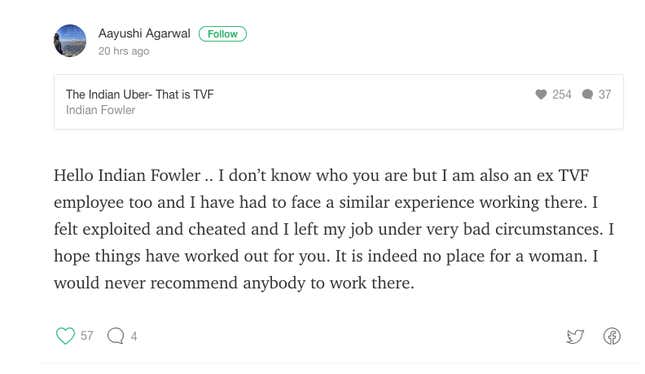 A couple of TVF employees have said that Agarwal was at the TVF Rajdhani campus in Delhi. In her case—involving another employee, not Kumar—the company fired the accused in January.
Nidhi Bisht, the casting director at TVF, who is set to star in the company's upcoming series Bisht, Please!, initially tweeted that the anonymous account is a "baseless fictitious allegation." However, after more women shared their stories, Bisht issued another statement on her Facebook page. "When the first blog post came out 24 hours back, I dismissed it completely because there was no such person of that description in the company at that time," she wrote. "Subsequently, a few more Posts have started coming out on social media regarding misconduct on Arunabh's part. I am as shocked as you guys are." She added that TVF has "zero tolerance towards workplace harassment and an investigation will be conducted and appropriate actions will be taken."
The scandal has raised a storm in Indian media and social media. Some of the most illustrious comedians from India's online entertainment landscape, including members of competing comedy video producer All India Bakchod (AIB), have tweeted about it.
Renowned comedian Aditi Mittal, who has herself starred in a number of viral digital spots on the internet, was particularly biting.
India's 2013 workplace harassment law (pdf) requires companies to take steps to prevent sexual harassment and to have a thorough system for monitoring incidents and investigating complaints. Unfortunately, many Indian startups adopt the guidelines on paper but forget to back the message in their day-to-day functioning.