India is on track to become the world's third-largest consumer economy by 2025 but its shopping malls are falling behind.
In 2016, demand for mall spaces outstripped availability, and for the first time ever in India, new malls were not able to replace the ones withdrawn, according to a note by real estate consulting firm Jones Lang LaSalle (JLL).
In all, retailers across the country took over 2.7 million square feet of mall space last year, down from 3.3 million square feet in 2015. Even as 13 malls were completed in 2016, 15 existing ones were withdrawn from the market in the cities of Chennai, Mumbai, Delhi-NCR, and Pune. That resulted in a loss of 3.5 million square feet of retail space, leaving the supply side in a negative position, JLL said. Of these shuttered malls, five were closed down while the other ten were converted into office spaces, educational institutes, shopping clusters, or hospitals.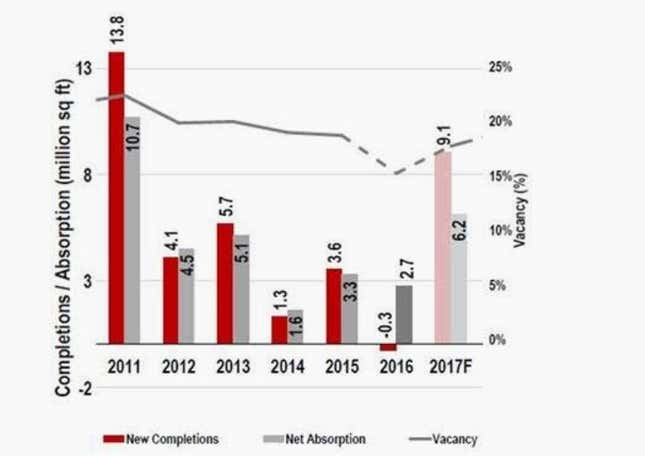 In India, successful malls are a rarity. In the 2000s, buoyed by growing consumer demand and interest from foreign retailers, real-estate developers with little experience in running successful shopping centres rushed to put money into building malls. As a result, scores of them opened up across the country, each competing with the other by offering better brands, cinema halls and extensive food courts. But most have since languished, thanks to poor planning, unviable locations, and dwindling consumer interest in some of the brands available.
And while that has contributed to many malls closing down over the years, JLL says that the number of closures in 2016 is far higher than all the previous mall withdrawals put together.
But it's not all bad news.
As foreign retailers such as H&M, Muji, GAP, and Zara all plan to open more stores in Asia's third-largest economy, the demand for quality malls is only going to grow. So, the exit of unsuccessful malls will be compensated by well-planned shopping centres, JLL added. Moreover, private equity interest in the retail real-estate sector picked up last year, backed by investments from companies such as Blackstone.
JLL expects an adequate mall supply in India by the end of 2017 on the back of projects such as Vega City and GT Mall in Bengaluru, The Pavillion in Pune, DLF Emporio in Delhi-NCR, and Grand Central Seawoods in Mumbai. These will add 9.1 million square feet of retail space to the market.