Gurugram, Haryana & Thane, Maharashtra
Sukesh Bhant's phone is usually unavailable during the weekends. The manager of a small bar on the outskirts of Maharashtra's Dombivli town, 50km north-west of Mumbai, Bhant rarely gets to take his eyes off the computer and the bills. So, he simply switches his phone off during those days.
Last weekend was different, though.
Bhant spent April 01 and 02 playing games on his phone and chatting with his 26 idle staff members. Becuase Manu Deluxe Family Restaurant & Bar, where he works, was transformed. The liquor bottles, from the all-time favourite Old Monk rum to the relatively higher-end Johnnie Walker Black Label whiskey, on display under dimmed lights on Manu's shelves, had disappeared. And so had the patrons—taxi drivers, landlords, traders, and real-estate brokers—just a handful of whom walked in erratically to order some food.
The story was the same some 1,400 kilometres to the north. Techies and executives working in Delhi's satellite town of Gurugram, couldn't let their hair down at Cyber Hub after the week's grind. At the hippest bars and eateries in the region's favourite watering hole, the mood was sombre.
Small-time Manu, located on the Kalyan-Shilphata Road, and the string of pubs and restaurants—Social, Farzi Cafe, Soi 7, and others—in Cyber Hub along National Highway 8, are among thousands of such joints hit badly by a supreme court (SC) ruling. First, a Dec. 15, 2016, order banned the sale of alcohol within 500 metres of the country's state and national highways from April 01. On March 31, the court clarified that the ban was applicable to hotels and restaurants, too.
Death and drinking
The SC, in its judgment, cited the high number of accidents caused due to drunk driving in India.
The country sees one of the highest numbers of road accidents in the world annually. In 2015, the total number of such incidents increased by 2.5% to 5,01,423, from 4,89,400 in 2014, according to a report compiled by the Transport Research Wing of the Indian government's road transport & highways ministry. The total number of persons killed in road accidents increased by 4.6% from 1,39,671 in 2014 to 1,46,133 in 2015. In all, 400 people die every day in road mishaps in India.
"Official figures of road accidents, with their attendant fatalities and, injuries provided the backdrop for the intervention of this court. This court adverted to the consistent policy of the union government to curb drunken driving and, as an incident of the policy, to remove liquor vends on national highways," the SC said in its December 2016 ruling.
The court even ordered the removal of advertisements promoting the sale of alcohol from the highways.
Business hit, jobs under threat
However, the apex court's order has jeopardised millions of jobs and hit hundreds of crores of rupees worth of business. And the effect will be felt across the entire spectrum—from the small-scale Manu to marquee properties like the Trident and Leela.
"We used to do a business of over Rs1.2 lakh each on Saturday and Sunday. We do an average business of Rs75,000 per day on weekdays. Thanks to the court ruling, that went down by upto 90%. We are virtually closed," an anguished Bhant told Quartz.
Employees at the United Sports Bar and Grill at Viviana Mall in Maharashtra's Thane, too, are battling gloom. Government officials visited the bar on March 31 and ordered them to empty it and lock up all the alcohol bottles. Viviana is located along the Eastern Express Highway that leads out of Mumbai through Thane.
"The timing couldn't have been worse," said Sagar Dhanawde, United Sports Bar's operations manager. "The Indian Premier League will begin soon and people might not visit the bar because there's no alcohol."
United and Manu are among the over 12,000 bars and restaurants in Maharashtra that were hit. This is apart from around 15,699 retail liquor outlets in the state that had to close down following the SC order.
Overall, the move could affect a third of all the outlets selling alcohol in the country, leading to a loss of Rs20,000 crore ($3.01 billion) to states, according to a report by brokerage firm CLSA.
"The ban could impact jobs of one million people in the food and beverage and alcohol industry," said Riyaaz Amlani, president at the National Restaurant Association of India (NRAI) and owner of Impresario Entertainment and Hospitality, which runs the Social chain of restaurants among others.
What's worse is that most restaurateurs and pub owners were only half prepared for what was coming.
Confusion worse than a hangover
"On Friday (March 31) afternoon, around 4pm, is when we got to know that we have to lock away all our existing liquor stock," Aman Kumar, a manager at a gastro-pub in Cyber Hub, said. By Saturday afternoon, he added, most bars and pubs displayed notices saying there would be no sale of alcohol. At 8pm that evening, three excise officers toured Cyber Hub to ensure the ban wasn't violated. "People had to be turned down because we weren't selling any alcohol…and that's what people come here for," Kumar said, adding that 70% of all orders at his bar are for alcoholic drinks.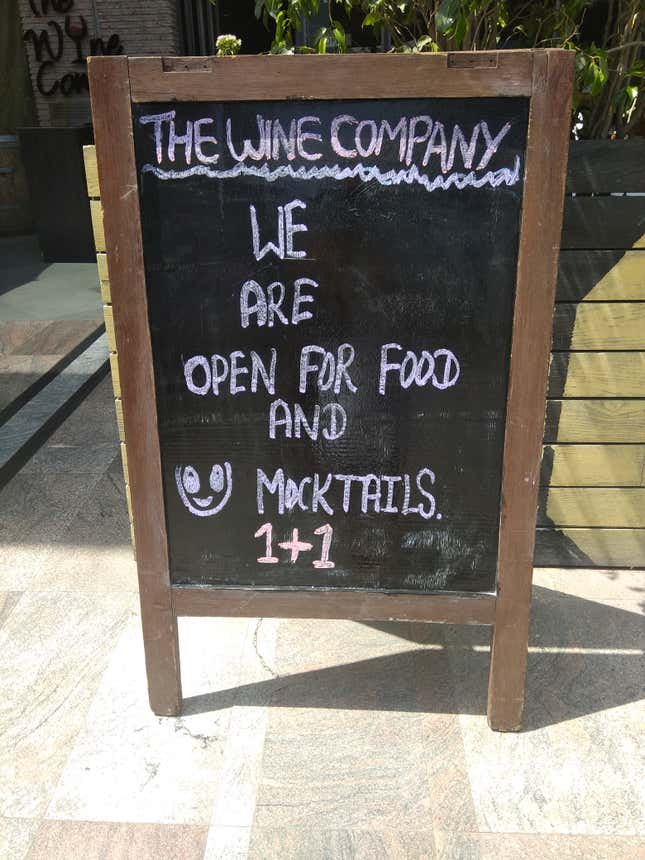 On Monday afternoon, Cyber Hub was mostly about deserted bars and shuttered breweries, and a "Mocktails Only" sign welcoming patrons of an upscale resto-bar. All mostly due to a lack of clarity in the court's first order.
The SC's December 2016 ruling had clearly not mentioned restaurants and bars, Amlani said. "This ruling was always meant to be implemented only for shops that sell liquor," he said. It was only on March 31, less than 24 hours ahead of the deadline that the court clarified that eateries, too, will have to comply.
Lobby groups ranging from tourism operators to restaurant associations are now desperately looking for a solution. Some have hinted that they may approach the government or seek legal remedy to get the ban reversed. NRAI's Amlani said the industry body is working with state governments to prove how most bars are within permissible limits from highways. "There has to be a solution and we are working on it," he added.
So even now, many of the affected establishments are clinging on to hope. Bhant, for instance, said Manu will hold on to its 26 employees for a week more to see if anything happens. After that, they will have to be relocated or laid off.
"There still isn't any clarity about when the rule will be lifted by any authorities, so we are not even in a position to make an alternate strategy. You never know if they lift the ban tomorrow," said Kedar Bhosale, manager at The Irish House, Viviana Mall. The 1,000-odd footfalls that The Irish House receives over regular weekends were reduced to a trickle on April 01 and 02.
Desperate measures
While most are in the wait & watch mode, many establishments and state governments are taking some desperate and smart measures.
After the SC pronounced its order in December 2016, the administration of the union territory of Chandigarh, which is also the capital of the states of Punjab and Haryana, reclassified the highways that pass through the city as district roads. Fearing a loss of revenue, states such as Telangana, Andhra Pradesh, Punjab, and Maharashtra, too, are reportedly reaching out to the roads ministry to reclassify their segments of national highways. Haryana's excise department, on the other hand, is reviewing the measurable distance between the highway and bars that could offer hope to restaurants in the area.
Meanwhile, it was being reported that some big hotels and malls on the NH8 simply changed their entrances overnight to escape the 500-metre clause and beat the ban.
Will the ban help?
Many have argued that the court ruling is ill-placed in the first place as it does not necessarily deter individuals from drinking if they have to. "More accidents happen in India than due to just drunk driving; why is the SC not directing the government to take more stringent action such as deploying speed trackers," Amlani asked.
Businesses, meanwhile, fear a slump. "The obvious impact is that a number of outlets have to close," Shekhar Ramamurthy, managing director of United Breweries, told The Economic Times newspaper. He argued that the move will lead to a drop in consumption of alcoholic beverages.
India's Rs40,500-crore liquor market has been sobering down of late. Volume growth across top spirits makers has remained flat as consumers remain cautious about splurging.
India has one of the world's most regulated alcohol markets. Multiple taxes, state-wide prohibitions, and the use of alcohol as political bait mean frequent policy changes. For instance, last year, the state of Bihar brought in prohibition in line with an electoral promise to woo women voters. Gujarat, for years, has been alcohol-free officially. Kerala in the south has gone after alcohol over the past few years. Other states, too, have expressed such intentions.
The current SC ban could add to the industry's woes.
The ban "can have a significant impact on the volumes in the short term as the demarcation of highway is difficult…we expect that for a quarter or two the impact will certainly be there," Abneesh Roy, research analyst at Edelweiss Securities, said in Feb. 16 note.
Shares of liquor companies such as United Spirits were down by as much as 5.7% on the BSE on Monday following the SC decision.
Needless to say that the ruling has poured cold water on the country's nascent night life, which has for long struggled to overcome restrictive timings, a cultural stigma, and safety concerns.
Kimaya Oswal, an employee in Deloitte's Cyber Hub office welcomed the court order but said the clampdown has taken the vibe away from the space. "This is the party place for all those who work here, while it is a good decision and addresses safety concerns, I'm not sure if the place will be the same without the alcohol."
Yet, India remains an important market, partly due to a large population that falls under the permissible drinking age limit. So, along with the deserted pubs, one will have to wait and watch to know what route tipplers take to return to the counters.
Madhura Karnik in Thane contributed to this report.