In the years leading up to India's independence from British rule, artists were trying to capture the country's complex and myriad identities, often combining western techniques with local motifs and colours to create a modern form of Indian art.
Jamini Roy, whose birth anniversary is celebrated in today's Google Doodle, was a pioneer of this movement and  widely recognised as one of India's first modernist painters.
Born in 1887 into a family of land-owners, Roy grew up in a Bengal village. That experience, particularly the exposure to folk art, would go on to influence his painting style and colour palate after he graduated from the Government School of Art, Calcutta (now Kolkata), in 1916. Though Roy studied the British academic style of painting and became well-known for his portraits, besides dabbling in Impressionism, he ultimately rejected Western traditions for Indian styles. This coincided with the rising tide of nationalism in the country.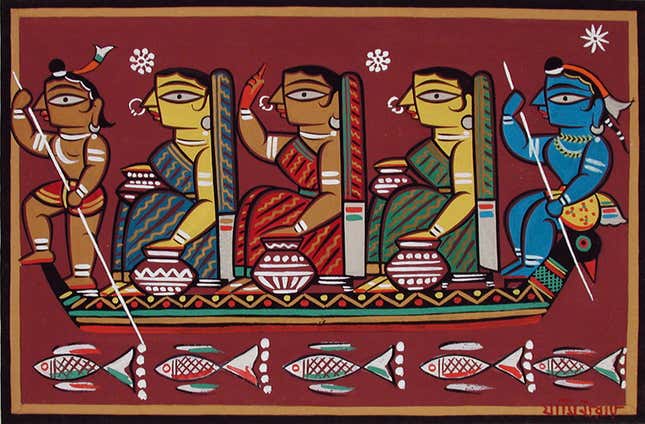 Beginning with his paintings of Santhal tribal women in the 1920s, Roy gradually developed his signature style that recorded facets of Indian life using modern, graphic lines and a limited, earthy colour palate of reds, yellows, greens, and whites. He captured the lives of ordinary Indians and rural settings, even while incorporating Indian symbols and motifs. Over the years, his oeuvre encompassed everything from colourful paintings of whimsical creatures (like the iconic Cat and the Lobster) to scenes from the Ramayana, the Mahabharata, and the life of Jesus Christ.
Roy was awarded the Padma Bushan, the third-highest honour for civilians in India, in 1955. And long after his death in 1972, his paintings mark a significant step forward for Indian art.
Since 1965, Roy's works have sold for a cumulative $11.3 million at global auctions, ranking him among the 20 highest-earning Indian artists, according to art intelligence company Artery India.