Between 1969 and 1972, Indian architect Raj Rewal worked countless 18-hour days at Pragati Maidan (which translates to "progress grounds"), a site he was designing for India's first major international trade fair, Asia 72. His nephew Arun often tagged along, perhaps laying the groundwork for his own eventual career as an architect and urban planner. He remembers those visits fondly.
"There was a carpenter who used to make these small toy cars for us. He had a place where he made models," says the younger Rewal, who was seven when the site was completed.
But now the buildings his memories are made of are under threat, as the Indian government pushes forward with plans that would demolish Pragati Maidan's most iconic buildings in favour of a new facility. Though the Rewals are fighting to save the buildings, they say their case is about far more than preserving family memories. It's about preserving modern heritage.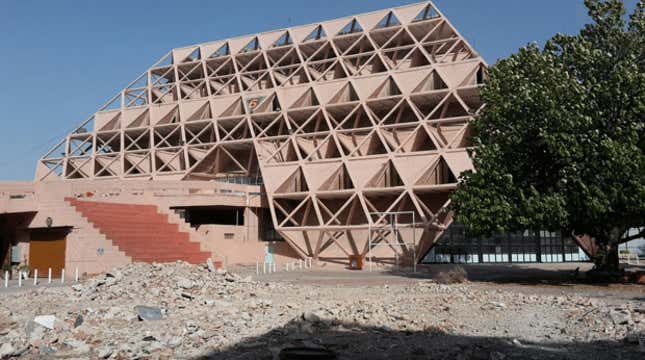 1972 marked India's 25th year as an independent nation, and both Pragati Maidan and the fair it opened for were seen as opportunities to showcase the country's progress and self-reliance. Raj Rewal did just that when he designed The Hall of Nations—the site's pyramidical centerpiece and the world's first large-scale concrete spatial structure. Building in concrete was an unusual decision, but an innovative way for Rewal and chief engineer Mahendra Raj to maximise the resources they had during challenging economic times.
But Rewal also blended the future with the past, infusing elements of history into his modern design. To combat the Delhi sun and increase ventilation, the Hall of Nations utilised jalis—traditional Indian latticed screens—that were often employed by the Mughals between the 16th and 18th centuries, including in the Taj Mahal. Rewal also drew from the plan of Humayun's Tomb, another icon of Mughal architecture roughly two miles from The Hall of Nations. It doesn't take much to get Arun waxing lyrical about his uncle's work.
"This building has a deep structure that is embedded in the structure of Delhi, which is a persistence of form, of space, which he sort of reinvented in a very modern way," he says. "It's a building typology—that buildings can share the same root. They can have an embedded idea that is similar, which shares with its traditional, cultural past. But it's also anew that you can transform."
The Nehru Pavilion—another Pragati Maidan building currently under threat—was inspired by the ancient stupas, structures that house Buddhist relics and are used for meditation. The pavilion was built as a museum to celebrate the life and times of India's first prime minister, Jawaharlal Nehru. Nehru's daughter, Indira Gandhi, was prime minister when the pavilion was built.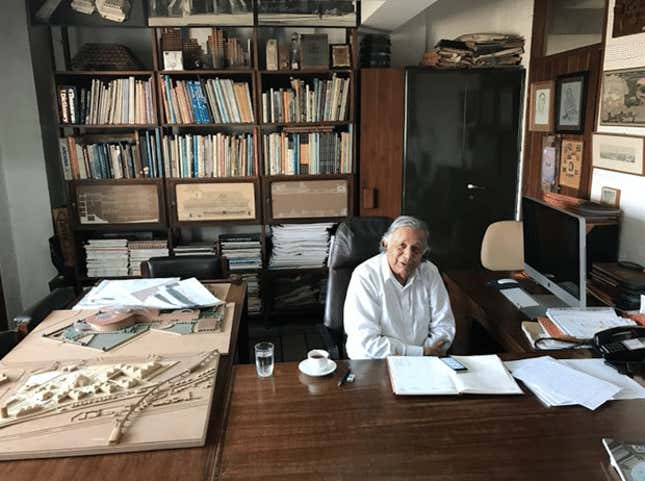 Now 82, Raj Rewal still runs his architecture firm, which has been in practice for 35 years. After Pragati Maidan, he went on to design many other important buildings and venues, including India's Parliament Library, Delhi's 1982 Asian Games Village, and the Indian embassy in Beijing. But it's hard to get Rewal to compare his work. "It's a very difficult question when it becomes personal," he says while discussing the meanings of various buildings he has designed. "It's like asking a mother which one of your children do you like best?"
When pushed, even Rewal can't ignore the levels of international recognition Pragati Maidan receives. Just last year, architectural models of its buildings were on display at the prestigious Pompidou Centre in Paris. The Museum of Modern Art in New York has also expressed interest in adding models of The Hall of Nations and the Nehru Pavilion to its permanent collection.
Both institutions, along with several others across the world, have appealed to the Indian government to protect the buildings. For Rewal though, Pragati Maidan is special because of the public space it created, instead of the accolades it received. "Everybody would go there," says Rewal. "I've been told, 'that's where I met my girlfriend,' or 'where I would take [my girlfriend].' So it became that kind of place…it's been an icon of Delhi."
This status was further cemented over the years through commemorative postage stamps and Bollywood dance sequences. Meanwhile the site continued to host international expos and trade fairs, like the one the venue was originally built for.
"It was a big thing, you know. Delhi had fairs before, but this got people together. It was a peek into the modern times, a different world, different countries," recalls the younger Rewal. "In those days, things were sort of tight and close. It wasn't a globalised world, you weren't traveling and getting onto planes," he adds.
But times have changed, and the India Trade Promotion Organisation (ITPO)—the arm of India's ministry of commerce & industry that runs Pragati Maidan—is seeking to attract global engagement with the site in new ways. Their plans involve the creation of a new Integrated Exhibition Convention Centre (IECC), a parking facility to ease congestion in the area, and a 500-room hotel. The project is expected to cost almost $350 million, and the ITPO hopes the venue might host the G20 in 2019.
"We do not have any convention and exhibition facilities of international standards [in the heart of Delhi]. I'm confident that if this comes up in the next 24-to-30 months, all these events happening [elsewhere in Asia] will be attracted here," says LC Goyal, ITPO chairman and managing director.
The Rewals and their supporters argue that the new facilities could be built without tearing down the old ones, which they say occupy less than 2% of the total site. But the ITPO says the buildings are dilapidated, and is pushing forward. A theater opposite The Hall of Nations, which screened films between 1981 and 2012, has already been torn down, as have a few other buildings added to the site over time.
Efforts to stop the demolitions have not gained much traction. In 2013, the Indian National Trust for Art and Cultural Heritage (INTACH) compiled a list of 62 structures, including The Hall of Nations and the Nehru Pavilion, that it felt should be protected and classified as "modern heritage."
The body with the power to make that determination, the Heritage Conservation Committee (HCC), ruled this February that the Pragati Maidan buildings did not qualify because, among other things, they were not at least 60 years old. INTACH says the decision is arbitrary and questions its impartiality, since the HCC is a government entity. "You had several meetings, you said you were considering it, and you suddenly say it is not heritage. We feel that due process is completely compromised. You are the judge and jury," says INTACH founder AG Krishna Menon.
The organisation's ongoing plea against the demolitions will next be heard in the Delhi high court on April 17, but as far as the ITPO's Goyal is concerned, there's nothing much left to discuss. "These buildings are not classified as heritage buildings. Therefore, there is no bar on demolishing these buildings," he points out. "The entire process has been gone through, relevant bodies have had a look at it. I mean, there's just no argument."
Goyal also notes the new plans—which he refers to as "the most modern," "world class," and "iconic"—have been approved by the HCC and the Delhi Urban Arts Commission (DUAC).
Though some have argued the plans might be part of something more sinister—a broader attack on the Nehru-Gandhi family legacy itself—Rewal is hesitant to take the argument that far. He does, however, yearn for a time when he says art and architecture were more appreciated by the ruling class. "That was a period that no longer exists," says Rewal. "We are being ruled by people who are, let's say, architecturally illiterate. Aesthetically illiterate."
Asked how he would feel if the buildings do eventually get torn down, Rewal struggles at first to find the words. "Very sad," he says. "Each time there's a court case, I cannot sleep. It's very, very sad. Because it's not only sad for me, but I feel sad for a whole generation. Have we come to that?"
Feature image by Kprateek88 via Wikimedia Commons, licensed under CC BY-SA 3.0. This post first appeared on CityLab. We welcome your comments at ideas.india@qz.com.