For generations, companies have been selling fair skin to young Indian women, promising better marriage and employment prospects. However, over the last few years, men have became a favoured target audience. This followed the realisation that the Indian alpha male, denied a choice in male-specific grooming products, had been using women's fairness creams all along.
Until the mid-2000s, deodorants and shaving creams were the only grooming products advertised for men. But India's largest consumer goods companies sensed an opportunity, and launched a slew of fairness products for male consumers.
"The men's fairness segment came about because almost one-third of users of women's fairness creams were men," says Dheeraj Sinha, chief strategy officer at advertising agency Leo Burnett. "They simply transferred the already existing market."
That led to a boom in the men's skin-care industry in India. Over the last five years, the men's grooming market has grown by over 40% and is worth around Rs5,000 crore. Though it's still driven largely by the sale of deodorants and shaving products, fairness creams account for around Rs400 crore in sales. In 2015, these products dominated the men's skin care market in India, according to data from research firm Euromonitor International.
But men looking for anything other than a fairness cream have limited choices, even as the skin-care options for women include everything from anti-ageing lotions to sunscreen protection for every possible skin type, alongside the vast range of whitening products. Both foreign and local companies, from Beiersdorf (which sells Nivea in India) and L'Oréal to Hindustan Unilever and Emami, have put whitening creams and face washes for men front and centre in India.
Kolkata-based consumer goods major Emami has built an entire range of products under its decade-old Fair And Handsome brand, including a moisturising cream, an "instant fairness" face wash, and a winter product for dry skin. Many of these products are endorsed by Bollywood actors Shah Rukh Khan and Hrithik Roshan. Emami declined to comment for this story.
The international brand Nivea sells a wider range of products for men, including face washes, scrubs, and lotions that offer "oil control," "all-in-one" solutions," and "dark spot" reduction. However, of its five face cleansers, four carry the "10x whitening effect" label, while two of its three face creams carry the whitening tag. Outside India, the company focuses on selling products for sensitive or oily skin. Emails sent to Nivea did not elicit a response.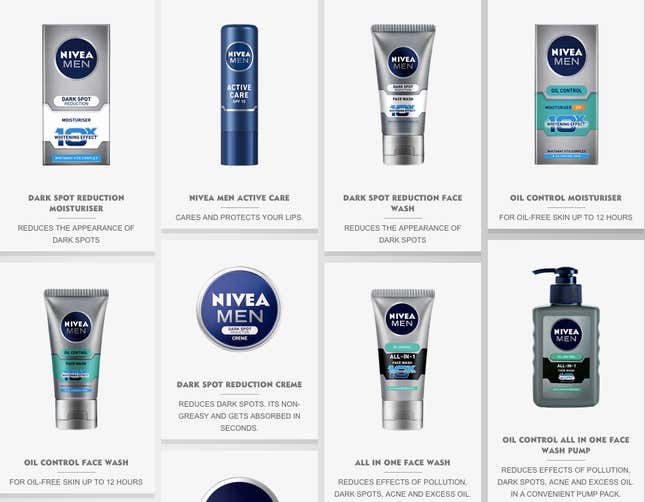 Hindustan Unilever (HUL), the Indian arm of the Dutch-British conglomerate, has been selling Fair & Lovely for men since the late 2000s. The brand is now endorsed by Bollywood actor Varun Dhawan and the range includes creams and face cleansers—all of which are whitening products. The Fair & Lovely Men Max Oil-Control Fairness face wash, for instance, promises "visible fairer-looking skin." HUL's Pond's brand also sells a men's grooming range that has a few products that promise a whitening effect, alongside anti-pollution and oil control effects.  HUL declined to respond to email queries sent by Quartz.

Meanwhile, L'Oréal-owned Garnier's portfolio is more diversified but a number of its products also promise skin whitening, such as the Power White face wash, the Acno Fight day cream, Intense Fresh face wash, and the Power Light range of face wash and moisturisers. Five of its eight products offer a fairness effect, according to information available on the company's website.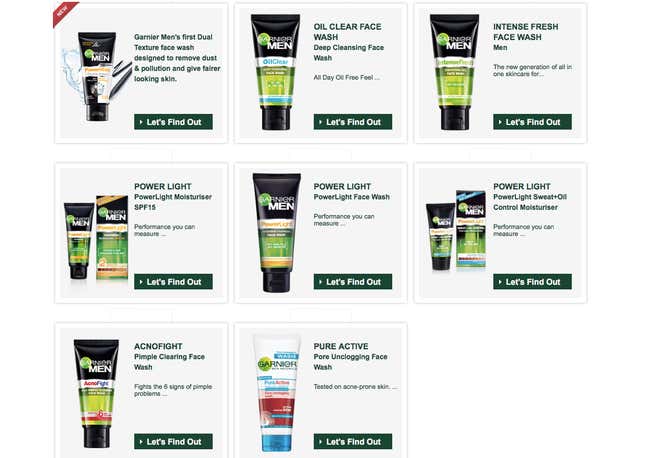 L'Oréal did not respond to requests for comments.
Brand experts, however, believe that all these products are just a reflection of India's biased society.
Not so fair
In India, as in other parts of the world, light skin is the culturally accepted and endorsed form of beauty, and children absorb this message at a young age.
According to a 2015 research report by Nielsen, urban Indian men believe that fair skin can improve professional prospects.
The cultural pressure to look fair, argues Kiran Khalap, branding expert and founder at communications consultancy Chlorophyll, is something inherent in our society, not manufactured by companies. "And it is certainly not restricted to India: China and Japan have had skin-whitening products for centuries, well before they met Western 'white' people," he said.
However, there is a growing awareness among consumers that companies are exploiting their insecurities, and critics have taken some of the biggest fairness brands, and the celebrities who endorse them, to task for their casual discrimination.
Earlier this month, Bollywood actor Abhay Deol took to Facebook to trounce his fellow actors who earn millions from endorsing fairness creams. This comes a few years after actress Nandita Das launched the "Dark is Beautiful" campaign to encourage Indians to embrace a wider definition of beauty.
These efforts are slowly making a difference, increasing awareness and encouraging consumers to take pride in their natural skin tones. That means Indian companies will eventually have to change their approach.
"My sense is that brands will wake up to the new reality, and you will see propositions reworked around clearer skin (and) glow, rather than pure fairness," Leo Burnett's Sinha said.
Rajesh Krishnamurthy, business head for the consumer product division at The Himalaya Drug Company, believes that over time the men's grooming category will evolve to include a wider range of products, including those for normal skin, just like in the women's skin care category.
"Companies are increasingly realising that you cannot continue to bullshit consumers anymore; these are educated young men who will question what you sell to them," said Shantanu Deshpande, co-founder and CEO of the male-grooming startup Bombay Shaving Company.