At Friendicoes, an animal rescue shelter in New Delhi, Labradors are now a common sight.
A breed beloved by Indian households for its friendly and docile nature is being abandoned at an alarming rate, as owners find their pets too energetic or aggressive to manage after a while. Friendicoes says that over 500 Labradors, mostly aged between four and five, have been dumped at its shelters in Delhi and Gurugram over the last few years. In bad months, the shelters receive as many as 20 Labradors from fed-up owners. The cases have spiked over the last two years.
In a blog post published on April 24, Friendicoes explained that this is the unfortunate result of widespread misinformation about the breed.
"While the demand for Labradors on the adoption front is also high, shelters are still choc a bloc with this particular breed," Friendicoes wrote. "The reason we have discovered is pretty simple. (A) lack of effort to understand the breed and what makes it tick."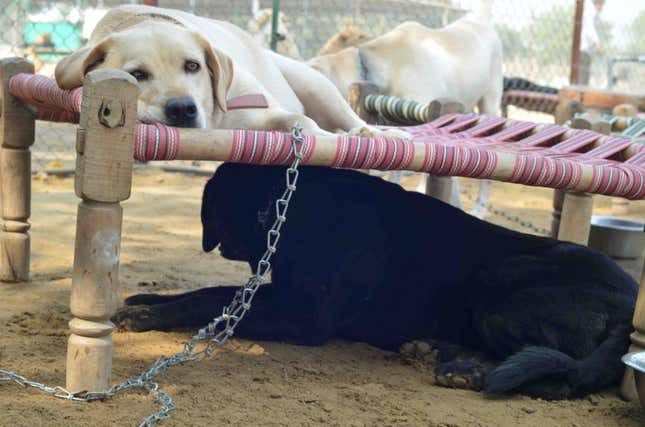 Labradors originated in the Canadian island of Newfoundland and were bred as working dogs, trained to retrieve game during hunting. As a result, they're widely used by India's police forces to sniff out explosives and track evidence. However, they can get easily bored if cooped up in apartments or houses with little attention from owners.
In India, Labradors are believed to be good-tempered, easy-going dogs, which explains their popularity as family pets. But what most owners don't realise is that even the most docile dogs require attention and care. Small spaces and a lack of adequate exercise can bring out serious behavioural problems in them.
Tandrali Kuli, in charge of animal adoptions at Friendicoes, explains that most owners are unable to take care of their once-playful puppies when they turn aggressive or develop an illness. That leads to abandonment.
"If they are not suffering from some illness or the other it will be the temperament which is responsible for bringing them to the shelter," Friendicoes wrote in the blog post, noting that owners often label their pets "destructive" or "aggressive,"  if not simply saying that they have too much energy or bark too often.
"Simply put, the dog is bored and the family has no time for their pet," the blog post said. Friendicoes has been providing protection and shelter to dogs for close to four decades now.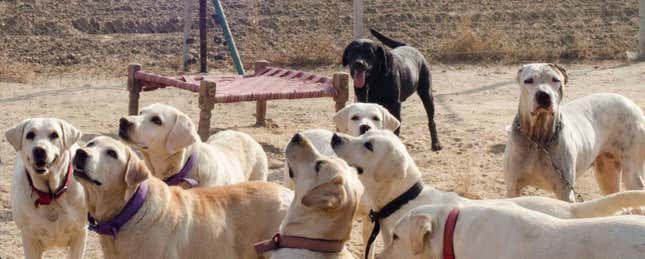 The situation is similar at other shelters, too.
Anuradha Dogra, who helps manage the Noida-based Society for Prevention of Cruelty to Animals (SPCA), explains that labradors are usually picked up by families looking for a playmate for their kids.
"But they soon realise that they need more care and abandon them," Dogra said, noting that over the last six months, the SPCA, which houses over 1,000 animals, has received nine abandoned Labradors. The breed is the third-highest abandoned pet after Spitz and German Shepherd.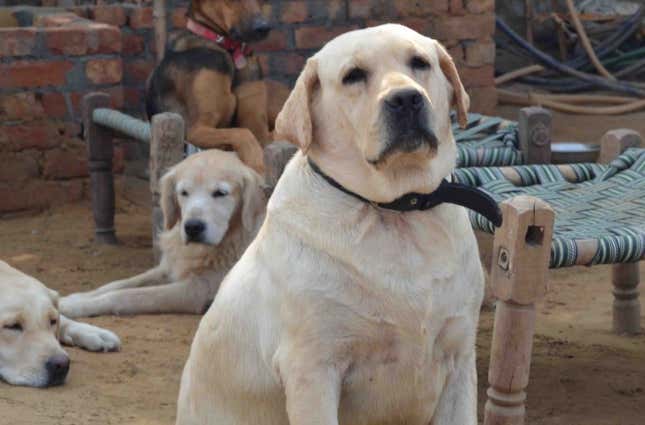 Unfortunately, things are unlikely to improve anytime soon.
The Labradors' plight reflects larger issues with pet ownership in India where, for instance, demand for foriegn breeds has led to the decline of indigenous dogs.
Even as the high rate of abandonment persists, there's also a flourishing trade in poorly-bred Labradors, catering to India's booming demand for foreign breeds. With little care for ethical and intelligent breeding, puppy mills have flooded the country with unhealthy dogs available for as low as between Rs1,000 and Rs2,000, Friendicoes says.
This cheap price could also explain why close to 60% of the abandoned dogs in Chennai, for instance, are Labradors, according to Shravan Krishnan, an animal rights activist in the city.
"That's why people find it easier to dump them, because there is no value attached to them," Krishnan said. "These breeds are like commodities now."