For an Indian student, even the sky is not the limit.
Eighteen-year-old Rifath Shaarook designed what he describes as the world's lightest satellite, from scratch. The device weighs a mere 64 grams (0.14 lbs), making it even lighter than a smartphone. "We did a lot of research on different cube satellites all over the world and found ours was the lightest," Shaarook said about his 3D-printed, carbon fiber small-scale satellite.
Named KalamSat, the device is named after India's "Missile Man," former president APJ Abdul Kalam. Kalam was a space-research pioneer in the country and he led India's Integrated Guided Missile Development Programme.
"It will have a new kind of on-board computer and eight indigenous built-in sensors to measure acceleration, rotation and the magnetosphere of the earth," the budding scientist told Business Standard about his 4-centimeter cube design. Shaarook and his team created the satellite for under Rs1 lakh ($1,561).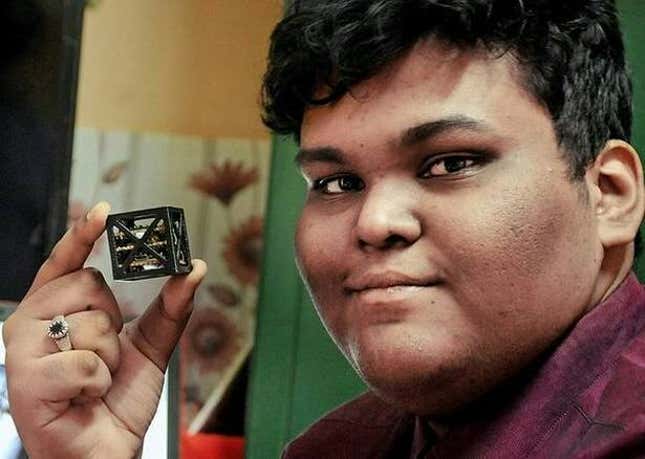 The 12th grader's design scored him a win in the "Cubes in Space" competition for school-age students, organized by the US National Aeronautics and Space Administration (NASA) and the education organization I Doodle Learning. His prize? The device will now go on a four-hour mission aboard a sub-orbital flight during which it will operate for around 12 minutes in a micro-gravity environment of space.
KalamSat is one of 80 experiments to be selected from among 86,000 designs from 57 countries. It will be launched on a research rocket from Nasa's six-square-mile Wallops Island Facility in Virginia on June 22, Amber Agee-DeHart, the founder of Cubes in Space program told Quartz. (The rocket will enter space for a few minutes, not orbit the Earth. The purpose is to test whether or not the 3D-printed technology will withstand launch conditions.)
Shaarook, who hails from the town of Pallapati in the south Indian state of Tamil Nadu, is the lead scientist at Chennai-based space education and innovation organization Space Kidz India, BBC reported. The outfit sponsored his research.