At his swearing-in three years ago, Indian prime minister Narendra Modi pulled a coup of sorts by featuring an array of heads of states from South Asian countries, including arch-enemy Pakistan, at an event that rarely has a high-profile foreign contingent. Months later, the Indian prime minister's bromance with former US president Barack Obama—who even wrote a note in praise of Modi in Time magazine—was the subject of much adulation.
In the first two years of his term, Modi travelled to as many as 36 countries—and all India's neighbours—in an attempt to establish the world's fastest-growing major economy as a regional soft power.
But in the past year the Modi diplomatic whirlwind has waned. Meanwhile, China—India's nuclear-armed neighbour—under president Xi Jinping, appears to be making all the right moves in its foreign policy, particularly in Asia, to New Delhi's increasing consternation.
"Modi sought to depict himself as a more decisive kind of leader who can actually make things happen quickly—and to an extent he has succeeded," Michael Kugelman, a senior associate for South and Southeast Asia at the Washington DC-based Woodrow Wilson International Center for Scholars, said. "Still, he is a product of a system and institutions that make it hard to move quickly, including in the area of foreign relations. And ultimately Xi and China win out from this."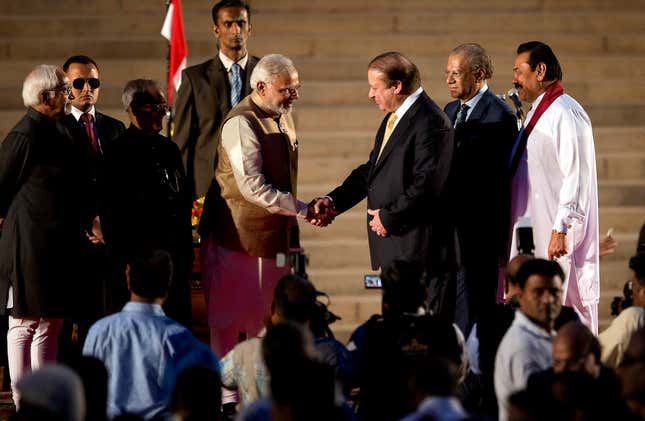 India: "Neighbourhood first" fails
Early in his term, Narendra Modi seemed on course to build India's image in South Asia as a dominant regional power.
In visits that some dubbed part of a "neighbourhood first" strategy, he made the first trip by an Indian prime minister to Nepal in 17 years, and to Sri Lanka in 28 years. Further afield, he traveled to China's neighbour Mongolia—the first Indian prime minister ever to do so—to send a subtle message to China, which has been increasingly active on India's own periphery.
"Today, most countries use a combination of soft power and hard power, together called 'smart power.' Since Modi became prime minister in May 2014, India has employed such a blend, but with a strong focus on soft power," Stéphanie M. L. Heng, a visiting fellow at New Delhi based think-tank Observer Research Foundation, wrote last year.
Modi, though seen as a strongman at home, sought to position his efforts abroad as diplomacy by consensus—not bullying—which India's smaller neighbours have complained of in the past.
"Look, foreign policy is not about changing mindsets," said Modi, explaining his strategy in July 2016. "Foreign policy is about finding the common meeting points. Where do our interests converge and how much? We have to sit and talk with every country."
But by late 2015, things began to take a different turn. The government in Kathmandu blamed India for being complicit in an unofficial economic blockade caused by protesters from Nepal's Madhesi communities (paywall), who were blocking a crucial checkpoint from where fuel and other crucial imports from India enter. Months later, India's efforts to mend ties with Pakistan derailed—just weeks after Modi made a surprise visit to Islamabad—when terrorists attacked an Indian Air Force base in Punjab.
Last year Modi became mired with his domestic agenda as well, when his government withdrew much of the currency in circulation in a move against tax evasion, endangering economic growth, while preparations for major regional elections also loomed.
Now, despite the early promise of the swearing-in handshake between Modi and Pakistan prime minister Nawaz Sharif, relations between India and Pakistan are perhaps at the worst they have been since the 2008 Mumbai terror attacks. Further away in South Asia, India's relations with the island nation of Maldives are stagnating under its new leadership. In Iran, where Modi offered to fund development of a port, the Indian and Iranian governments are squabbling over delays. Meanwhile New Delhi's growing proximity to Washington has put India's relations with Russia—an old ally—at risk, even as the China-Russia alliance remains robust.
"We can't exactly blame Modi for not being able to stop China's growing influence," Alka Acharya, a professor of Chinese studies at New Delhi's Jawaharlal Nehru University (JNU). "India had made a lot of offers, be it in Africa or in the Asian countries. But they have not fructified mostly because of bureaucratic failures.  These countries wouldn't want to wait for India and in that sense China has been much better poised."
China: Fast-mover advantage
President Xi, the country's most powerful leader in decades, has expanded investment and trade abroad, created new international institutions—one of which, in an overture to India, is headed by an Indian—and strengthened China's military presence in the Asia-Pacific region and in Africa.
There are two major reasons China is able to move much faster than India on deals and aid, including a one-party system that gives Xi decision-making power far beyond what Modi is able to command. The world's second-largest economy, China has far more resources, from the world's largest foreign reserves, to some of its biggest infrastructure companies. So it's no surprise India hasn't been able to compete with China across different arenas from Southeast to Central Asia to Africa, where many nations are now highly dependent on economic ties with China.
But what is surprising is India's inability to retain the advantage among its closest neighbours (leaving aside Pakistan). Instead, China has been able to build up a rock-solid strategic presence encircling India.

In Bangladesh, president Xi last year gave the country financing of over $24 billion towards power plants, a port and railways. In Sri Lanka, a massive Chinese-funded port has been under construction for several years and at one point, Chinese submarines docked at the country. In Myanmar too, China has been flexing its muscles, even offering to participate in the peace process. In Nepal, China has emerged as the Himalayan nation's largest donor.
"As long as [China] is offering favorable terms for financing development, there will naturally be a keenness on the part of the smaller South Asian countries to embrace Beijing," added Dhruva Jaishankar, of the India arm of the US think-tank Brookings Insitution. "That being said, proximity and politics means that China is unlikely to replace India in this region. Pakistan, of course, represents a very different case."
In recent months, as the US turns inward under Donald Trump's "American First" policy, China has positioned itself even more prominently as the new champion for globalisation, speaking out on climate change and trade.
Now, Xi's foreign policy masterstroke, the One Belt, One Road initiative—which some have called imperialistic (paywall) in its ambitions—poses the greatest challenge for New Delhi.
One belt, one road to bind them
The newest plank of China's foreign policy is an estimated $5 trillion (pdf) infrastructure spending spree proposed by Xi in 2013 that spans 60-plus countries across Asia, the Middle East, Europe, and Africa.
Last week, when world leaders gathered in Beijing to hear China's plans for the initiative, India declined to attend and instead expressed its strong opposition to the project, which includes a $46 billion China-Pakistan economic corridor. Parts of the project involve developing a portion of the Kashmir region that Pakistan holds, and that India says it illegally occupies.
"No country can accept a project that ignores its core concerns on sovereignty and territorial integrity," the Indian government said in a statement released on the eve of the forum.
In Pakistan, Chinese companies will lease out thousands of acres of agricultural land and develop huge industrial parks—while also setting up a surveillance system spanning cities across the country, according to a report in Pakistan's Dawn newspaper.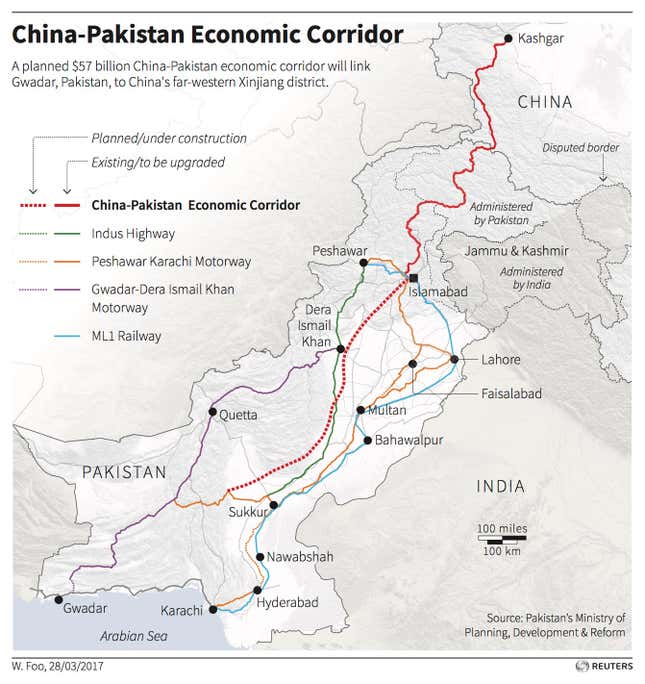 Yet some countries are overlooking sovereignty concerns to partner with China. In Southeast Asia, many of the countries with which China has conflicting territorial claims in the South China Sea are participating in the Belt and Road program, including Vietnam, Malaysia, and the Philippines.
China appeared unfazed by India's decision to stay home.
"India's objection to the B&R is partly a show for domestic politics, partly to pile pressure on China," said an editorial in Global Times, a nationalistic Chinese state tabloid. "However, the absence of New Delhi in the B&R has not affected the forum in Beijing, and it will exert even less effect on the progress the initiative will make in the world."
A key to catching up: Japan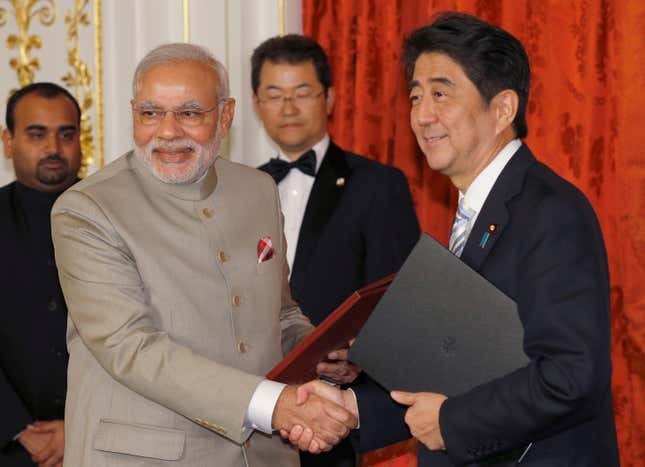 To establish a network to balance OBOR's influence, India should look to strengthen alliances in Asia with other countries alarmed by or left out of Silk Road plans. These include Japan, which did send an envoy to the meeting though not its Prime Minister Shinzo Abe, and has grave concerns about China's growing might, and Singapore, which China didn't invite to last week's meeting.
According to the Economic Times newspaper, India and Japan are planning to fund infrastructure projects in East Africa, while Japan will join India in the expansion of Iran's Chabahar port. In Sri Lanka too, the two countries are jointly planning to expand the Trincomalee port. They are also likely to partner to develop Dawei port along the Thai-Myanmar border, and in Bangladesh. But again, India might by stymied by a bureaucracy that is slow to act on deals that would further solidify ties—for instance by approving the purchase of amphibious aircraft  from Japan, which is looking for a foothold in the global arms trade.
India could also continue to lobby other countries around the concerns it raised in its statement in OBOR, including debt burdens for participating countries, environmental standards and transparency in the bidding process.
"India can't go around crying that the OBOR is a bad idea. What the Indian government can do now, is talk to countries and convince them about the potential risks that come with joining," says Acharya, of JNU.
Sri Lanka, in particular, shows both the opportunities for and the challenges in countering China's economic might. Remarks by Sarath Amanugama, a minister who was part of Sri Lanka's OBOR delegation, suggest his country wants to carefully balance its ties with India and China.
"Taking sides is not rational in Sri Lanka's interest," said Amanugama in the wake of Modi's visit to Sri Lanka, which came days ahead of China's forum. "India is our brother, China is our friend… We don't see the world divided between India and China."
Just ahead of the OBOR meeting, Sri Lanka declined to allow a Chinese submarine to dock, a sign of growing concerns over China's presence in the country, and perhaps of effective Indian lobbying. But Sri Lanka was also the only South Asian country other than Pakistan to send its leader to China's forum, and came away from the meeting with a promise from Beijing for an estimated additional $24 billion in loans, even though the country is still struggling to pay the existing $8 billion debt to China.
"China is winning in many ways over India, and particularly in the race for influence across South Asia and the broader region," said Kugelman, of the Woodrow Wilson Center. "Given how deeply entrenched China's footprint is in South Asia, and given how OBOR will cement this deep presence, Modi has a very long road ahead of him to try to push back against Beijing."