For Ankur Jain, the founder of Bira 91, getting into the craft beer business was a little like going on a first date. "you don't know if you will find love or not."
But in the two years since their launch in 2015, Bira 91's light white ale and blonde brews have become a favourite across urban India, almost as popular as the premium variants sold by global giants like AbInBev and SABMiller. Buoyed by $25 million (paywall) in funding from the likes of venture capital fund Sequoia, among others, Bira 91's parent company B9 Beverages currently sells around 200,000 cases every month. That's still small for now (India is a 270-million cases-a-year market) but its rapid pace of success shows that the company is doing something right.
Now, Bira 91 (the number comes from India's country code) is branching out with even more options: Bira 91 Light, a low-calorie beer with a reduced alcohol content for health-conscious consumers, and Bira 91 Strong, a wheat variant with an alcohol content of 7%. And both choices are a sign that the company is tuned in to what young Indian customers are looking for.
"We speak (the urban consumer's) language; we are them… On the other hand, the largest beer companies, I would say, are failing the consumer as far as India is concerned," Jain told Quartz. Last year, Jain moved Bira 91's brewing from Belgium to a plant in Indore. Another brewery in Nagpur will soon help the company sell more.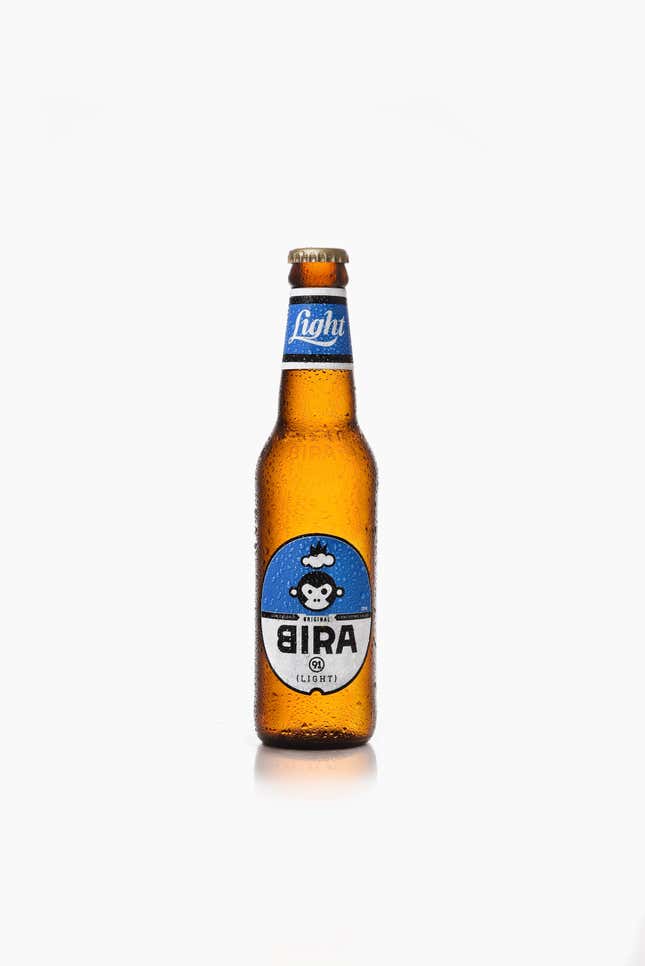 Beer accounts for less than 8% of all alcoholic beverages consumed in the country but local and foreign heavyweights have been battling it out for years to boost sales. India's beer market is dominated by strong brews such as Kingfisher Strong (sold by Bengaluru-based United Breweries) and Haywards, but with millennial consumers looking for something new and different, Bira's entry has changed the game, offering what Jain called "a trendy, unorthodox, fun and smart brand of beer."
Bira 91 was initially launched as an alternative to the international brews imported to India with quirky and contemporary packaging—the brand's mascot, for instance, is a monkey. In its early days, the brand tied up with trendy bars and restaurants in the country's big cities that were frequented by a younger clientele to gain visibility.
For years, most beer companies have followed the script, launching strong beer brands that appeal to the masses. But as customers have warmed up to homegrown brews, including Bira, companies such as Heineken and AB InBev are now bringing in their more popular international brands with both mild and strong flavours.
"If I look at our competition, I think at some level they've stopped caring about the consumer; they have expat CEOs and all they care about is getting a higher market share within a two-three year horizon," Jain told Quartz. "When you work with that mentality of gaining the highest amount of market share in the shortest span of time, you replicate what the incumbent is doing because you do not want to take that risk of bringing in something new."
For Jain, taking risks applies within the company, too. Bira's work culture also reflects his dismissal of the way the industry has worked traditionally. For instance, many of the company's employees don't have previous experience in the liquor business, because Jain believes it's outsiders who are more willing to challenge the norms.
"We have hired from all the large beer makers and these employees think that their (other large companies) way of doing things is wrong and they need to reinvent that. However, no one from our front end, i.e. those doing sales and marketing, comes from the alcoholic-beverage industry," Jain said. He added that the company typically hires from the tech industry, digital marketing and from other consumer good makers.
That unconventional approach is likely to keep serving Bira 91 well in its ambition to become a global brand. For now, it's already available in the US, in markets such as New Jersey and soon in Boston, and Jain also has plans to sell his beers in Singapore to break into the larger Asian market.
But at the moment, the party is on in India, where Jain is looking to raise another $25 million to keep the hipsters happy.