With the notable exception of people with an unhealthy obsession with Instagram (#ihavethisthingwithfloors), not a lot of Indians take the time to notice the ground they're standing on.
But if you did look down, say, while visiting the Bhau Daji Lad museum in Mumbai or the Bangalore Club, or even the SodaBottleOpenerWala restaurant in Gurugram, Haryana, you'd find the colourful handiwork of a tile company that's been in business since 1922.
In an era of mass-produced ceramic tiles, made entirely by machines, Bharat Floorings is a bit of an anachronism with its hand-crafted cement tiles. At its factory in Mumbai, the company's production remains small-scale and bespoke, with artisans working the same way they did decades ago, hand-painting cement before pressing it under hydraulic pressure to form a tile.
"It is a dying art because it's all handmade," Firdaus Variava, vice-chairman of Bharat Floorings, told Quartz, adding that the process is time-consuming. He estimates that the company produces under 100,000 square feet of tiles every month, with an average order taking between 25 and 30 days to meet.
What takes even longer is finding and training people that can craft its specific type of tiles.
"This process takes anywhere from three to six months per artisan, so the growth is not as rapid as just installing new machinery," Variava said. However, he explained, the company is profitable and is expanding its capacity by 20% year-on-year, with plans to target the export market.
Since its launch decades ago, Bharat Floorings' tiles have graced famous landmarks such as the Mumbai Central Station and the Royal Opera House, while adding finesse to Mumbai's Art Deco architectural icons like the Eros and Regal cinemas. They've also adorned the floors of the residences of the maharajas of Bikaner, Gwalior, and Jodhpur, among others.
Today, Bharat Floorings' client list includes some of contemporary India's trendiest restaurants, from The Bombay Canteen to Delhi's Claridges Dhaba to Loft 38 in Bengaluru, a sign of the changing times for a company that has seen it all over a period of over 90 years.
Made in India
In 1922, Variava's grandfather Pherozesha Sidhwa, then an aspiring lawyer, was galvanized by the words of freedom fighter Jamshed Mehta. Sidhwa was urged to do his part for the Swadeshi movement to help colonial India end its reliance on imported British goods. At the time, his family's liquour business in Uran, Maharashtra, was languishing in the wake of British-enforced prohibition, so Sidhwa saw an opportunity in putting a large abandoned shed to better use to make cement tiles.
Along with his nephew Rustom, Sidhwa launched the Bharat Flooring Tile Company and set out to compete with UK-based Minton & Co, the favourite at the time, whose patterned clay tiles were shipped to colonies all the way from Britain. Travelling across Europe, Sidhwa and his team learned how to use coloured cement (pdf) and began to produce alluring and affordable patterned alternatives to the imported tiles in India. Sidhwa's tiles also came with a patriotic flourish: the map of undivided India stamped on the back of each and every one of them.
The very first building to be outfitted with Bharat Flooring's tiles was the residence of the Parsi philanthropist Sir Cowasji Jehangir Readymoney in Bombay, now Mumbai. It is said that Sidhwa was so determined to get things right that he had the first batch of black and white tiles dumped into the sea as they didn't meet his exacting standards. It definitely paid off, though, with the company quickly gaining in reputation.
Ironically, Bharat Tiles soon turned popular among the British themselves: between 1923 and 1935, a number of public buildings, universities, and even governers' houses were decorated with Sidhwa's Swadeshi tiles. And as Bombay entered the glamourous Art Deco phase, almost all the modern new buildings in and around areas like Oval Maidan and Marine Drive, including the notable Excelsior, Broadway, and Roxy cinema halls, incorporated Bharat Flooring's colourful tiles.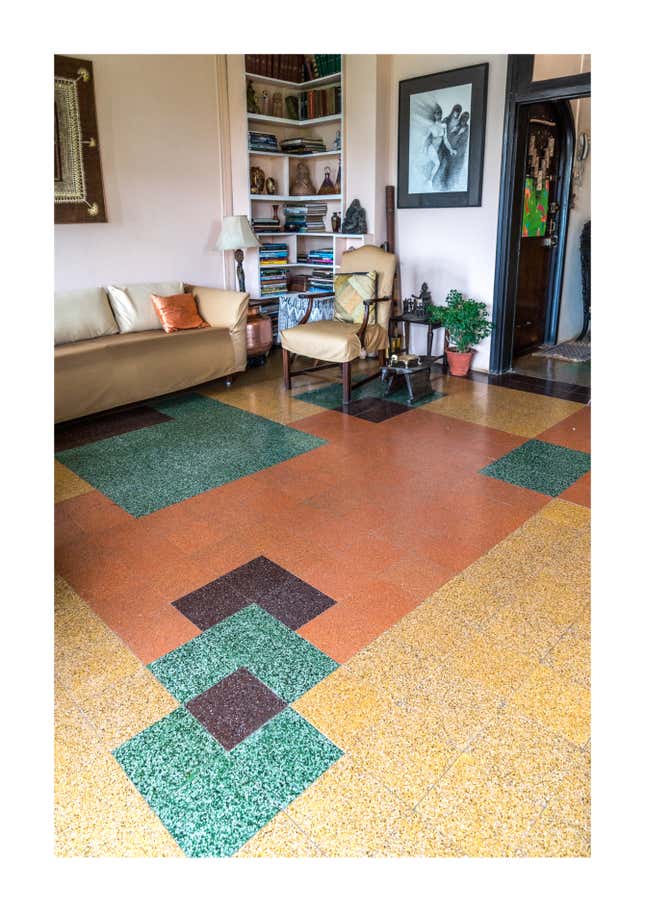 The Second World War was bad news, though. As the British seized all cement supplies for the war effort, Sidhwa was forced to temporarily shut shop, shifting his focus to launching India's first grinding wheel company.
After the war, as cement became available again, Bharat Floorings jumped back into the game, moving its operations from Uran to Bombay. Here it went on to introduce new product ranges, including Terrazo tiles made with stone and marble chips, which adapted to the changing aesthetic demands of modern India. But it would take several decades before its old patterned tiles returned to the spotlight.
Made for Instagram
The revival of the company's original patterns began in 1999, after Sidhwa's daughter Dilnavaz took over the family business. For the very first edition of the Kala Ghoda arts festival, organised that year, Bharat Floorings was invited to showcase a selection of its heritage tiles, made using the moulds from the 1920s. That exhibition renewed consumer interest in the older styles, and the company entered a new era, relaunching its heritage collection (pdf) a few years later. These heritage tiles would eventually be used for the floors of clubs, hotels, and public buildings across the country, including a number of Mumbai's refurbished architectural landmarks such as the Cathedral and John Connon School and the Royal Bombay Yacht Club.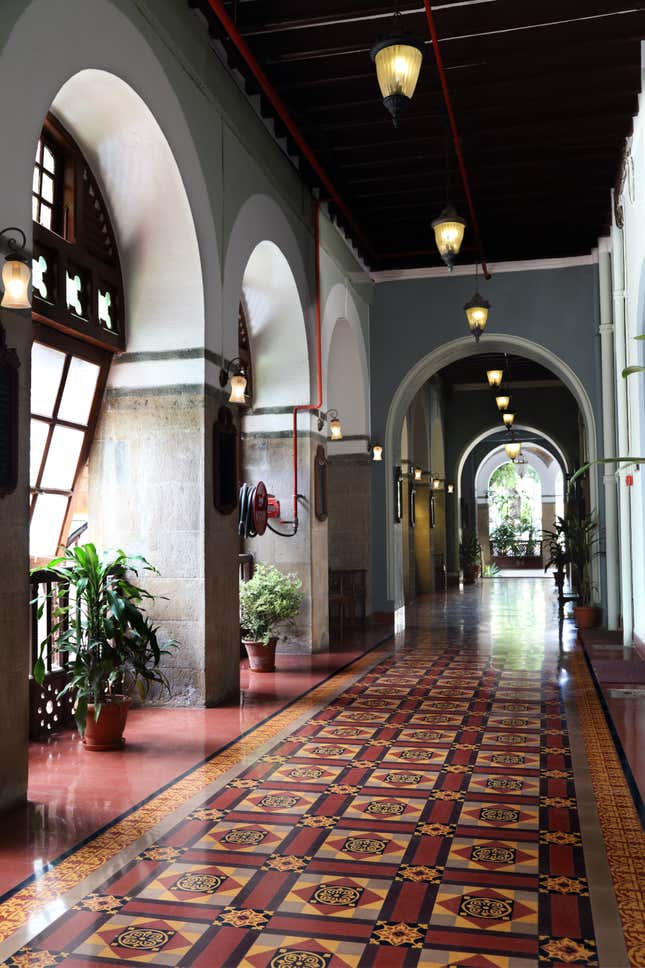 Firdaus Variava, who has a background in telecom, trading, and market research, joined the company over a decade ago at the request of his mother, the chairperson. His task was to make sure the company remained relevant in contemporary India.
"We started to move away from the heritage business and more into the contemporary side of things by basically exploiting the strength of the company, which is that we can customise pretty much any tile (and) make any tile to order," he explained. A key part of the strategy was collaborating with artists such as Aurélie De Cort and Alice Von Baum, as well as designers such as Sian Pascale, to create tiles with modern colours and designs, inspired by everything from Japanese lines to typography.
"We wanted to basically move away from being retro to being retro-chic," Variava said.
The other part of the strategy was working with interior designers such as Ravi Vazirani and Richa Bahl, who helped Bharat Floorings capitalise on the next phase of urban India's evolution, fueled by the rise of the Instagram-ready restaurants and cafes.
But while these new photogenic floors are keeping the company cool in Mumbai and beyond, it's ultimately the resilience of the long-standing old ones that really attests to Bharat Floorings' deep-rooted connection with the identity of India.
"We've had tiles which have lasted all the way from 1922 to now," Variava said. "Our earliest floors are still in existence."