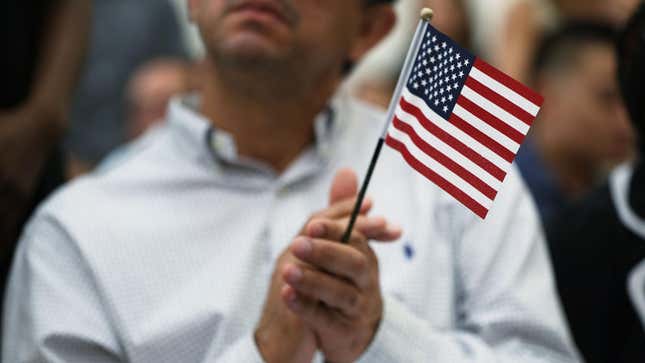 The US could save Indian and other immigrant workers a whole lot of time and travel.

Should you keep investing in Big Tech?
The state department is reportedly getting ready to pilot a program later this year that would allow to renew in the US certain categories of non-immigrant visas, starting with the H- and L- visa categories for specialty occupations.
"We all saw during the pandemic how difficult it was for these people to return to their home country and often not be able to get visa appointments to come back to their home, the United States," Julie Stufft, deputy assistant secretary for visa services in the Bureau of Consular Affairs, told Bloomberg Law. "That's what we're trying to address initially with this."
Renewing visas stateside will have an outsize impact on Indian tech workers, who typically receive more than three-quarters of the H-1B visas doled out annually. They also bag the largest share of L-1s, which companies use to bring workers from abroad in to fill managerial positions.

How are H-1B and L-1 visa renewals done?
Until 2004, the state department permitted certain nonimmigrant visa holders—E, H, L, O, P, or certain other nonimmigrant statuses—to renew their visas by mail with the agency's Visa Office in Washington DC.
However, the program was terminated because authorities lacked the means to collect applicant biometrics as required by national security laws enacted after 9/11. Since then, foreign workers have had to go back to their home countries and get the extension stamped by a consulate there.
The wait can be torturous. After submitting their passports and documents, many have been known to get stuck for over two years. US consulates have been increasingly understaffed since the pandemic, and visas in need of processing keep piling up.
State department officials hope the pilot program will reduce that workload. Stateside renewal would also save employers headaches such as indefinite time zones and travel adjustments when foreign talent is stuck abroad.
Quotable: Domestic visa renewal a welcome relief
"Immigration advocates have been urging the state department to permit stateside revalidation as a means to alleviate the exceptionally lengthy visa application backlogs that developed at consulates during the height of the covid-19 pandemic. Though many consulates have returned to pre-pandemic availability, several key regions—including India—remain severely backlogged." —Feb. 10 statement from immigration services firm Fragomen
US work visa for Indians, by the digits
Up to 3 years: How long H-1B visas are initially granted for
Another 3 years: The additional years H-1B visas can be renewed for
150 years: Wait to get a green card for Indians because of the country's caps on skills-based green cards issued annually. H-1B and L-1 workers can get additional extensions with an approved green card petition.
500,000: Indian visa holders the programme could help if the program is rolled out in full, as per conservative estimates by immigration lawyers
Will the new pilot programme aid all H-1B visa renewals?
As a pilot, the scope of the program will likely be narrow.
"It is widely believed that the government agency will at first limit the number of eligible foreign national workers who might benefit from statesite visa processing, and thus not all foreign workers in a visa status will immediately have this option upon the program's launch," Min Kim, attorney at law firm Chugh, wrote. "The criteria the state department will use in selecting the pool of H-1B and L-1 workers eligible for this benefit is currently unknown.
Kim speculated the stateside visa processing benefit will likely be extended to dependent family members of H-1B and L-1 employees who are presently in the US in H-4 and L-2 status respectively. But this is "subject to change," he cautioned, as the state department develops the infrastructure to create a consular section for its office in Washington DC, which will be the domestic office to receive such visa applications.
One more thing: What is the US doing to fix wait times for Indians applying for other visas?
For the B1 (business) and B2 (tourist) visas, the wait time is nearly 1,000 days in Mumbai. In other parts of the country, too, it's taking 500 days or more. The US is "putting every ounce of its energy" to eliminate the long visa wait time in India, a senior US visa officer told Press Trust of India.
One way it's doing that is beefing up the workforce, including sending a team of consular officers and engaging diplomatic spouses and doubling direct hiring at its embassy.
Another is to open up other overseas embassies as far away as Germany and Thailand for Indian visa applicants. In Thailand, the wait was just 14 days earlier this month.
Related stories
💸 What higher H-1B fees will mean for Indians hoping to work in the US
🇺🇸 Can the H-1B visa survive American nationalism?