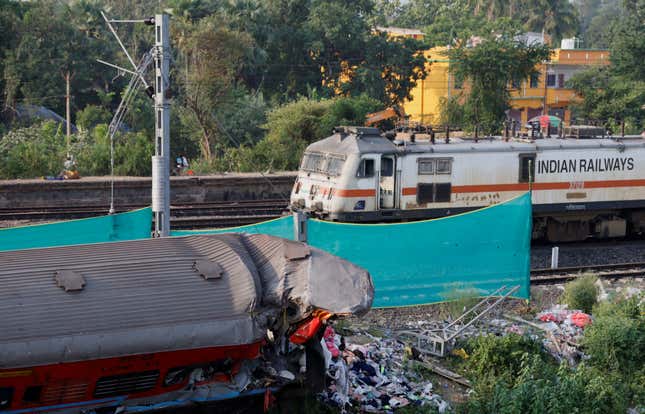 An old report by the country's official auditor, now in focus following a deadly train crash, indicates "mis-spending" of funds by Indian Railways while safety suffered.
Should you keep investing in Big Tech?
Following the June 2 accident that killed at least 288 people, Railways has been accused of not spending enough on safety despite funds being allocated for the purpose. The report by the Comptroller and Auditor General of India (CAG) has now given these allegations more credence.
Tabled in the Indian parliament in December 2022, the report on derailments of Indian Railways' trains (pdf) includes an analysis of 1,129 incidents between April 2017 and March 2021. It revealed factors responsible for accidents that had led to a cumulative loss of around $3.9 million.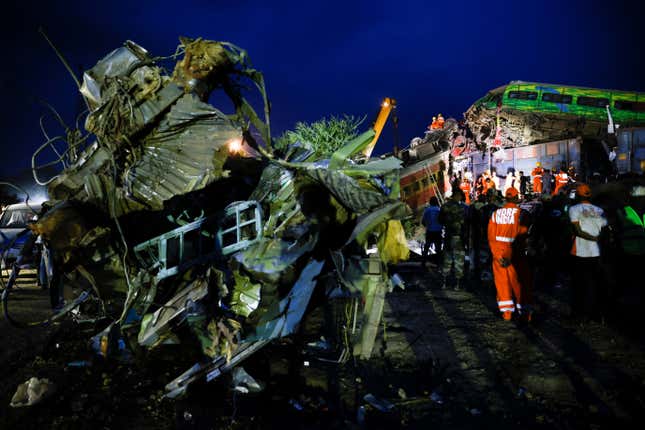 In the past 10 years, 260,000 people have died in train accidents—only a fraction of it in train collisions—in India, according to National Crime Records Bureau data. This does not include the 8,700 mowed down by trains during India's 2020 covid-19 lockdown.
A major concern the CAG report highlighted was that Indian Railways, which carried more than 2.7 billion people in fiscal 2021-22, has not been maintaining its part of a special fund created to improve safety.

"The purpose...is gradually being eroded due to non-appropriation of required funds from internal resources of Railways," it quoted a parliamentary panel as saying.
What happened to Railways' special fund for safety?
The Rashtriya Rail Sanraksha Kosh (RRSK), or the national railway safety fund, was announced by the Indian government during the budget for the financial year 2017-18.
It was meant for things like works of renewal, replacement, and augmentation of assets and was supposed to have a corpus of more than $12 billion to be built over a period of five years, with an annual outlay of $2.42 billion.
The Railways' contribution was set at $605 million annually, and the rest—more than 1.8 billion—was to come from the government.
Things, however, did not go as planned.

The CAG's report stated that Railways failed to meet its target for four financial years in a row starting 2017-18—its overall deficit stood at $1.9 billion.
It is unclear from the report if the government's contribution to RRSK was made and if it was used.
Indian Railways did not prioritize safety
RRSK was to be spent on categories prioritized to enhance safety. These include:
Replacement of over-aged assets
Elimination of unmanned level crossings
Adoption of technologies to upgrade and maintain track rolling stock
Signalling and interlocking systems
Safety drives
Training officials and regular inspections
Educate staff on safety matters and procedures
Things beyond these parameters were deemed "non-priority." And that's exactly where Railways has allegedly focused over the past few years.
"The money spent on non-priority areas rose from 2.76% ($56 million in 2017-18) to 6.35% ($121.5 million in 2019-20), which was against the guiding principles of RRSK deployment framework," the CAG report said.
Questions have also also been raised over the non-deployment of the government's new anti-collision system Kavach. While it has been in the works since 2012, Kavach was launched with much ado last year. It involves the deployment of automatic brakes when trains head for a collision, stopping them in their tracks at a safe distance.
India aims to bring 2,000 km of tracks under Kavach but so far only 2% of the country's network has been covered.
Railways' misplaced priorities and other challenges
While Indian Railways is struggling to contribute towards its safety fund, it has invested heavily in infrastructure, including the upgrade of stations and dedicated freight corridors.
The transporter is also funding the manufacture of new trains, particularly Vande Bharat, flagged off by prime minister Narendra Modi himself amid much jubilation. Critics allege that these launches have come at the cost of safety.
The Railways has earned red marks for the non-renewal of existing tracks, too: Of its 114,907 km length, it is expected to renew 4,500 km annually. But there's been a constant decline in this area over the past six years apparently due to financial constraints, according to a white paper quoted in the CAG report.
"In 2019-20, only 3.01% of funds out of the total expenditure of $83.49 million were utilised for track renewal on Western Railway, one of the busiest sections," it said.
A major factor in derailments, according to the CAG, is a lack of "maintenance of track" (171 cases), alongside "deviation of track parameters beyond permissible limits" (156 cases).
Last week's tragedy was clearly a wake-up call.