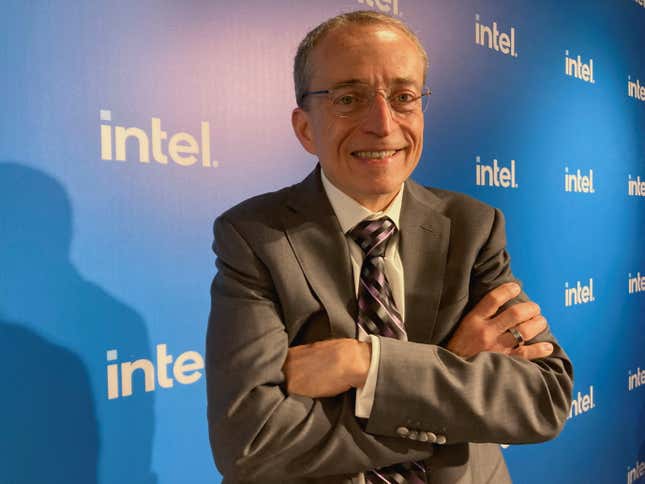 California-based tech company Intel is afraid of falling behind in the global AI chip market race. Its second-quarter earnings report (pdf), released today (July 28), heralded its intention to take on chip-making giant Nvidia.

Making money investing in Japanese robotics companies like FANUC
While the company's latest earnings report indicates a marked improvement from the previous quarter's revenues, Intel now wants to ramp up its chips production to bolster its competitiveness on the AI front and challenge Nvidia's dominance in this space.

Intel CEO Pat Gelsinger boasted that the tech company is building AI into all the future products it is building. "We are also well-positioned to capitalize on the significant growth across the AI continuum," he said in the earnings report. Later this year, the company plans to ship its first chip produced with an in-built neural processor for machine learning assignments, called Meteor Lake. This will be the first Intel processor to feature a dedicated AI engine. 
"Across every aspect of consumer, developer, and enterprise efficiency use cases, we see that there's going to be a raft of AI enablement and those will be client-centered," Gelsinger said. 
The company has selected Wroclaw, Poland, as the site for its new $4.6 billion semiconductor facility to "help meet critical demand for assembly and test capacity" by 2027.
Intel's quest for better AI graphics performance
Meteor Lake chips, according to a statement by Intel, promises to deliver improved power efficiency and graphics performance for high-scale AI projects.
Meteor Lake is expected to bring in features like real-time language translation in Zoom calls, real-time transcription, automation inferencing, relevance portraying, generated content and gaming environments, and real-time creator environments through Adobe.
By leveraging the influential growth across the AI continuum via chipset solutions that optimize performance, cost, and security, Intel believes it could become a bigger player in powering the current AI boom, largely driven by Nvidia's H100 and A100 chips. The global semiconductor market value is projected to hit $1 trillion by 2030.
Nvidia's specialization in chips that power generative AI gave such a boost to its stock price this year that the company joined the club of companies worth more than $1 trillion. Nvidia already outshines Intel in the manufacture of AI graphics processors in terms of performance, ray tracing, and 4K rendering. This means Intel will have to put in more work into the research and development of chips that support machine learning and deep learning.