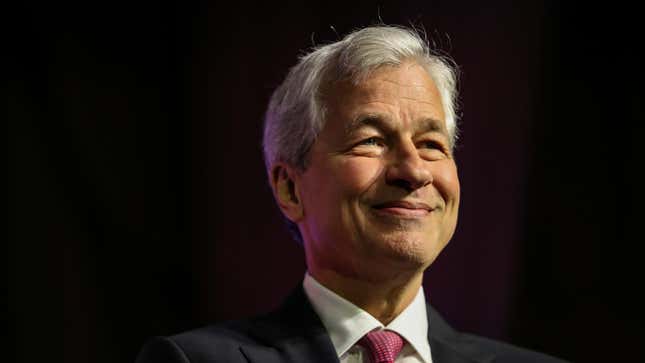 JPMorgan Chase is asking its managing directors to come back to the office five days a week."Our leaders play a critical role in reinforcing our culture and running our businesses," the bank's operating committee reportedly wrote in a memo to staff announcing the new policy.

It's a departure from what has become mainstream for many office workers across corporate America: hybrid work. But JPMorgan's reversal on allowing partial work-from-home schedules is not surprising, as CEO Jamie Dimon has been vocal about his disdain for remote work.
At Davos this year, Dimon said in an interview with CNBC, "It doesn't work for young kids or spontaneity or management." But he did say that remote work can "help women" since caregiving duties tend to disproportionately fall upon them. "Modify your company to help women stay home a little," he said.
Ah well.
What JPMorgan expects of its managing directors in the office
The memo spelled out what managing directors should be doing at the office.
"They have to be visible on the floor, they must meet with clients, they need to teach and advise, and they should always be accessible for immediate feedback and impromptu meetings. We need them to lead by example, which is why we're asking all managing directors to be in the office five days a week."
The company has a point. Unless they're deliberate about it, companies where senior employees regularly work from home risk leaving younger or less experienced employees with fewer opportunities for mentorship or the chance to absorb skills by osmosis, which is seen as one of the biggest downsides of working remotely.
At JPMorgan, managing directors are not the only workers expected to come in daily. Employees in sales and trading or at retail bank branches must also be in the office every work day. 

The bank also has reminded hybrid employees, who are expected to be in the office three days a week, to meet their in-office attendance expectations. "Your manager is responsible for ensuring that attendance requirements are being met and in cases where they aren't, taking the appropriate performance management steps, which could include corrective action," the operating committee said.
Jamie Dimon has strong opinions on remote work
If nothing else, the new policies are consistent with Dimon's views about remote work.

In his annual letter to shareholders in 2021, Dimon said that work done from home has some "serious weaknesses," noting it's "almost impossible" to replicate an apprenticeship model over Zoom.
"Over time, this drawback could dramatically undermine the character and culture you want to promote in your company," Dimon wrote in the shareholder letter. He also said that a heavy reliance on video meetings slows down decision making because there is "little immediate follow-up."
And like many other CEOs, Dimon has said that remote work eliminates the spontaneity you get when you run into people in the hall or at the coffee machine. He's not the only bank CEO to voice strong words against remote work. Just before the first anniversary of the pandemic, Goldman Sachs CEO David Solomon called remote work an "aberration" of the pandemic and not a new normal.
At JPMorgan, the plea for workers to come back to the office comes as the company settles into a new headquarters building at 270 Park Avenue in New York City, which houses up to 14,000 employees and is outfitted with yoga rooms and a state-of-the-art food hall. Dimon has said, more than once, the headquarters is in one of the best locations in the world. Whether that's enough of a consolation to the firm's managing directors remains to be seen.