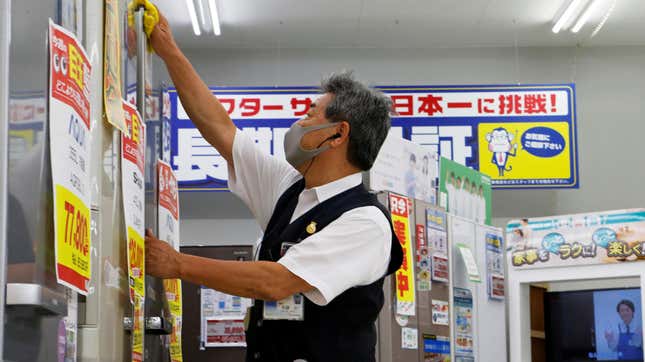 In Japan, an aging population has created a massive labor crunch in the country. Japan Inc., though, has found a solution in the problem itself: Hire older workers.
Why a tightening of credit conditions could lead to a weak economy
Last year, four in 10 companies hired people aged 70 or more, Nikkei reported, citing the Ministry of Health, Labor and Welfare.
It's not an ideal choice, given that older workers are more prone to on-the-job accidents, but options are few and far between. A weakening yen has made Japan an unattractive place of work for foreigners and also driven Japanese youth in pursuit of higher-paying jobs to go abroad—a double whammy.
Compounding the problem is a low labor participation among women, who tend to experience gender pay gaps and a lack of support in advancing their careers.
Companies of interest: Japanese firms dropping worker age limits
In 2013, Japan added flexibility to its retirement age of 60 to allow employees to keep working until they turned 65 if they so wished. The measure drew backlash from companies that saw the additional five years as a cost burden. To work around the provision, some began rehiring workers with new contracts, often with lower pay and worse conditions, after they turned 60. One of the companies doing so was Sumitomo Chemical, which made employees to reapply for their jobs after they turned 60, but paying them only 40% to 50% of their salary. But a shortage of labor is making older employees more desirable, and Sumitomo Chemical will gradually raised its retirement age to 65 from the current 60 with full pay.
The shift has been occurring over the last few years. In 2021, YKK Group, the world's biggest zipper maker, removed the retirement age limit for its staff, with electronic store chain Nojima, which let workers stay until they turned 80 in 2020, following suit.
Nojima now employs about 30 workers aged 70 or older, including three who are at least 80. "Failure to make good use of the elderly is such a waste," Yutaka Tajima, one of Nojima's directors, told Nikkei.
Charted: More older Japanese people are working
Japan's job demand and supply mismatch, by the digits
50.1%: Share of over 11,000 companies surveyed last September that felt a labor crunch
10.6%: Japanese workforce aged 65 and older in 2022, well above the US (7%) and Germany (4%)
15%: Share of 65+ workers in construction and nursing care jobs
30%: Proportion of taxi and bus driver jobs in the transportation sector filled by those who are 65 or older
11 million: Labor shortage Japan is poised to suffer in 2040, according to Recruit Works Institute's prediction
6.74 million: How many foreign workers Japan is expected to require by 2040, nearly four times the number in 2020, according to research by Value Management Institute
40%: Fall in the average wage of Japanese workers in dollar terms over the last decade
150 million: How many workers over the age of 55 are expected to be in employment globally by 2030
Quotable: Jobs for all ages
"[P]eople of every age are motivated to come to work. If you can create an inclusive, fair, and meaningful experience for older employees, as well as younger ones, you'll not only find your company becomes more innovative, engaging, and profitable over time, you will be benefiting society at large."

—Human resources experts Josh Bersin and Tomas Chamorro-Premuzic for Harvard Business Review in Sept. 2019
A non-exhaustive list of countries making older populations work
🇩🇪 Germany, another "super aged" country like Japan—where more than one in five people is 65 or older—is looking to raise its state pension age from 65 to 67, and keep people in the workforce longer. Germany's plan relies on automation, including outsourcing more physically intensive tasks to robots, to make the workplaces safer and more elder-friendly.
🇸🇬 Singapore, whose population balance is close to tilting into the same category as Japan and Germany, encourages workers to stay in the workforce well into their 60s and 70s for not just financial stability, but also mental health, social interaction, and self-esteem. Employers can't leave sexagenarians high-and-dry: They must offer re-employment contracts to eligible employees at age 62 and the contracts must be renewable every year until 67, or transfer the obligation to another employer or offer a one-time assistance payment.
🇬🇧 A suite of companies in the UK, including insurance company Aviva, pharmacy chain Boots, DIY store B&Q, and grocery chain Sainsbury, among others, are hiring, training, and retraining older workers to capitalise on an underutilized resource. More than 446,000 people above the age of 70 were still in work in 2020, up 61% from the 2012 figure.
🇫🇷 As the older population lives longer and the working population struggles to fill the coffers of pension funds fast enough, France wants to raise its retirement pension age from 62 to 64. The number of French people over 85 years old is expected to rise by 90% between 2030 and 2050, and France's pension are only going deeper into the red. However, the reform did not sit well in a workforce raised on a culture of early retirement and has sparked massive protests, which ultimately failed to stop the approval of the law.
Related stories
🗞 All the reasons why so many near-retirees are going back to work
🌊 The "silver tsunami" is the workforce the world needs right now
👋 Perennials, not millennials, will trigger the next wave of talent retention efforts