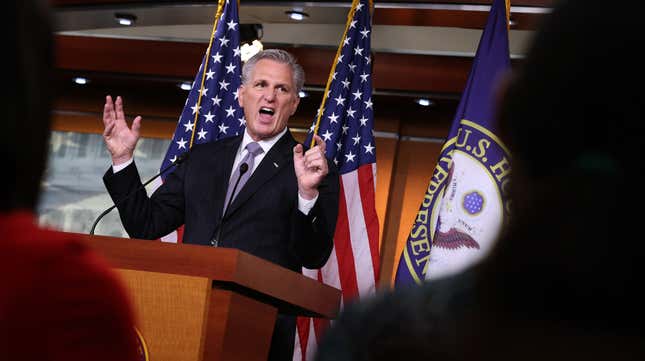 The US House of Representatives is stuck in limbo as Republicans, who hold a slim majority in the legislative chamber, failed to deliver enough votes to elect a speaker.

Why a tightening of credit conditions could lead to a weak economy
House GOP leader Kevin McCarthy was blocked from securing the speaker's gavel not once, not twice, but three times before the House adjourned at 5:30pm yesterday (Jan. 3). The fourth vote will take place when the House resumes at noon today (Jan. 4).
The House cannot conduct any business–swearing in new members, adopting new rules and legislations, and so on—until a speaker is chosen.

Hiccups in the House speaker election, by the digits
222: Seats Republicans hold in the House, an extremely small majority
218: Votes McCarthy needs to win speakership
202: Votes McCarthy got in the third and final tally of the day
20: Members who voted against McCarthy's ascendancy, of which…
…17: Received funding from McCarthy's PAC Majority committee to the tune of $313,500 since 2008
Days: How long McCarthy, who vows not to bow out like he did in 2015, thinks a decision "could" take
"Six more months": How long South Carolina's Ralph Norman, an unrelenting McCarthy opposer, is willing to let the speaker votes go on for
Rare precedents for multiple House speaker's ballots
It's been 100 years since the House last failed to elect a speaker on the first ballot. In 1923, it took three days and nine ballots for Frederick Gillett to obtain speakership then.
The longest-running vote took place in 1856, when Nathaniel Banks of Massachusetts took 133 rounds to win. Congress was shut for two months.
Person of interest: Jim Jordan
In the first two rounds, the 19 Republicans who did not choose McCarthy voted instead for Jim Jordan of Ohio. In the third ballot, Byron Donalds of Florida, who had initially voted for McCarthy in the first two rounds, shifted his support to Jordan, bringing the total number of detractors to 20.
Jordan, a 58-year-old hardline Republican who has long been a controversial voice against abortion and LGBTQ rights among other things, would be a sharp departure from Democrat predecessor Nancy Pelosi. But he apparently has no interest in being speaker—he's vying to be House Judiciary chairman, he told CNN.
Jordan, who himself voted for McCarthy, plans to lobby his colleagues to back McCarthy once the chamber resumes Wednesday.

Who voted against McCarthy?
Andy Biggs (Arizona)
Dan Bishop (North Carolina)
Lauren Boebert (Colorado)
Josh Brecheen (Oklahoma)
Michael Cloud (Texas)
Eli Crane (Arizona)
Andrew Clyde (Georgio)
Byron Donalds (Florida)
Matt Gaetz (Florida)
Bob Good (Virginia)
Paul Gosar (Arizona)
Andy Harris (Maryland)
Anna Paulina Luna (Florida)
Mary Miller (Illinois)
Ralph Norman (South Carolina)
Andy Ogles (Tennessee)
Scott Perry (Pennsylvania)
Matt Rosendale (Montana)
Chip Roy (Texas)
Keith Self (Texas)
What's next for McCarthy?
In the lead-up to the vote, McCarthy made several concessions, including making it easier for members to oust the sitting speaker. But if that didn't convince people to vote in his favor yet, what will? That's the big question.
The California Republican has not been able to curry favor with hard-right members of his party. They worry McCarthy will water down the Republican agenda both in terms of the issues introduced to the floor and of the committees formed.
To get his hands on the speaker's gavel, McCarthy can only afford to lose four votes–but of the 20 members he has to win over, at least five have pledged to stick to their opposition.
It's possible the GOP considers a whole new candidate if they're stuck at an impasse for a while. If a simple majority doesn't pan out, lawmakers could adopt a resolution allowing a speaker to be elected by plurality or by rank-choice voting.
Quotable: The McCarthy Stalemate
For McCarthy:
"It's not a popularity contest. It's not who we like and who we don't like ... that is the failure of Republicans. The Republicans are the party of 'never,' and it's always 'never' when they don't like somebody, and that's how we failed the country." —Georgia Republican Rep Marjorie Taylor Greene, a vocal defender of McCarthy
Against McCarthy:

"Our position is that if Kevin McCarthy is the Speaker of the House, and we don't have the ability to ensure there is 'oomph' behind the agenda, and energy behind our oversight, that committees don't matter anyway. I'm not here to participate in some kind of a puppet show where we pass a bunch of messaging bills, send them to the Senate, watch them die, refuse to use leverage, and don't hold the Biden administration accountable." —Florida Republican Rep Matt Gaetz, a staunch opposer of McCarthy
Related stories
🏛️ Warnock's win in Georgia confirms a split congress for the rest of Biden's term
🏛️ Biden is the first president in 20 years to hold the Senate at the midterms
💥 House Speaker frontrunner Kevin McCarthy bows out, leaving Republicans "audibly crying"