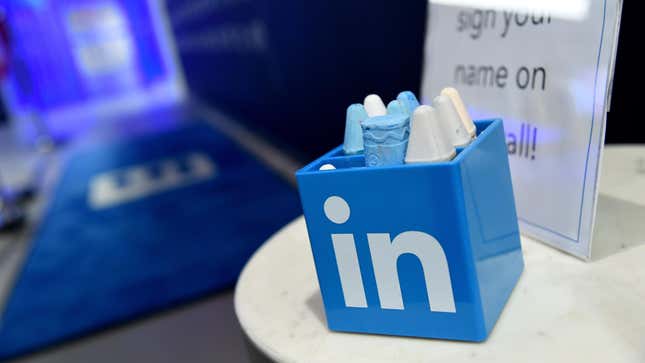 LinkedIn became the latest tech company to lay off employees to rein back costs.

The Microsoft-owned professional networking site is looking to ax 716 jobs in sales, operations, and support teams to streamline the company's operations.
What to do when you encounter unhelpful pay ranges on job postings
LinkedIn, which counts about 20,000 employees worldwide, is "removing layers, reducing management roles and broadening responsibilities to make decisions more quickly," CEO Ryan Roslansky wrote in a letter to employees yesterday (May 8). To fill gaps as market and customer demand fluctuate, the company will turn to vendors, or external partners.
Some of the layoffs result from the closure of LinkedIn's Chinese jobs app, InCareer, which signals a change in the platform's China strategy.
Quotable: LinkedIn jobs shuffle to keep up with an evolving market
"[W]hile we're making meaningful progress creating economic opportunities for our members and customers and experiencing record engagement on the platform, we're also seeing shifts in customer behavior and slower revenue growth. —LinkedIn CEO Ryan Roslansky in his May 8 letter to employees
What's next for the employees LinkedIn is firing?
Eligible employees in the US will receive a variety of benefits including severance pay, continuing health coverage, and career transition services. Foreign employees will be compensated according to local laws. The company says it's running an internal mobility process for impacted team members to help find a new role.
Explained: LinkedIn in China
LinkedIn is one of the last major tech firms to have a presence in China, outlasting the likes of Facebook (now Meta), Twitter, and Google.
LinkedIn shuttered its main app in China in 2021 following issues with censorship and compliance. Instead, it launched InCareer—a stripped down version of LinkedIn's services, presenting no social feed or share options. But on August 9 the app will be retired and all its data deleted. Until then, users can download their InCareer account data in the Settings tab.
"Despite our initial progress, InCareer faced fierce competition and a challenging macroeconomic climate, which ultimately led us to the decision of discontinuing the service," LinkedIn announced. Pulling the plug on the jobs app also means scrapping product and engineering teams in China, and the downsizing of corporate, sales, and marketing functions.
CEO Roslansky wrote in his note that LinkedIn will continue to assist companies operating in China "to hire, market, and train abroad," and as such would retain a part of its talent, marketing, and learning businesses in the country.
Related stories
👐 Get ready for job searches on LinkedIn to include a lot more parsing of company values
👨‍👩‍👦‍👦 Can you add "parenting" to your resume now? LinkedIn says yes
💼 Will the disappearing jobs in tech and media ever come back?