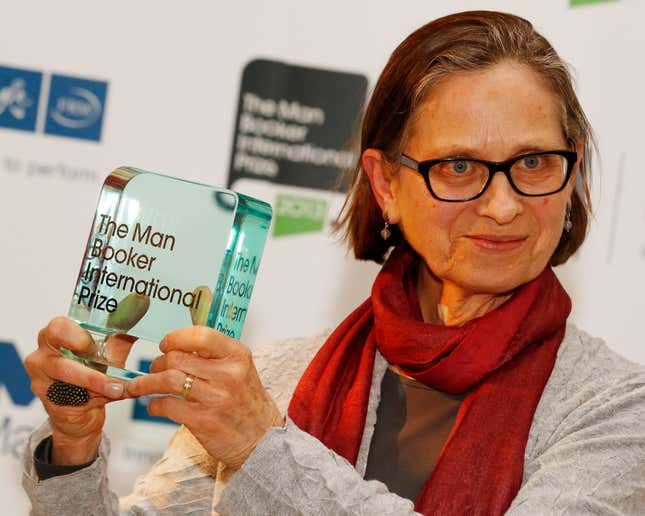 Lydia Davis, an award-winning author and translator, will not sell her new book on Amazon in a protest of the company's business model. The book, a collection of short stories called "Our Strangers," will only be sold in brick-and-mortar shops and selected online independent retailers.
The book, Davis's seventh collection of fiction stories, is due to be published on October 5 by the small Scottish publishing firm Canongate. The author cited Amazon's monopolistic power over the publishing industry in explaining her decision.
"We value small businesses, yet we give too much of our business to the large and the powerful—and often, increasingly, we have hardly any choice," Davis said. "[Canongate] will be publishing Our Strangers and doing so in a way that puts my book on the shelves of booksellers who are so much more likely to care about it."
Davis won the Man Booker Prize in 2013 and was a MacArthur Genius Fellowship recipient in 2003. She is known for her bite-sized short stories—sometimes only as long as a page—as well as acclaimed translations of French classics like "Swann's Way" by Marcel Proust and "Madame Bovary" by Gustave Flaubert.
Canongate said in a statement that the move is a sign of her solidarity with independent booksellers and will "encourage further conversation about the vital importance of a diverse publishing ecosystem."
Amazon book sales, by the numbers
£14: Price ($17) of Prince Harry's new memoir on Amazon upon launch, despite having a retail price of £28 ($35) in independent bookstores.
63%: Approximate decline in independent bookstores since the launch of Amazon. There were roughly 5,500 independent shops in 1995, while in 2022 there were only 2,023.
50%: Percentage of total print book sales in the US made by Amazon. The company sells at least three-quarters of all ebooks.
$28 billion: Amount of revenue Amazon generates from book sales annually, or about 10% of the company's total revenue.
Why Amazon is a monopoly, despite making things cheaper
Lina Khan, the current chair of the Federal Trade Commission, wrote an essay for the Yale Law Journal called "Amazon's Antitrust Paradox" while a law student. In it, she challenged the traditional interpretation of antitrust law that focuses on securing the lowest price possible for consumers, using Amazon as a specific example.
Specifically, she argued that Amazon's ability to use its size to undercut competitors' prices does not justify its monopolistic practices and that the company is taking advantage of a 1970's era interpretation of antitrust law that has a narrow definition of consumer welfare. Because Amazon is able to deprioritize profit, control its entire shipping and warehouse infrastructure, and compile extensive data on consumers, the company is able to control more than its fair share of the market.
Amazon's impact on the publishing industry is a great example of this. Precisely because size has allowed the company to forgo profit and offer books for cheap, it's been able to outperform traditional competitors. Moreover, establishing itself as a major marketplace for independent booksellers to sell their own catalogs of new and used books has given the company an unprecedented level of control over the industry.
"The thousands of retailers and independent businesses that must ride Amazon's rails to reach the market are increasingly dependent on their biggest competitor," Khan wrote in her essay.
Dave Eggers, perhaps the most famous author to boycott Amazon, argued something similar when he refused to list his newest book on the site in 2021.
"Amazon is a monopoly that uses unfair business practices to drive out competition," Eggers said in an interview with the Guardian that year. "They do not play by the rules and they do not pay anywhere near their proper tax burden. Meanwhile, you can bet your local indie bookstore is paying taxes."
Related stories
🏛️ The FTC is preparing a wide-ranging antitrust lawsuit against Amazon
📦 Federal inspectors fine Amazon $60,269 for putting workers at risk
💰 Jeff Bezos' plan to give away his fortune won't help the 10,000 workers Amazon is planning to lay off