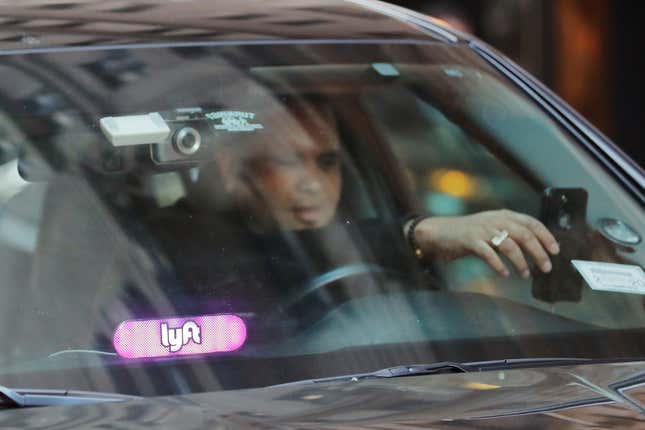 San Francisco-based ride-hailing company Lyft no longer wants fares to be determined by the market forces of demand and supply. In what will hurt its drivers more, it is embarking on a plan to end surge pricing gradually, in favor of riders. And it doesn't mind if its drivers keep on earning less on the platform in the process.
The company's second-quarter earnings (pdf), announced Aug. 8, indicated that despite recording the highest driver signups in three years, there has been a 5% decrease in revenue per driver.
Lyft has been cutting ride fares to attract more riders, and that appears to have paid off in the latest quarter. The number of active riders rose to 21,487, up from 19,552 in the first quarter of this year. This has propelled Lyft's quarterly revenue to more than $1 billion, up 3% year-over-year, while rideshare trips increased 18% year over year. The share of rides affected by surge pricing dropped 35% from the first quarter.
In his earnings call with investors on Aug. 8, Lyft's CEO David Risher said shifting the company's pricing policy is meant to retain and attract more riders. To him, raising ride fares during peak travel hours is not a good idea, "because riders hate it with a fiery passion." Risher is working hard to "get rid of it," boasting that Lyft has "got such a good driver supply." This is a U-turn from what it believed years ago, when then-CFO Brian Roberts saw raising fares as a "clear path to profitability."
Lyft is copying Uber's problems
Lyft hopes this move will help it sustain competition with its biggest rival, Uber.
But Lyft's driver supply could prove unsustainable in future, given its drivers joined those of Uber to protest low wages at the Los Angeles airport in May, and at Florida airports in April, saying both companies take an unreasonably huge chunk of their earnings.
Drivers of both platforms have been accused of deliberately manipulating and creating artificial price surges, arguing that the companies don't "pay us enough."
Lyft has never been clear on how much commission it takes from driver earnings, but some drivers say the platform keeps as much as 48% of the amount paid by passengers.
As it attempts to maintain high rider traffic through cheaper fares and compete with Uber, Lyft's drivers are squeezed in the middle, bearing the brunt of the company's profitability strategy.
A day after announcing plans to phase out surge pricing, Lyft's shares tanked more than 7% on Aug. 9 as investors cast doubt over the sustainability of its decision.