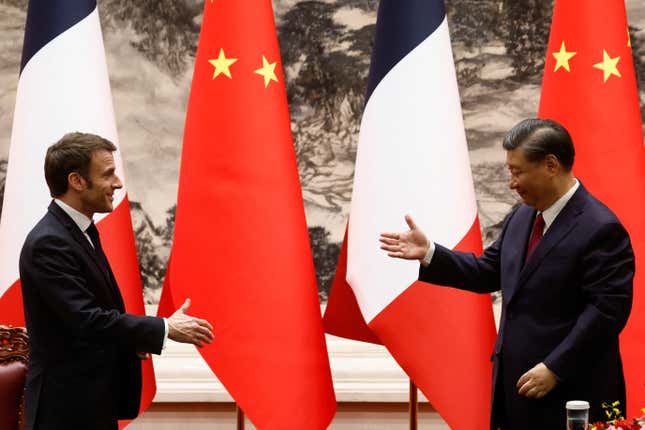 French president Emmanuel Macron met with Chinese leader Xi Jinping in Beijing this week, in an attempt to bolster the deteriorating relationship between the West and China. Macron reportedly pressed Xi to condemn Russia's invasion of Ukraine during a closed-door meeting.
"I know I can count on you to bring Russia back to reason and everybody to the negotiation table," Macron said to Xi, who declined to directly mention Russia or Putin at any point during the trip's public remarks.
The Chinese leader did say he would be willing to meet with Ukraine president Volodymyr Zelenskyy when "conditions and time are right," according to European Commission chief Ursula von der Leyen, who accompanied Macron on his trip. Otherwise, his only mention of Ukraine was when he referred to China's position paper outlining a peace plan, repeating previous talking points that "China advocates for peace talks and seeks a political solution."
A foreign policy expedition in the middle of a pension-reform crisis at home
Macon's decision to flex his foreign policy credentials and thrust himself into a major geopolitical issue sent a mixed message back in France, where protests over recent pension reforms continue to rage.

On April 5, labor unions called for more protests and strikes after failed negotiations with French prime minister Élisabeth Borne. The next day, over 1 million people protested across the country, temporarily setting fire to Macron's favorite restaurant. 
The protests have become about more than just the pension reforms, turning into a platform for larger worker grievances about wage stagnation and reduced benefits. Meanwhile, Macron's approval rating is at 25%, a 7% percent drop from last month's polling.
A timeline to understand the French pension crisis
January 10: The government announces plans to move forward with its plan to raise the retirement age from 62 to 64, saying it is a necessary step to adequately fund the pension system.
January 31: A million protestors take to the streets to voice their opposition to the pension reforms in a demonstration mostly organized by the country's labor groups. It is among the first major protests opposing the proposed bill.

February 18: The pension plan moves to the French senate after tense debate in the lower houses of parliament.

March 16: Prime minister Élisabeth Borne announces that the government would trigger Article 49.3 to force the legislation through parliament, in order to prevent any possibility of the bill being defeated.
March 20: Macron faces two votes of no confidence, called by both the far-left and the far-right, as protests and strikes rage throughout France. He narrowly survives both.
March 28: Protestors close all access to the Eiffel Tower and the Louvre, with local officials deploying a record 13,000 Paris police officers to meet the largest demonstrations yet.
April 5: French union leaders meet with Borne for last-minute talks before the reforms are ratified, but negotiations quickly break down.
Why are French protestors storming Blackrock headquarters in Paris?

Earlier this week, anti-government demonstrators broke into the Paris headquarters of Blackrock, the world's largest asset management fund, wielding lit flares that resembled torches, singing patriotic songs, and setting fires in the lobby of the company's corporate offices, located near the Opera Garnier in the 9th arrondissement.
The protestors accused the company of profiting off the erosion of public-service pensions and welfare programs. The investment firm's CEO, Larry Fink, has met with Macron on multiple occasions.
Still, Blackrock has little to do with Macron's actual decision to raise the retirement age, which most of the protestors recognize. Rather, building on the Gilets Jaunes and other populist movements, the demonstrators have focused their ire on how technocrats like Macron have ushered in an American-style free-market ethos to Europe.

And, with Macron being investigated over allegedly improper ties to US-based consulting firms like McKinsey and BCG, they might have a point.
Related stories
🔥 Macron narrowly won a no-confidence vote as protestors shut down France
🇫🇷 Workers in France are organizing a new wave of strikes against the pension reform
🗑️ Macron could be in trouble for hiring McKinsey to help run France