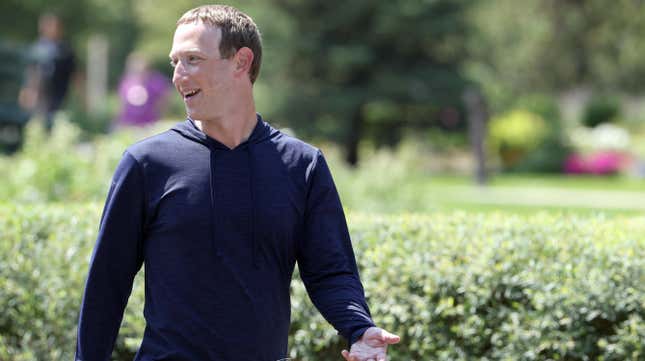 Mark Zuckerberg has started delivering on his promise to make 2023 a "year of efficiency."
Will Threads help or hurt Meta's stock value?
Mere months after its last large-scale layoff, Meta is putting another set of jobs on the chopping block. The parent company of Facebook and Instagram will cut thousands of employees as soon as this week, Bloomberg reported, citing people familiar with the matter. The report was confirmed on March 14, when Meta announced layoffs affecting about 10,000 people, or 13% of its workforce, in another round of job cuts. The announcement was posted on the company's website in a message titled "Update on Meta's Year of Efficiency."
Since mid-2022, Meta has been struggling to reel back costs. It spent too much, too quickly, on its big metaverse dreams while ad revenue slid due to a macroeconomic downturn and increased competition. A $12-a-month subscription for blue ticks won't be enough to make up for it all.
A brief timeline of Meta's jobs shuffle
November 2022: Meta trimmed its workforce by 13% last November, when it slashed 11,000 roles to save costs and increase efficiency. It was the first time since Facebook was founded 18 years ago that the company announced mass layoffs.
January 2023: Meta rescinds full-time offers made to a "small number of candidates" while it readjusts hiring priorities—a cut of this kind is a first for the company. Engineer and writer Gergely Orosz tweeted that the decision affected around 20 new grads in London with offers due to start in February.
February 2023: Meta starts "flattening" its organizational structure, asking managers and directors to transition to individual contributor jobs—non-managerial posts focused on coding, designing and research—or leave. It also delays setting team budgets as it plans a fresh round of layoffs.
Culling the Metaverse
Besides all the payrolls, there's another massive black hole that's been sucking Meta's money: the metaverse.
Just after the pandemic, when everyone was working, living, and breathing online, Zuckerbeg floated the metaverse as the next big thing and touted Facebook as its leader. He went all in to create an immersive world that can be accessed through virtual reality (VR) headsets and special glasses—albeit a slightly creepy world of floating torsos. It led to a brand and name change, and gobbled up billions of dollars in investment.
But it didn't quite catch on.
Nobody used Horizon Worlds, the social universe that was quickly dismissed as a poor quality video game despite Zuckerberg's insistence that it was more. In making it accessible, Meta made it subpar. And if Zuckerberg thought he could tap into the 13- to 17-year-old market to make the product work, he has to think again. US Senators are opposing the move to open the platform to teens.
Zuckerberg is quietly killing the metaverse and pivoting to a "new top-level product group at Meta focused on generative AI to turbocharge our work in this area," as he wrote in a Feb. 27 Facebook post—the same day OpenAI teased dialogue-based ChatGPT. The team building AI-powered products is led by Ahmad Al-Dahle, who'll report to Facebook Meta's chief product officer Chris Cox.
Facebook's focus on ChatGPT-like AI
Last month, on Feb. 24, the company introduced a new large language model called LLaMA, short for Large Language Model Meta AI. It's the core software of a new artificial intelligence system, which entails mining vast amounts of text in order to summarize information and generate content.
"In the short term, we'll focus on building creative and expressive tools. Over the longer term, we'll focus on developing AI personas that can help people in a variety of ways," Zuckerberg wrote in his post.
For now, the most pronounced remnant of that remains of the metaverse is the hardware–the headsets—meant for enthusiasts like gamers and crypto fans.
Quotable: Meta messed up the Metaverse mission
"It's just flabbergasting to me that people with so many resources can so spectacularly mess things up when the opportunity to do something cool is there," -Celia Pearce, a professor of game design at Northeastern who has been studying non-game virtual worlds since the mid-1990s, on the Metaverse failure
Meta's dashed Metaverse dreams, by the digits
42%: Share of 1,000 Meta employees surveyed in October 2022 who did not understand and internalize the company's metaverse vision
$24 billion: Cumulative loss amassed by Reality Labs, the division housing metaverse projects, in 2021 and 2022. Of this, $13.7 billion was last year's loss, which grew from the year before.
"About 80%...a little more": Meta's investments going towards the core business, namely its family of apps—Facebook, Instagram, WhatsApp, Messenger, and the ads business associated with that.
"A little less than 20%": Meta's investment goes towards Reality Labs, as told to The New York Times Dealbook conference last November.
$562 billion: The current market cap of the once trillion dollar company Meta
275%: How much more expensive Meta's Quest Pro VR headset was that its predecessor Quest 2 at $1,500 when it launched five months ago
$1,000: The price of Meta's Quest Pro VR headset fell 33% in the US and Canada as of Sunday (Mar. 5) as Meta brings it in line with competitors like HTC Vive XR Elite. By March 15, other markets are due to follow suit
$30: The difference between the low-end, 128GB version of the Quest 2 headset at $400 and the expanded-storage 256GB Quest 2 headset, which is now retailing at $430 instead of $500
20 million: Units of the Quest line sold to date, but how often are they being used? Meta Vice President for VR Mark Rabkin reportedly told employees that "the newer cohorts that are coming in…they're just not as into it." Maybe the thinner 2024 variant at "the most attractive price point in the VR consumer market" will make it more popular.
Related videos
📝 Wall Street loved Mark Zuckerberg's plans for 2023 to be a "year of efficiency"
🕴 This is what Meta might look like if Zuckerberg stepped down in 2023

🤫 Meta's quiet firing is making a lot of noise
💸 Meta will let users buy blue ticks starting at $11.99 a month
This post was updated on March 14 to include an update to Meta's job cuts.