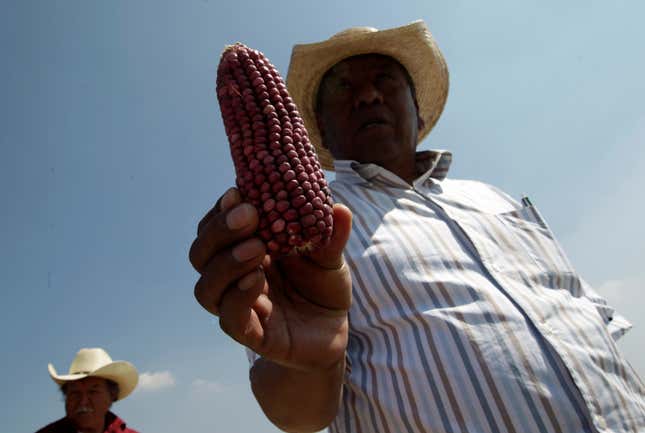 The Mexican government reversed course on plans to ban genetically modified corn in animal feed after the US threatened trade retaliation.
Mexican lawmakers still plan to ban genetically-modified corn for human consumption, as well as any use of the carcinogenic herbicide glysophate. The measure, announced in a government decree on Monday (Feb 13), will go into effect this week.
The watered-down decision comes after coordinated opposition by US farmers and officials who claimed the full ban would break trade rules outlined in the USMCA, the free trade agreement between Canada, Mexico, and the US. Mexico buys approximately 17 million tons of—mostly genetically modified—corn from the US annually, which is largely used as feed for livestock.
Mexican president Andres Manuel Lopez Obrador (known as AMLO) initially announced plans to phase out imports of genetically modified corn in 2021.
During his campaign for the presidency, he promised to ban all genetically modified crops in Mexico, deeming them detrimental to traditional agricultural practices and possibly hazardous to human health.
The lingering effects of NAFTA on Mexican corn
US corn first flooded the Mexican economy after the passage of the North American Free Trade Agreement (NAFTA) substantially lowered the price of American-grown corn. In the years since, Mexico has grown reliant on these imports to feed their livestock, decimating their domestic corn production.
Corn farming has a storied history in Mexico. Once the most popular crop in rural communities, maize has been a staple of the Mexican diet for centuries. However, a third of all of Mexico's current corn demand is imported from the US, with Mexico consuming approximately a quarter of all American corn exports, or more than $2.7 billion annually. As it stands, Mexican farmers would need to increase domestic production by almost 60% to replace those imports.
AMLO has targeted this reliance as president, prioritizing self-sufficiency and food sovereignty as a way to reduce inequality in Mexico. In his 2019 inauguration speech, he called for self-sufficiency in grain production and a return to indigenous ways of farming.
How dangerous is glysophate, really?
In the same decree banning genetically modified food, Mexican authorities laid out their plan to revoke authorizations and permits to import, produce, and distribute the popular herbicide ingredient glysophate, although the ban will not go into effect until spring 2024.
Glysophate is most commonly found in Bayer's weed killer Roundup, originally produced by Monsanto, and is the most commonly-used herbicide in the world.
A recent report by the US Centers for Disease Control found traces of glysophate in more than 80% of urine samples given by both children and adults. It is a ubiquitous component of virtually all global agribusiness, yet its health effects are widely disputed.
The US Environmental Protection has said that there is "no evidence that glysophate causes cancer in humans," contradicting the World Health Organization, which concluded the chemical is a likely carcinogen. Additionally, a number of scientific studies have shown that it causes elevated risks of cancer, especially for Non-Hodgkin's lymphoma.
The herbicide has also been criticized for its holistic effects on the agricultural process, including the degradation of soil and the surrounding environment.


Countries that have banned GM foods
🇪🇺 The EU: 19 out of the 27 member states in the European Union have voted to either partially or fully ban GMOS, including France, Germany, Austria, Greece, and Denmark. EU regulators are known to be aggressive in banning controversial ingredients in food.
🌎 South America: Belize, Peru, Ecuador, and Venezuela have all banned the cultivation of GMO crops. According to a report by Organic Without Boundaries, the ban on GMOs in Peru, the result of a farmer-led political campaign, has helped support 2.2 million small-scale farmers who provide about 75% of the country's produce.
🇷🇺 Russia imposed a full ban on growing or producing food using genetically modified plants or animals after multiple years of testing and research. Vice President of the Russian National Association of Genetic Safety Irina Emakova said of the ban: "Biotechnologies certainly should be developed but GMOs should be stopped. (We) should stop it from spreading."
🌏 Asia: Turkey, Bhutan, Kyrgyzstan, and Saudi Arabia have all completely or partially banned GMOs. Saudi Arabia, for instance, has banned the import of genetically modified animals and their products but still imports genetically modified corn and soybeans, primarily from the US.
🐻 California: While not a country, several counties in California, including Mendocino, Santa Cruz, Sonoma, and Marin, have banned GM crops from being cultivated.

Related stories:
🦥 Latin America's pink tide is preparing for the green revolution
🌾 A plagiarism scandal rocking the EU centers on the safety of the weedkiller glyphosate
🚜 The future of farming in Africa is not agriculture but agribusiness