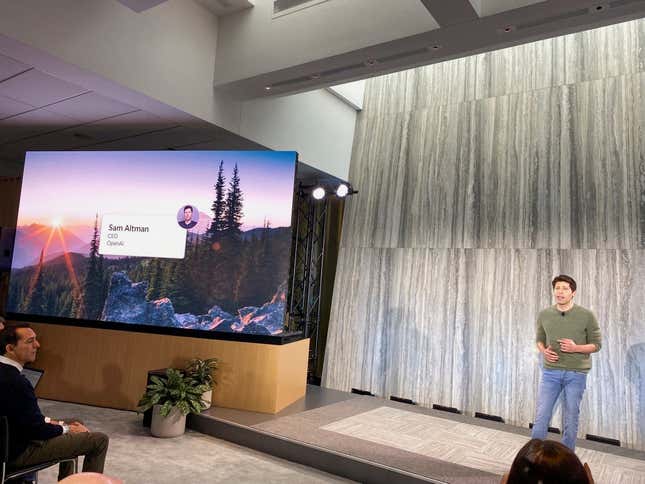 Microsoft announced it's introducing ads to its AI-powered Bing search engine.

Microsoft corporate vice president Yusuf Mehdi shared details of the decision in a blog post published yesterday (March 29) focused on Bing's priority "to drive more traffic to publishers." Eight paragraphs of context and one bullet point down, Mehdi finally noted: "We're also exploring placing ads in the chat experience to share the ad revenue with partners whose content contributed to the chat response."
It doesn't appear this feature is available to all Bing users, yet. Debarghya Das, founding engineer at Glean, has captured what the ads currently look like and shared it on Twitter.
The ads appear as a tiny blue superscript text next to a word in search, similar to the format used for citations. It remains unclear if the ads are the source of the information, or if companies are paying to have an ad placed next to search-related content.
Caitlin Roulston, director of communications at Microsoft, said in a statement to The Verge that there will be "variability" in how the ads will show up as testing continues.
The news is the culmination of a years-long effort by Microsoft to reinvent its search engine, which has long played second fiddle to Google before getting a boost from OpenAI's GPT-4. Bing formed a partnership with OpenAI in 2019, and introduced its AI-powered search engine in February this year.
Quotable
"We want to increase revenue to publishers. We seek to do this by both driving more traffic to them through new features like chat and answers and by also pioneering the future of advertising in these new mediums." —A quote from a blog post by Microsoft corporate vice president Yusuf Mehdi
Should there be a pause on training GPT-4's successors?
Microsoft's announcement comes at a time of growing warnings from the tech community against the fult-tilt development of powerful AI systems like GPT-4.
Today (March 30), the Center for AI and Digital Policy (CAIDP), a DC-based nonprofit organization headed by privacy advocate Marc Rotenburg, filed a formal complaint with the US Federal Trade Commission (FTC) to investigate OpenAI and suspend the commercial use of large language models like GPT-4, arguing the technology violates consumer protection laws.
"We are at a critical moment in the evolution of AI products. We recognize the opportunities and we support research. But without the necessary safeguards established to limit bias and deception, there is a serious risk to businesses, consumers, and public safety," CAIDP chair and research director Merve Hickok said in a press release.
The FTC filing follows just one day after the Future of Life Institute published an open letter signed by over 1,000 individuals calling for a six-month pause on the development of AI systems more advanced than GPT-4. A number of tech leaders and AI experts, including Elon Musk and Yoshua Bengio, were among the signatories.
Related stories
⏸️ Tech leaders are calling for a six-month pause on training more powerful AI systems
🤔 Why did Baidu abruptly cancel the launch of its ChatGPT competitor?
🤖 Microsoft spent over a decade on the new Bing. Then ChatGPT happened.