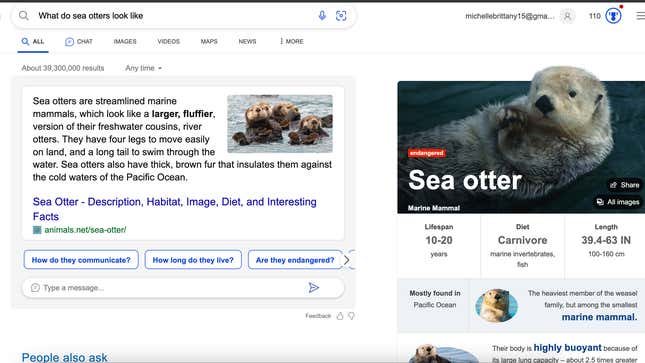 Microsoft announced Wednesday (May 3) that it is removing the waitlist for the AI-powered version of its Bing search engine.
The tech giant announced the new Bing, which runs on OpenAI's ChatGPT-4, on February 7. Users can chat with a bot and receive detailed, conversational responses with citations that link to the original source.
The tool has been incredibly popular since its launch: Microsoft said that Bing has more than 100,000 daily active users, and daily installs of the mobile app have increased four times since the new Bing's launch. Until now, though, a limited number of people had been allowed to sign up for the new version.
Now, Microsoft will allow users to access Bing while it remains in test mode—which is a helpful reminder of how generative AI tools are still in the very early stages.
Despite the recent success, Bing remains a sliver of the global search market share at 2.79%, according to Statcounter, a market research firm.
You need to create a Microsoft account in order to sign into the new Bing, which you can do here. After that, you'll need to download Microsoft Edge.
Here are some other changes users will see with the updated Bing:
Search will be more visual.
Answers will be more visual, with an emphasis on charts, graphs, and photos. When you search "How to ski," for instance, you might receive a response that includes both text on how to ski and a related video pulled from YouTube.
Users have been able to generate both written and visual content with a prompt from within the chat interface. But now, users can generate an image in more than 100 languages in Bing.
Microsoft is also working on incorporating visual search in chat, through which users will be able to upload images and search the web for related content.
Search will be more productive.
Users can now save their chat history.
Users can also export their chats.
Search will soon include third-party plug-ins.
For instance, an OpenTable plug-in will mean that Bing users who are searching in the chat about making a reservation at a specific restaurant will be able to view openings and be provided with an OpenTable link to complete the reservation.