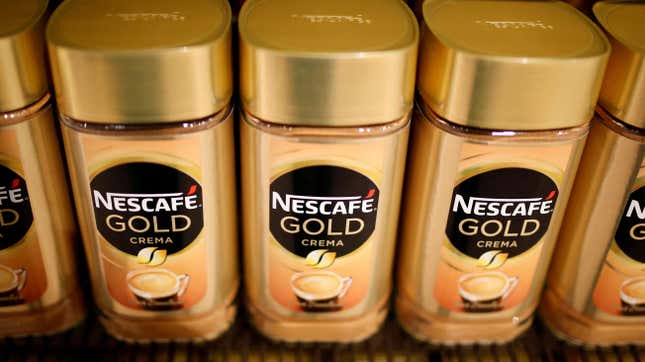 Under pressure to take action on its environmental impact amid worsening climate change, Nestlé, the world's biggest food manufacturer, is ditching the practice of purchasing carbon offsets. Instead, it will make investments to cut greenhouse gas emissions in its own operations and supply chains.
Many of the companies that claim to be carbon-neutral or in pursuit of net-zero goals use carbon offsetting to balance the emissions they put into the atmosphere. They buy certificates tied to projects that remove carbon dioxide elsewhere, such as reforestation, renewable energy, and carbon-storing agriculture.

The problem is that those efforts don't necessarily reduce emissions. As Mark Gongloff notes in Bloomberg, about 250 acres of trees in an offsetting project in British Columbia recently burned in a wildfire. That's a fraction of the overall project, but it shows how difficult it is to verify the environmental benefits of carbon offsets.
In a statement to Quartz, Nestlé said that reducing emissions would make the most difference in reaching its net-zero goals.
Big companies grapple with how to shrink their environmental footprint
Nestlé, which owns brands like Kit Kat and Nespresso, isn't the only company getting out of carbon offsetting. Last September, EasyJet ended its carbon offset program. The European airline's CEO said the money would be better spent on new technologies, such as fuel-efficient aircraft, that more directly reduce carbon emissions.
Nestlé still aims to hit its net-zero emissions target by 2050. The Swiss food giant says it's working on sourcing 50% of its key ingredients via regenerative agriculture by 2030, as well as investing in more sustainable logistics, packaging, and manufacturing.
Hitting such a target is easier said than done. A report last year by nonprofits NewClimate Institute and Carbon Market Watch found that climate pledges by 25 of the world's largest companies, including Nestlé and Amazon, exaggerated their plans to reduce carbon emissions—typically by using offsets instead of reducing their own carbon footprints.