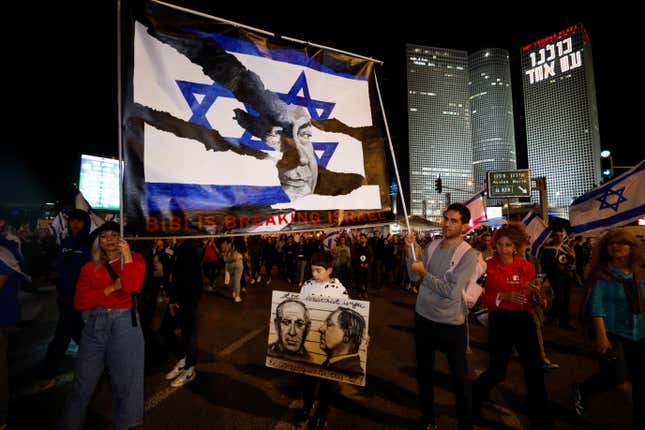 Israeli Prime Minister Benjamin Netanyahu announced he would delay plans to overhaul the judiciary after mass protests and work stoppages thrust Israel into widespread civil unrest.

Eric Beiley Part II: Where rates are heading
In a speech on Monday (March 27), Netanyahu said he wants to avoid violence and the possibility of civil war.
"When there is a possibility of preventing a civil war through dialogue, I, as the prime minister, take a time out for dialogue," Netanyahu said.

The latest demonstrations erupted after Netanyahu fired Yoav Gallant, his defense minister on Sunday (March 26), for suggesting the government should slow down the reform process. The proposed change would give Netanyahu's government more power over the selection of supreme court judges, as well as limit the court's oversight of parliament.
Critics have accused Netanyahu of attempting to weaken the independence of the judiciary and eliminate essential checks and balances on his power. Several protests against the reform have been taking place in Israel since January, and Gallant's firing was the last straw.
Israel's largest trade union, Histadrut, called for a general strike on Monday to protest Netanyahu's decision, with several others following suit. In response, flights were grounded, hospitals canceled elective surgeries, and most universities canceled classes.
Arnon Bar-David, the leader of Histadrut, ended the strike after Netanyahu agreed to postpone the reforms.
Itamar Ben-Gvir, Netanyahu's reactionary ally
Netanyahu's decision came after Itamar Ben-Gvir, the leader of far-right political party Otzma Yehudit and the minister of national security, announced he was open to postponing the vote, giving Netanyahu some much-needed political cover.
The right-wing politician is known for leading provocative marches through Muslim holy sites, and has been convicted on a number of criminal charges, including inciting racism and supporting a terrorist organization. His political base was key to Netanyahu's re-election.
Hours after the decision, however, Ben-Gvir doubled down on his support for the judicial reform, tweeting he would make sure the new laws would pass.
Netanyahu, in his third non-consecutive term as prime minister, has filled his government with a coalition of hard-right figures, of which Ben-Gvir is considered the de-facto leader, to appeal to the country's ultra-orthodox base.
In return for allowing a delay to the judicial reforms, Netanyahu has apparently agreed to let Ben-Gvir form a new national security police force, directly under his command.
Where does Netanyahu go from here?
Opposition politicians seemed unfazed after Netanyahu's speech, while an informal organization of anti-government protesters known as "the struggle HQ" said demonstrations would continue until Netanyahu withdraws the legislation. However, if he withdraws the legislation, he is likely to lose the support of his far-right coalition partners.
Netanyahu, who has been indicted on several counts of bribery and corruption, finds himself in an untenable political position by allying with the country's hardline right-wing politicians. Just years ago, he refused to appear on a stage with Ben-Gvir, and now he is giving the extremist politician his own personal police force.
Netanyahu has dominated Israeli politics since the 1990s, serving the longest tenure of any prime minister in Israeli history. In that time, he has consistently shown the lengths he will go for political power. Now, after allying himself with Israel's most virulent racists in order to get re-elected, will Netanyahu's ambition finally be his undoing?


Related stories:
🇮🇱 Israeli prime minister Benjamin Netanyahu charged with bribery and fraud
🏳️‍🌈 Tech firms in Israel are giving workers a day off to protest the country's anti-LGBT surrogacy law
💰Sara Netanyahu, wife of Israel's prime minister, sentenced for corruption