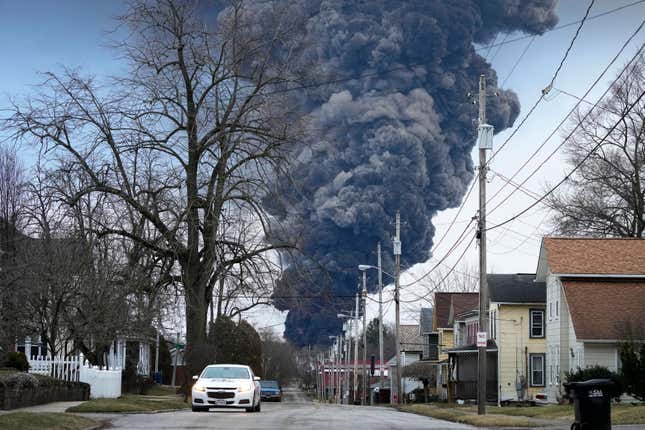 On Feb. 6, an apocalyptic plume of gas rose over the village of East Palestine, Ohio, blotting out the sky. Norfolk Southern, the US railway company responsible for the toxic spew of vinyl chloride, has now offered a $25,000 donation to assist the area's nearly 5,000 residents who were ordered to evacuate their homes, or face death.

"We have established a Family Assistance Center to address the needs of the community and support those directly impacted," Norfolk Southern said in a statement. In an email to Quartz, it clarified that the center is helping evacuees with necessities, accomodations, and reimbursements, and the $25,000 is "merely an initial donation." It followed on, "We are in the community for the long haul."
That may also be the case for the hazardous materials Norfolk Southern released over East Palestine. Following a fiery derailment on Feb. 3, its tanker train carried out a "controlled release" of the toxic vinyl chloride stored aboard to avoid a potential explosion.
Norfolk Southern has not stated if it will cover the costs relating to the derailment, ensuing fire, or potential contamination from the incident, though Ohio governor Mike DeWine expects the company to foot the bill.
"They're the ones who created the problem. It's their liability. They're the ones who ought to pay for it," DeWine said on Feb. 7 in an interview with the Wheeling Intelligencer.
The derailment was reportedly due to a mechanical problem, but some are blaming the incident on weak safety regulations and the company's cost-cutting measures.
Regulation pushback, cuts in headcount
Norfolk Southern has a history of lobbying against safety regulations. The publicly traded company, which has a market value of $55 billion, fought the Federal Railroad Administration's push to upgrade the "Civil War era" brake system that remains widely used in American trains, and against stricter rules on the transport of hazardous materials. (Meanwhile, its employees still lack guaranteed sick leave.)
Safety concerns have also grown amid Norfolk Southern's implementation of "precision scheduled railroading," an operations policy criticized as a corporate money grab. To cut costs, the company has slashed jobs by more than a fifth since 2017, ignoring concerns that understaffing could impact railway safety, while also initiating a $10 billion stock buyback program.
Millions of dollars in corporate lobbying and poor regulations have created the perfect storm, according to Railroad Workers United (RWU), a cross-union rail workers' caucus.
"The wreck of Train 32N has been years in the making. What other such train wrecks await us remains to be seen," RWU said in a press release.
Is East Palestine, Ohio safe?
The National Transportation Safety Board has opened an investigation into the train derailment, while a federal lawsuit seeking class-action status has been filed by several East Palestine residents.
Government officials told evacuated residents of the Ohio-Pennsylvania area on Feb. 8 that they could safely return to their homes, based on air quality samples. The Ohio Environmental Protection Agency has also declared the area's drinking water is safe.
But concerns remain. Residents have found dead fish in a local stream called Leslie Run, and dead chickens were found in the neighboring town of North Lima, Ohio. Kurt Rhoads, an environmental engineer and associate professor at Ohio's Case Western Reserve University, told Cleveland 19 News that the impact from the derailment would be felt for years to come.
One community in New Jersey can attest to that fact. In 2012, a train crashed in Paulsboro, spilling 23,000 gallons of vinyl chloride, the same chemical involved in the East Palestine spill. A 2014 study conducted by the New Jersey Department of Health found that half of local residents had health problems caused by the chemical spill.
What are the health risks from vinyl chloride?
When burned, vinyl chloride produces hydrogen chloride, a highly volatile substance that can bind with water vapor to produce hydrochloric acid. It can also produce phosgene, a toxic gas that was deployed as a chemical weapon in World War I.
Aside from its toxic byproducts, the odorless and hazardous gas not only lingers in the air, but also can leach into soil and groundwater (pdf). According to the CDC's toxicological profile, vinyl chloride is linked to liver and neurological damage (pdf) as well as several types of cancer.
OSHA guidelines state that no employee should be exposed to the substance at concentrations higher than 1 part per million averaged over an eight-hour period.
This story has been updated with additional details and comments from Norfolk Southern.