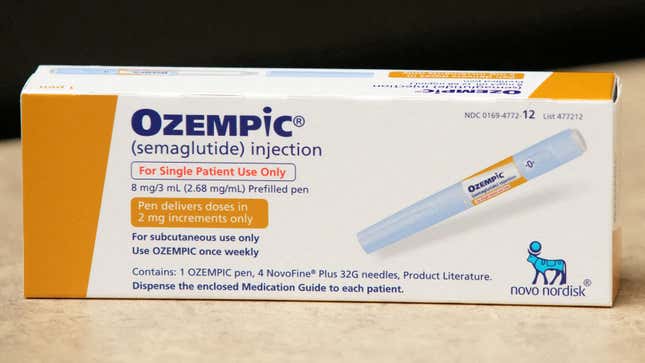 Novo Nordisk is making moves to prevent the misuse of semaglutide.
The Danish company has filed several lawsuits in the US against certain medical spas, weight loss or wellness clinics, and compounding pharmacies, some of which wrongfully use Novo Nordisk trademarks, to stop them from advertising and selling counterfeits of its semaglutide products.
How trauma-informed workplaces can support your team's mental health
The world's largest company for diabetes treatments alleges illegal marketing and sales practices by third-parties "created a high risk of consumer confusion and deception as well as potential safety concerns" considering compounded products "do not have the same safety, quality and effectiveness assurances" that its products, approved by Food and Drug Administration (FDA), do.
Company of interest: Novo Nordisk
Novo Nordisk sells the weight loss drug under three different brands: Ozempic injection and Rybelsus tablets for type 2 diabetes, and Wegovy injection for chronic weight management.
It is the only company in the US with Food and Drug Administration (FDA) approval for products containing semaglutide. "All three medications are only available with a prescription, and there are no approved generic versions," the FDA said in May.
Companies like WeightWatchers have inked legitimate deals to give customers access to these products, but other entities are stocking knockoffs.
A non-exhaustive list of companies Novo Nordisk has sued so far
Among the businesses that stand accused of wrongfully exploiting the Wegovy trademark to market own drugs in Novo Nordisk's lawsuits are:
Pro Health Investments in Tennessee;
Flawless Image Medical Aesthetics in East Syracuse, New York;
Effinger Health, which operates as Nuvida Rx Weight Loss in Tallahassee, Florida;
Ekzotika Corp, which does business as Cosmetic Laser Professionals Med Spa in Miami.
Fake Ozempics abound amid drug shortage
Novo Nordisk is struggling to meet demand for the drugs. In May, the FDA put both Ozempic and Wegovy on its drug shortages list. In such circumstances, making compounded versions of commercially available drugs is permissible, but state regulators are concerned with medications made using semaglutide sodium salt—a cheaper and modified version of the compound fit for scientific research but not for human use. At least four states are already cracking down on imitations.
Alarm bells have already been sounding for less safe off-brand alternatives. On June 16, Novo Nordisk, together with the FDA, alerted the public that a counterfeit Ozempic pen was found in the US. The copycat product, sold at a pharmacy, apparently contained a type of diabetes medication that works differently than Ozempic, which led to an adverse reaction.
Halfway across the world, in Australia, several online scammers are selling dupes. Often, the drug doesn't even arrive.
Quotable: The problem with semaglutide compounds
"Patients should be aware that some products sold as 'semaglutide' may not contain the same active ingredient as FDA-approved semaglutide products and may be the salt formulations. Products containing these salts, such as semaglutide sodium and semaglutide acetate, have not been shown to be safe and effective." —US FDA in a May 31 statement
One big number: The growing global weight-loss drug market
15%: Weekly drop in body weight, on average, after 17 months in people with a body-mass index of 30 or higher who took semaglutide, the active ingredient in Wegovy and Ozempic, according to a 2021 study published in the New England Journal of Medicine
$200 billion: How big Barclays estimates the global market of weight-loss therapies could be in the next decade. Novo Nordisk is a prime contender to cash in on the wave given its early mover advantage and dominance in the segment
$364.5 billion: Novo Nordisk market cap as of June 20, Europe's second-largest
$30: Groupon for a seven-week "semaglutide weight management program" offered by Ekzotika's Cosmetic Laser Professionals Med Spa in Miami
Novo Nordisk's Semaglutide resource bank
Novo Nordisk has launched semaglutide.com to serve as a credible resource hub for US audiences, including patients, healthcare providers and retailers, to...
🔈 ...disseminate information about the responsible use of Novo Nordisk's FDA-approved semaglutide products.
🔍 ...highlight the differences between the company's vetted products and other medicines being labeled as "semaglutide."
💉 ...to equip patrons with tools to spot a counterfeit injectable product. For instance, genuine Novo Nordisk Ozempic pens do not extend or increase in length when setting the dose, and have very specific dose dial windows for the three variants—0.25/0.5 mg,1 mg, and 2 mg pen—available. The smallest dose variant comes with six needles, and the other two with four. In the case of a Wegovy pen, it does not have an option to set a dose, does not extend or increase in length, and is only available in five configurations—0.25 mg, 0.5 mg, 1 mg, 1.7 mg, and 2.4 mg.
One more thing: Reporting fake Novo Nordisk drugs
1-800-727-6500: The Novo Nordisk customer care helpline, available Monday through Friday from 8:30am to 6:00pm eastern standard time, to report counterfeit semaglutide products or any suspected Novo Nordisk counterfeit products.
1-800-551-3989: The helpline for FDA's Office of Criminal Investigations (OCI) to report websites selling counterfeit and/or tampered medicines.
Related stories
🏥 Insurance coverage for Ozempic shows the complexity of obesity treatment
💼 WeightWatchers opens its doors to the tricky business of weight-loss drugs