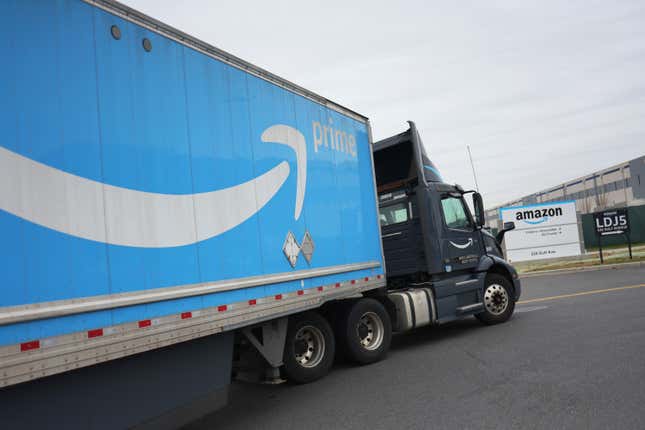 Amazon's annual Prime Day, a two-day, site-wide sale for paid subscribers, runs today and tomorrow (July 11 and 12). But this year's event is marred by serious regulatory scrutiny about how the e-commerce giant amassed its subscriber base in the first place.
Don't expect the Fed to help your investment in Amazon
The US Federal Trade Commission (FTC), the government's consumer protection watchdog, sued Amazon on June 21. The FTC claimed that Amazon tricked consumers into subscribing to Prime—a $15-per-month service that offers two-day shipping plus access to the company's streaming video and music services—and made it difficult for them to cancel their subscriptions.
"Amazon tricked and trapped people into recurring subscriptions without their consent, not only frustrating users but also costing them significant money," Lina Khan, the FTC chair, wrote in a statement. "These manipulative tactics harm consumers and law-abiding businesses alike."

The agency said Amazon employed malicious online tactics, known as dark patterns, to coerce people to subscribe—and then keep them subscribed. In response, an Amazon spokesperson said the FTC's suit is "false on the facts and the law."
Amazon's epic cancellation process
Amazon makes money not only on e-commerce, advertising, and cloud services, but also by extracting fees from customers through Prime, one of the crown jewels of the US subscription economy. For the year prior to April 2023, the company made about $35 billion in revenue on subscriptions, according to its public financial statements.
Hundreds of millions of people subscribe to Prime for its shipping perks or to watch The Marvelous Mrs. Maisel, among other reasons, but the US government says the process to leave this agreement is something out of a Homeric epic.
The FTC seized upon Amazon's nickname for the Prime cancellation process: Iliad flow, a reference to the ancient Greek poem about the mythic 10-year Trojan War. "Amazon designed the Iliad cancellation process to be labyrinthine," the agency wrote in its complaint (pdf).