At the end of last year, I moved from New York City to Los Angeles. I was thrilled about the associated life changes, including the fact that I could now buy wine at the grocery store, which is illegal in New York.
At first, I found it a luxury—and a cheap one at that!—to pick up a bottle of Pinot or Beaujolais at my local Trader Joe's, rather than adding another stop to my errands. Then I noticed that many of those bottles went half-finished. They were cheap and convenient, sure. But they weren't that great. Uninspiring, they'd sit on the counter until they smelled enough like vinegar to pour down the drain, and I'd make myself a gin and tonic.
Right around this time, like a gift from Dionysius, Marissa A. Ross's book Wine. All the Time.: The Casual Guide to Confident Drinking, landed in my mailbox. The book showed me a new path to purchasing and tasting wine—and how to really, really enjoy it.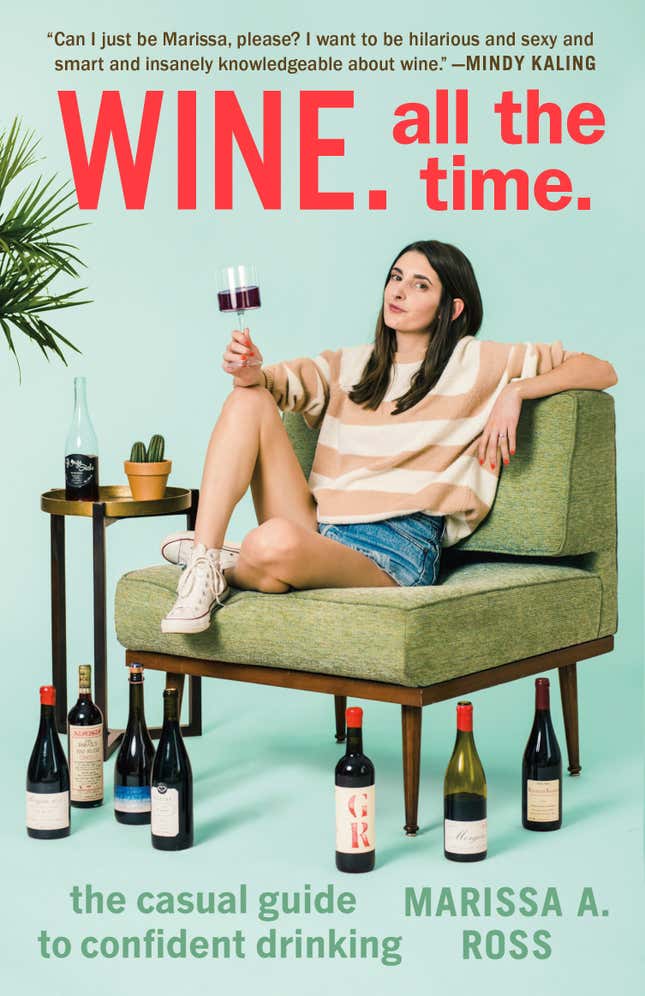 Ross's career in wine writing began as a hobby. While she was striving to make it as a comedy writer and working multiple day jobs (including as an assistant to comedian Mindy Kaling), she was also reviewing wines for her blog and web video series, "Wine Time." She eschewed the rules, hangups, and snobbery that may scare us away from wine education.
Today, Ross is wine editor at Bon Appetit. She approaches her topic with respect and curiosity. But she never takes herself too seriously—all of which comes across in her first book. Along with offering up the basics on regions, grapes, and wine-making, Ross describes Portugal's Vinho Verde as the "LaCroix of wine" and suggests seasonal wine and music pairings (fall: Cabernet Franc & Real Estate).
After internalizing the lessons from Ross's guide, I invited the master herself for a review session. Here are her tips on how to become a person who can confidently speak to a sommelier, bring a great bottle to a friend's house, and stop wasting money on wine that turns to vinegar on the kitchen counter.
Kiss the grocer goodbye and get a good wine store
Ross and I met at Stanley's Wet Goods, a wine shop and accompanying bar that recently opened in my neighborhood in west Los Angeles. I liked the vibe of Stanley's right away. It's flooded with natural light and appointed with a burgundy antique rug, a gorgeous marble bar, and tall white oak tables and shelves. More importantly, it has many bottles of interesting wines—and employees who are kind, patient, and readily available to chat about them.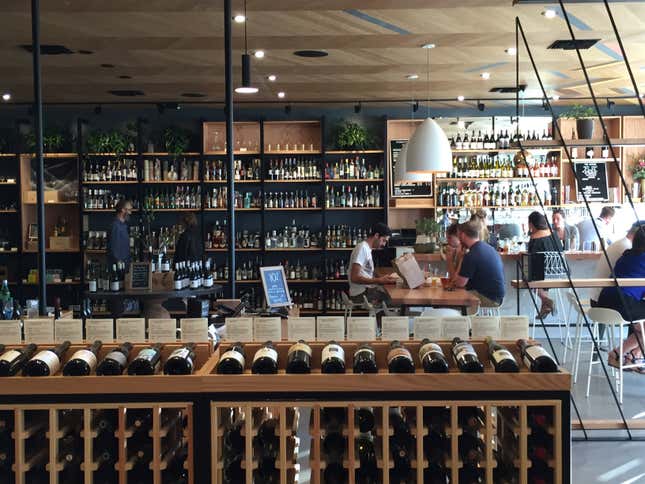 I only truly appreciated the latter after reading Ross' book—which likens finding a great wine shop to having a "cool older brother" who can recommend the albums, books, and movies you need to watch. Ross emboldened me to start describing the wines I like to Stanley's employees, in hopes of finding more.
"The best shortcut in the world is getting a good wine shop," said Ross, one that "you feel comfortable with and you like their selection. Sometimes that takes a minute, but it's so worth it." I've yet to buy a bottle I didn't love from Stanley's—something I could never say about a grocery store.
Get over yourself and start talking
Once you have a good wine shop, it's time to start tapping into employees' wealth of knowledge. In her book, Ross cops to having social anxiety and provides a few sample opening lines for starting these conversations: "What are you drinking?" and "What's like [name of wine that you like]?" among them.
Paired with some essential information about your budget, what you've enjoyed so far, and what you're looking for—whether it's a bottle for a dinner party with a specific menu, or something to pair with Netflix and brownies—Ross's regimen will have you casually chatting to wine experts in no time.
On my second visit to Stanley's, I told the store's owner that I really enjoyed a dry Lambrusco I'd purchased there for a barbecue the week before, and that I was looking for other similarly-priced reds that could be served chilled but weren't too light. I also mentioned that I was looking for a taste that I described in the heat of the moment as "minerally."
I felt mildly ashamed of this word choice—not actually a word. But Ross assured me that blurting out made-up descriptions is preferable to being shamed into silence.
"The most important thing to learn the language of wine, is to just drink more wine and talk your way through it—sort of like you would with any foreign language," said Ross. "If you immerse yourself in Italy and try to learn Italian, you're going to be stumbling around for a little bit, but you're going to get it eventually."
She mentioned that a particular wine tasted to her like bougainvillea, a climbing shrub with pink, papery leaves. Bougainvillea doesn't have a smell, much less a taste. But it captures a mood.
"Bougainvillea reminds me of hot afternoon wind—it's a very California-specific thing," she said. "It's like a dusty wind that has a floral note, with a little bit of salt." But really, she added, "It doesn't fucking matter if someone understands what I mean by dusty bougainvillea." The point is to just to get the conversation going.
A framework for smelling, tasting, and describing
Admittedly, we're not all as poetic as Ross, and some waiters or sommeliers might not get the drift of "dusty bougainvillea." So it's good to have some common language to articulate what you like. According to Ross's book, primary aromas in wines fall into five basic categories: fruit, earth, floral, green, and spice, which can be further broken down into categories like "tree fruit," "noble rot," and "vegetable." Then there are secondary and tertiary aromas like tobacco, vanilla, and leather, that come from fermentation and aging.
My "minerally" description was an attempt to communicate an earthiness in the wine—a category that also includes aromas such as "wet gravel" and "potting soil." I've since learned from Ross the flavor I sometimes describe as "minerally" or "cave-y" might also be called "limestone." Other useful terms include the categories of sweet, sour, salt, bitter, and umami—as well as characteristics such as sweetness, acidity, tannin, body, and texture.
Start tasting wines—and taking notes on what you like—and soon you may be able to state, simply, as Ross did to me: "I like light wines with a lot of acidity," and take it from there.
Look, sniff, and swirl
When it came time to choose a bottle to open, I told Ross I'd been on a bit of a chilled red bender recently, to which she replied: "You're speaking my language." Without fanfare, we strolled up the aisles and Ross plucked a bottle called La Santa, with a white label and red lettering proclaiming it was made by Bichi, a natural winery based in Tecate, Mexico.
A barkeep put the bottle on ice for us, but we didn't wait long to fill our glasses. Maybe I was showing off a little, but I tried to demonstrate to Ross I paid attention to the steps from her book. First I observed the wine's cloudy neon cranberry shade in the glass. I gave it a swirl on the table. I smelled it. I sipped it. And then I took another sip and let the wine move all around my mouth: a step Ross refers to as "chewing" so that all your taste buds are exposed to the wine.
"Funky," I said, trying not to censor myself, because Ross had just told me I could say whatever I wanted.
"Right?" said Ross. "It's so funky and it smacks you with the acidity, but then it has that earthy depth to it, so if you wanted to pair it with actual dinner you could, but it's a perfect thing for this, where we're just hanging out and chatting. And I love the color of it."
Consider natural wines
As the bottle chilled, Ross and I did too. We talked about natural wine—the kind that is made from grapes grown without pesticides or irrigation and harvested without machines. Generally speaking, natural wines are made without chemical additives, are unfiltered, and are fermented with native yeast (as opposed to lab-grown yeasts).
Ross is a big believer in natural wines. "This is just like food," she said. "It's an agricultural product. You're putting it in your body. Think about what it is. It's not just grape juice." In her book, Ross equates supporting natural winemakers—most of whom are smaller producers—and local wine shops to shopping at her neighborhood farmer's market. It's a delight that's worthy of a few extra dollars.
"I just believe in being part of this other economy," she said. "I believe in small producers, small business, and these wines that are better for the environment and better for the consumer." 
Beyond that, natural wines might just be, well, better. The night before I met Ross, I'd returned from a road trip through Baja that took me on a tour through Mexico's beaches, deserts, and salt flats. Damn if the bottle of La Santa we shared didn't somehow capture all that sunshine and salt.
"That's why natural wines are so important," said Ross. "They are much better at expressing the land that they're from." She gave her glass a swirl and took a sip.
"To me it's like a very pungent cherry, cranberry with a dustiness to it, which I think is very telling of the terroir of Baja," she said. "It's a fuckin' desert, and you can kind of taste that in this. I guess this would be more of a desert wind with salt."
It's kind of magical, actually, I said.
"It's fucking magical."