This is part of our series on The gift of good TV. Stay tuned for new stories over the next four weeks. 
Streaming media players make great gifts for cord-cutters and casual streamers alike. But they're not one size fits all. The big four device makers—Amazon, Apple, Google, and Roku—each have collections of models with unique features and capabilities.
Whether shopping for a tech-savvy teen or introducing your parents to the wonders of streaming, Quartz can help you find the perfect media player for the cord-cutter in your life.
Media lovers on the go
A streaming stick is a great option for business travelers or anyone who is on the road a lot. It's compact, so they can take it with them and plug it into a TV at a hotel or Airbnb with an HDMI port, which frees that laptop up for work or play.
Amazon Fire TV Stick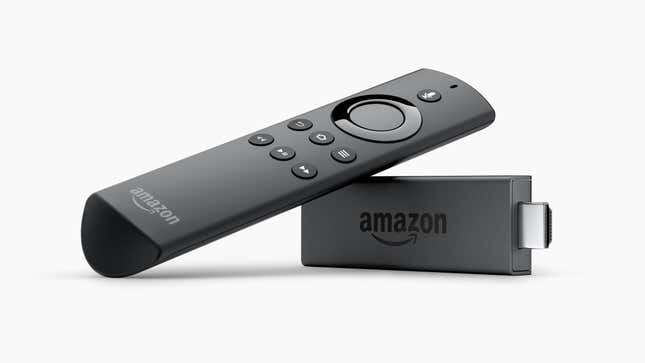 There are streaming sticks on the market from Amazon, Google, and Roku. Quartz likes the Amazon Fire TV Stick for travel because its ease of use, mix of features like Alexa voice control, breadth of content, and powerful hardware. It comes with a remote, but can be controlled just as easily through the Amazon Fire TV Remote app.
Price: $39.99 (It's marked down on Amazon to $24.99, now through Black Friday, Nov. 24.)
For luddites
Roku Express+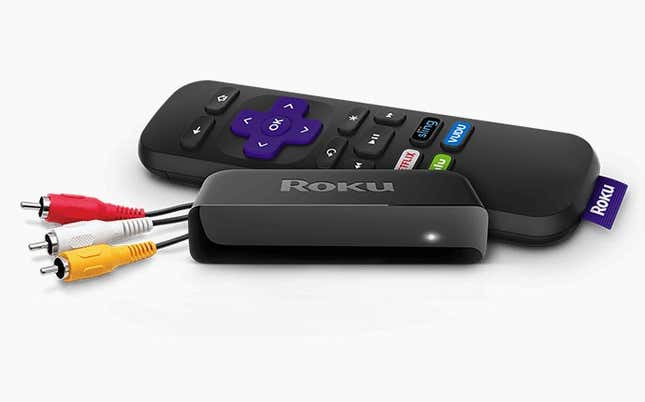 For the newly initiated, try a simple streaming device that's easy to use. The Roku Express+ is a great option. It's easy to navigate. And it works with all the major streaming apps like Netflix, HBO Now, and Amazon Prime, plus thousands of others. It also connects to old TVs that don't have HDMI ports. It has a composite audio-video port, so you can plug in to those red, white, and yellow jacks on the back of your TV.
Price: $39.99
For movie buffs
Apple TV 4K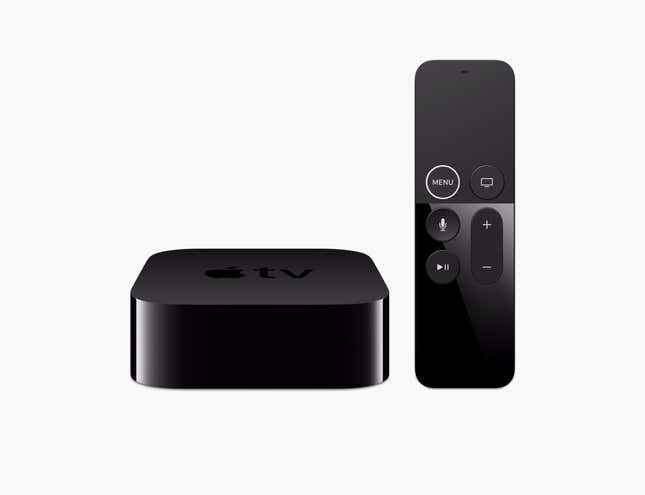 You'll want something a little more powerful than a streaming stick for your favorite cinephile—or anyone with a 4K TV. Apple has one of the best high-end media players out there. The Apple TV supports 4K, HDR, and Dolby Vision for the best picture quality. And it comes with Siri's universal search capabilities. 4K movies are also cheaper to buy on iTunes than on other marketplaces like Google Play and Vudu, which may save a little money in the long run. The device itself is one of the most expensive on the market.
Price: $179
For gamers
Chances are, the gamer in your life already has a game console, such as a PlayStation 4 or Xbox One, that doubles as a powerful media player. But, for streaming TV and other video apps, nothing beats the convenience and ease of a good, old-fashioned remote control. Consider buying one as an accessory.
Playstation 4
PDP makes a good Universal Media Remote for Playstation 4, and it doesn't require that you use the regular gaming controller to turn it on. It works best with apps like Netflix, YouTube, HBO Go, and Sony's live-TV service Playstation Vue.
Price: $29.99
Xbox One
Microsoft's own Xbox One Media Remote is a good, cheap way to navigate streaming video, TV, and the Blu-Ray player on the console. It has all the functionality of a standard remote. And it can control your cable or satellite set-top box through the Xbox's TV guide, OneGuide.
Price: $24.99
Nvidia Shield TV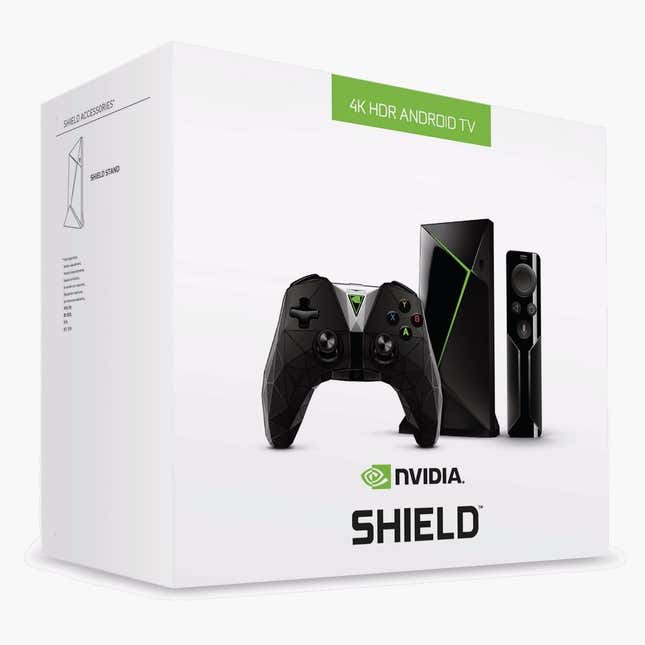 If the gamer in your life is of the PC persuasion, Nvidia has a streaming box that lets you cast your existing PC games to a TV, so you can play in the living room. The Nvidia Shield TV streams games over WiFi or ethernet from a PC powered by Nvidia's GeForce graphics card to a TV. It's also Android-ready, so it can connect to any Google-powered smart-home devices. And it supports 4K video.
Price: $199.99
For the Apple loyalist
Apple TV (4th generation)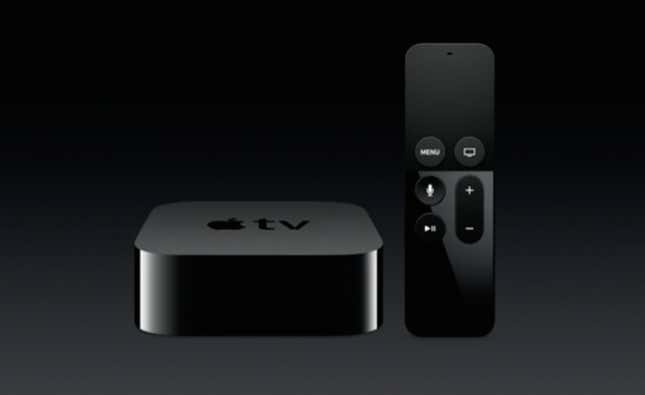 Apple loyalists probably prefer a device that syncs up with the rest of their hardware. That means the Apple TV. If you don't want to pay up for the 4k version, the fourth generation has a lot of the same features, minus the resolution and processing power.
Price: $149
For the Android loyalist
Chromecast Ultra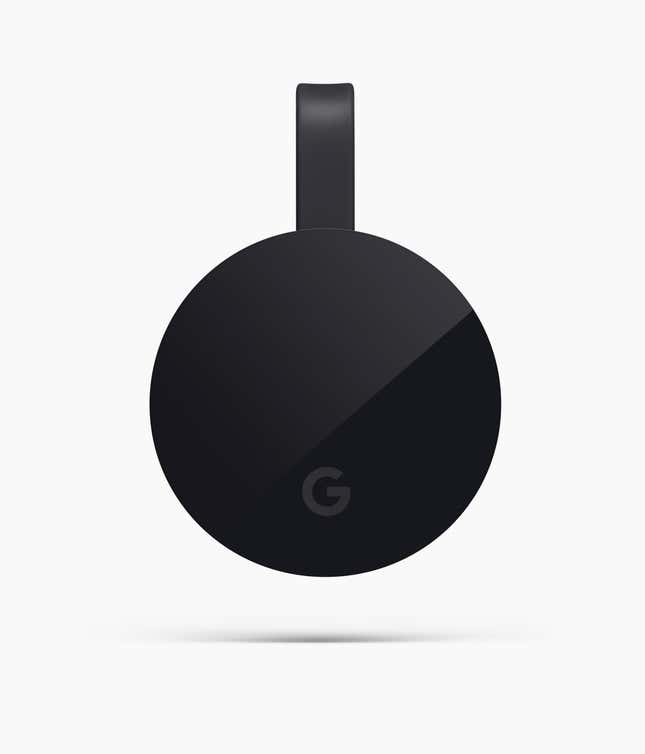 The same is true for Android loyalists. The Chromecast Ultra seamlessly mirrors desktop, tablet, or mobile screens on TV, and syncs with other Android devices. It works with YouTubeTV, Google's live-TV subscription, which isn't yet available on other streaming services, as well as a host of others apps. It supports 4K video. And it's half the price of the Apple TV.
Price: $69.
For creators
Google Chromecast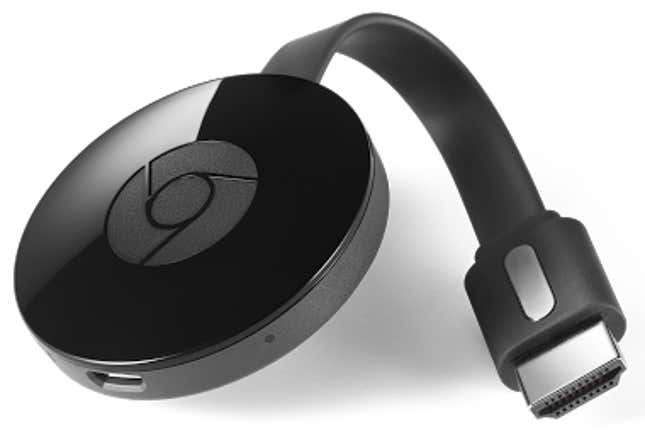 Chromecast is also a good option if your gift recipient likes to create and watch their own content—or just stream family photos and video. It has the slickest device mirroring capabilities of any streaming device on the market. It has most major apps, though not as many as the thousands on Roku and the Fire TV. And it's controlled entirely by your phone or a Chrome browser.
Price: $35
For the budget-conscious
Roku Express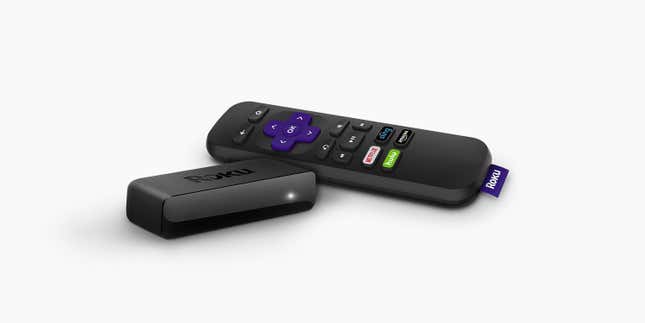 If you're working within a budget for a holiday grab bag, try the regular Roku Express. The HD streaming stick is the cheapest available. It's also a great stocking stuffer for cord-cutters who are watching their wallets. Roku, in general, prioritizes free content by surfacing free movies and TV shows across the platform first in search results.
The device does sacrifice some quality for its price. It isn't as fast as other Roku models and those from competitors on this list. It takes a few extra seconds to load apps, and lags when flipping through channels on power-hungry platforms like Sling TV or DirecTV Now that stream live TV. But once you're streaming, there's no noticeable difference in image or audio quality.
Price: $29.99
HD TV Antenna
For the cord-cutter on a budget, there's also this old-fashioned device—it's called a TV antenna. It allows you to stream broadcast channels like ABC, CBS, NBC, and Fox, absolutely free. Amazon has some great deals on antennas for the holidays, too
Price: Varies, but there are decent ones starting around $25.