Outside of paneer, the cottage-cheese-like cubes that add protein to curries and vegetable dishes, Indian cheese is mostly found in bright yellow blocks at the supermarket, or as a processed spread made by dairy giants such as Amul and Britannia.
Indians eat plenty of dairy products—milk, yogurt, and butter among them—but compared to other parts of the world, India's cheese consumption has always been relatively small. That's changing: A growing consumer class in big cities, with an increasingly eclectic and global set of appetites, has fueled a surge in sales of imported and domestic cheese. Retail volumes almost tripled to 29.45 thousand tonnes in 2016 from just 10.35 thousand tonnes in 2007, according to a recent report from the market research firm Mintel.
So far, it's processed cheeses that have dominated the market, accounting for 87% of retail sales, Mintel says. But natural cheeses are slowly gaining ground, spurred by urban demand, and an artisanal cheese movement is blooming, with local entrepreneurs experimenting with making Indian versions of European cheeses: brie, gouda, camembert, and more. In the three years to June 2017, Mintel says, 54% of hard, soft, fresh, and cream cheeses were made by Indian companies.
Indian natural cheese is a growing niche, with brands springing up across the country. These include Mumbai-based The Spotted Cow Fromagerie, known for its versions of brie and camembert; Srinagar-based Himalayan Products, which makes various flavoured goudas; and Coonoor-based Acres Wild, which produces ricotta, camembert, and gruyère, among others.
Say "Kodai" cheese
These new artisanal cheese-makers can learn from one of the country's oldest natural cheese-makers, which set up shop in the 1970s. Kodai Cheese was first established in Kodaikanal, in the southern state of Tamil Nadu, when an American living in the hill town decided to capitalize on its cool climate by making some cheddar. But his plans to sell the cheese didn't take off. In 1973, he sold the business to a local named Shanker, who went on to take the brand to another level.
Today, Kodai Cheese is still a family-run business, now located in the town of Bathlagundu, and helmed by Shanker's grandson, Harisanker. Every day, the company produces some 400 kg (882 lb) of smoked gouda, edam, parmesan, and other varieties, including a version of blue cheese.
A big chunk of its production is used to make an Alfredo pasta sauce that is exported, and some is sold to clients such as Domino's and other restaurants across India. The rest is sold at retail stores and through the grocery app Big Basket, priced between Rs240 ($3.70) and Rs345 ($5.40) for 200g.
Bombay Brie
For Prateeksh Mehra, a commercial photographer in Mumbai, making cheese started out as a hobby. He already enjoyed brewing his own beer at home, and the similarity of the processes (both brewing and cheese-making depend on fermentation) led him to experiment with making cheddar and gruyère.
After his samples went down well with early testers, Mehra and his brother decided to turn the hobby into a business, launching The Spotted Cow Fromagerie at the end of 2014. The brothers started out with their own versions of brie and camembert—both soft, cow's milk cheeses from France—that they called the "Bombrie" and the "Camembay," respectively.
The Spotted Cow Fromagerie now produces between 300 kg (661 lb) and 400 kg (882 lb) of cheese every month. The range includes a version of the Italian cheese robiola, called the "Rombay," and fresh cream cheeses flavored with herbs and spices. These are sold online and at gourmet grocery stores in major cities, and are on the menu at several high-end restaurants in Mumbai.
The Spotted Cow Fromagerie's brie starts at Rs500 ($7.80) for 200g, while the cream cheeses go for between Rs250 ($3.90) and Rs350 ($5.40). That makes them cheaper than imported brands but much more expensive than the mass-produced cheeses of Amul or Britannia, for instance.
For a section of urban Indian consumers, though, spending more on the good stuff isn't much of a concern, and the Spotted Cow's sales have almost doubled each year since the company was started, Mehra said. It's part of a cultural shift, he explained: "Now when people have parties, it's always a cheese platter with wine that is served, which was not there before."
A challenging environment for cheese
It's not easy to make natural cheese in India. "Getting your milk itself is the biggest challenge," Mehra explained. "Though we are one of the largest producers of milk, the quality of milk is really, really pathetic."
It's estimated that over 68% of the milk produced in India doesn't meet the standards established by the country's food safety authority. Despite safety standards being in place, many producers have been found selling adulterated milk (pdf) to increase its shelf life or, somewhat ironically, to even pass the adulteration test itself.
Another problem is India's cold-chain infrastructure. While the government has focused on plugging the gaps, the country's cold storage and distribution network is not up to snuff. That makes it difficult to transport perishable items, such as natural cheese made without preservatives, across long distances.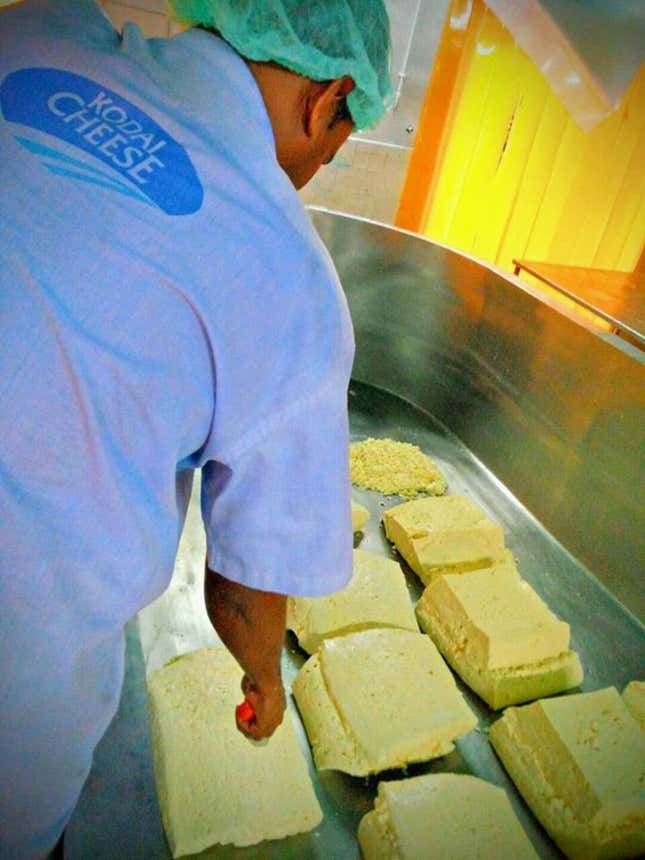 Kodai Cheese has also had to struggle with the poor quality of milk.
"(Adulteration) is very rampant in the industry today because companies are not scrutinizing quality, they accept whatever the farmer brings to the table," Harisanker told Quartz. The other issue is antibiotics, injected into the animals by vets, which seep into the milk and pose health risks for eventual consumers.
To address this, the company relies as much as possible on its own 750-acre farm or nearby farms. The company keeps in touch with nearby vets to avoid collecting milk from recently-injected animals, Harisanker said.
Kodai Cheese has also built up its own cold-chain infrastructure over the years, making it easier to serve markets as far away as Mumbai and New Delhi, where its products are sold the most.
Though the "difficulties are plentiful," Harisanker says, the potential for the industry is enormous. "If cheese does become a part of everybody's diet," he said, "I don't think we're producing enough to match the demand."