Terrorist attacks over the last few years have rocked some of world's most popular destinations. But while there are figures to show that these incidences have had a short-term impact on those local economies, it is something a lot more cultural and deep-rooted that keeps tourists traveling to their favorite destinations.
As France marks the two-year anniversary of the terrorist attacks that killed 130 in coordinated carnage across the capital in 2015, recent data points to the fact that the city's tourism industry—which suffered a significant dip in 2016—is slowly making a recovery.
On the face of it, this isn't unusual. Research from the World Travel and Tourism Council (WTTC) suggests that tourism industries take roughly a year to begin recovery from a terrorism event—which is a much shorter recovery period than a disease-related event (21.3 months) or an environmental disaster like a hurricane (23.8 months).
But things get more complex when you compare the performance of Paris' tourism industry to its cross-channel neighbor. Despite the fact that London has experienced attacks of its own in the past year, data from Euromonitor published earlier this month found that arrivals to London have risen 3.4%, despite the risks.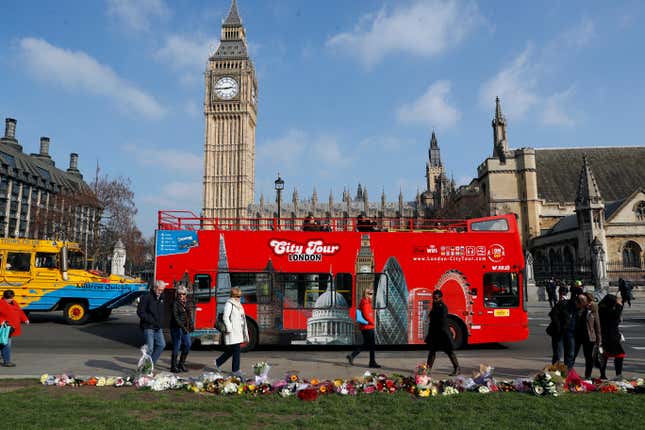 All of which begs the question: what determines why travelers avoid some destinations after a terror attack and don't fear others? And for that matter, how do we determine whether anything is safe with so much uncertainty dominating the headlines?
One reason—which is perhaps the most interesting one—is cultural.
The origin of where travelers come from (and the cultural biases they carry on to the plane or train with them) affects how they perceive travel risks, according to research: "tourists from United States, Hong Kong and Australia perceive more travel risks, feel less safe, were more anxious and reluctant to travel than tourists from United Kingdom, Canada and Greece."
While this particular study was done in 2006, travel industry analysts still believe these cultural preconceptions are significant motivators in the current climate. Rochelle Turner, research director for the WTTC, explains why: "We know that Americans—surprisingly, perhaps, because of [mass shooting] incidences that are happening in their own country—are very fearful of anything terror related," Turner said. "As well as for group travelers from southeast Asian markets—the Japanese and the Chinese who tend to come together in groups—terror is not really something that those countries have had to deal with, so you tend to get a lot of group cancellations at a time of an event like that." According to data from France's Direction Générale des Entreprises, American and Asian travelers account for 13% of France's visitors
You can see how these perceptions might be reinforced by both culture and history. The New York Times, for example, publishes headlines like "Is Europe Safe for Travelers?" stoking already-fearful misconceptions of "overseas." On the other hand, Brits have long been used to the idea of terror on your doorstep; the IRA bombings of the 1990s are the reason rubbish bins are hard to find on the Tube. British Transport Police slogans like "See it. Say it. Sorted." encourages vigilance on the part of commuters as a part of everyday life.
Other factors are at play in travelers' decision-making too. The scale of the Paris attack two years ago was particularly ghastly in terms of casualties, prompting the French government to declare a state of national emergency—which, thanks to further attacks, only recently ended on November 1—a designation which could inspire more alarm in would-be travelers. In addition, the weak pound post-Brexit is a lure to travelers coming to Britain, perhaps offsetting the loss of people who stay away because of the attacks.
Turner adds a slew of other factors that make a difference: "Is it tourists themselves who are targeted, or is it a tourist destination or just a city that happens to have tourists in it? What time of year matters too—is it at the start of a main booking season when people are starting to think about where to go? The amount of press and attention a given event gets matters too."
Fear can often feel irrational, but looking at the motivations and biases behind our fear helps distinguish smart decision-making from gut reactions or cultural bias.