When it comes to boarding aircrafts, there is the great divide: those who turn right and head down the aisles to economy seats, and those who turn left.
And increasingly, there is even more stratification among the leftward bound passengers, those booked in first and business class.
At last week's Dubai Air Show, Emirates unveiled the premium options for its new Boeing 777-300ER aircraft, which flies on its maiden journey Dec. 1. A promotional video—which, naturally, includes a tuxedoed Jeremy Clarkson—runs through a slew of unsurprisingly luxurious features, but one in particular points to a new trend in luxury travel: For its first class cabin, Emirates unveiled six fully self-contained suites (down from eight seats in a 1-2-1 configuration in the prior 777 layout).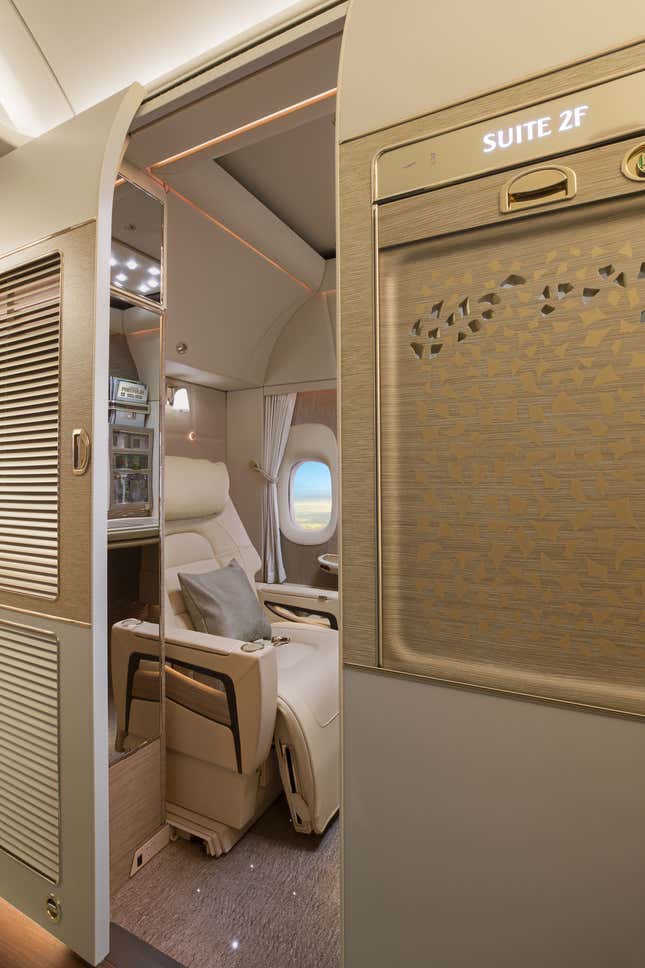 Complete solitude, it seems, is now the ultimate luxury. Long gone are the days where the first class traveler wants to see and be seen, mingling around the on-board bar. Today, luxury means being as walled off from other humans as possible.
While Emirates' new first class suites are not the first of their kind—Singapore Airlines debuted a similar setup in its first class earlier this month—they are reportedly the "first in the industry to be fully closed with sliding doors that extend to the cabin ceiling." These enclosed pods promise "hydra active pyjamas," Bulgari amenity kits, and personal light and temperature controls. You don't even have to interact with flight attendants, if that grates on you, and instead can be given your gourmet food and drinks through a service window.
When redesigning their business class cabin on the same aircraft, however, Emirates went in the opposite direction. They opted for a 2-3-2 seating arrangement—rather than the 2-1-2 arrangement which is used on the Emirates A380 and many other airlines' business class cabins. This means that there is not only a lack of aisle access for three business class passengers per row, but one of them has to sit in a dreaded middle seat.
The design has already been widely panned by the types of people who pan business class cabins: "Can you imagine booking a brand-new business-class seat on a world-class airline and sitting in between two other passengers? Yeah, no thanks," was the verdict of The Points Guy blog. It's a snarky take, but he has a point: It is curious that Emirates is simultaneously trumpeting isolation to its first class passengers as the ultimate in luxury, while expecting business class passengers to sit elbow-to-elbow.
But then again, the whole mechanics of seating in aircrafts comes with a kind of Dickensian suspension of belief. Despite accounting for only 5.2% of seat capacity industry-wide, according to the International Air Transport Association, luxury and premium products help keep airlines afloat financially. But perhaps more importantly, they are also a kind of branding exercise. There is an entire cottage industry on the internet devoted to reviewing, dissecting, and gawking at the heights of luxury available to a select few.
Perhaps it's a reasonable calculation. Never mind that only six people at a time can book Emirates' new first class suites—and that they've pissed off business travelers in the process. The breathless ogling those suites will get on the internet make it all worthwhile.