This is part of our series on The gift of good TV. Stay tuned for new stories over the next three weeks.
Imagine you've just moved into a new home, and decided to completely revamp your living room audio-visual setup. You're starting from scratch, and you want something that will truly impress your guests, as well as something you'll enjoy every time you listen to music or watch TV. So what would you do?
Here are Quartz's suggestions for creating the perfect living room setup (within reason) as the holiday season approaches. We've included a more aspirational and a more down-to-earth option to help you on the quest for the ideal home cinema setup.
Television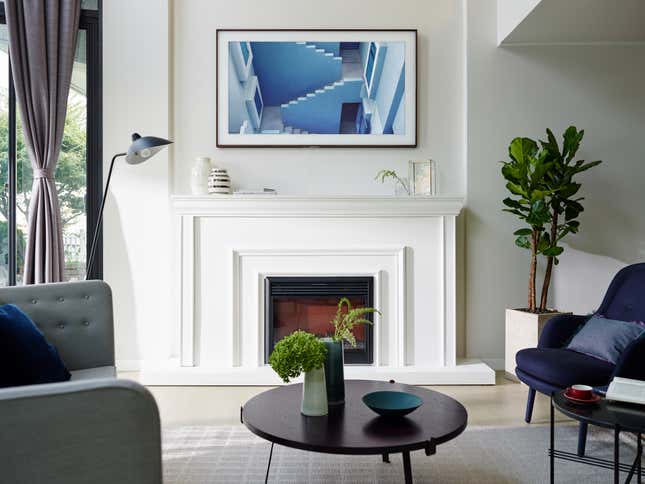 Samsung Frame TV 55″
Price: $1,999.99
If you're looking for a living room setup that isn't disrupted by the usual giant black rectangle that is a flatscreen mounted on a wall, the Frame is worth considering. As the name suggests, it can be hung as easily as a picture frame, and there's a low-power mode where you can leave the TV on showing images of artwork downloaded from Samsung's special store. The 4K TV also features Samsung's regular smart-TV operating system, meaning you can download all of your favorite streaming apps. But be warned: you'll still have to find somewhere to hide the guts of the TV, which live in a separate box that connects to the Frame with a near-invisible cable.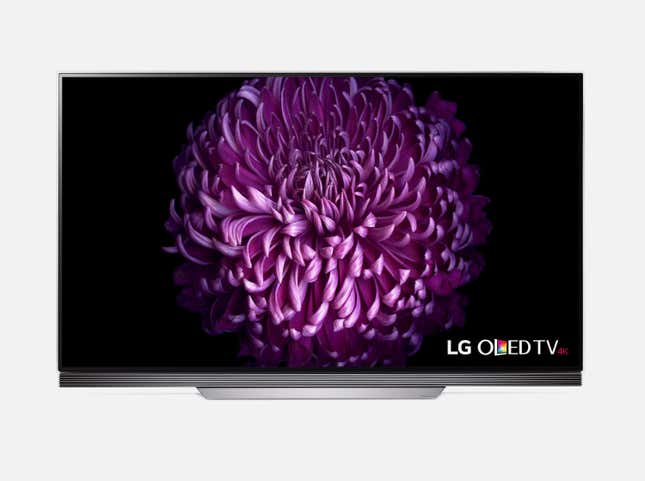 LG E7 OLED 65″ TV
Price: $3,999.99
If you're looking for something a little sharper and more high-tech, LG's top-of the-line OLED TV might be for you. I'm not sure I've seen a more vivid screen with darker blacks. Darkness on this screen appears more black than nighttime itself. This 4K television should serve you well for years to come, regardless of how high-definition your future Netflix shows are. The razor-thin bezels around the edges mean you won't be distracted by the TV's design as you binge-watch this season's new shows.
Speakers
Elac Debut Series 5.1 speaker system
Price: $1,219.89
Elac's minimalist surround-sound speaker system can deliver a lot of dynamic power in a relatively affordable package (the pieces can be purchased separately as well). The system can be controlled by an app that can help correct any sound distortion based on the shape of your room. So whether you're watching a blockbuster movie, playing the latest video game, or just watching the news, the system's sound should be rich and full.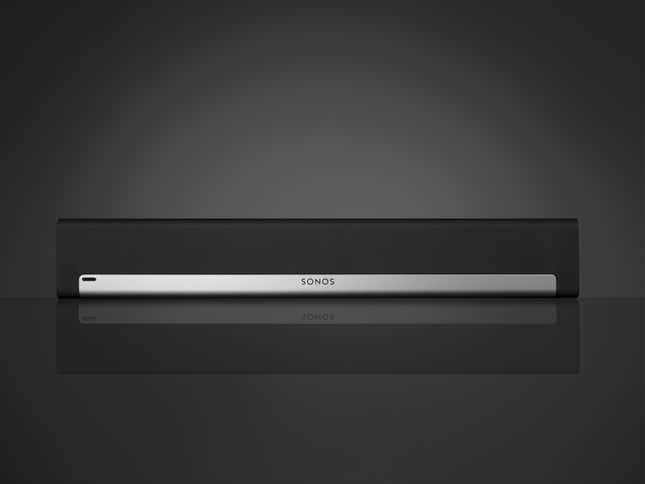 Sonos Playbar
Price: $699.00
If you want something simpler, a sound bar like Sonos' may be the more sensible option. It sits below your TV, and provides a surprisingly decent approximation of a surround-sound speaker system. The Playbar can also wirelessly sync to a Sonos subwoofer (which you can hide away behind your couch) for an additional $699, and can connect to smart speakers like the Amazon Echo.
Receiver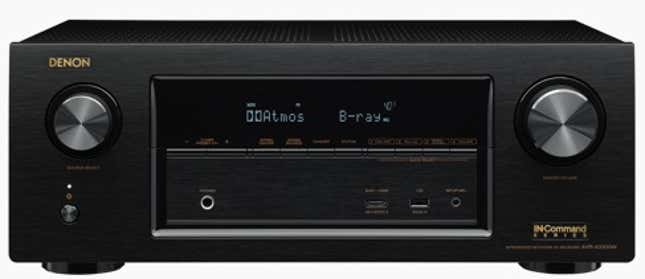 Denon AVR-X3300W
Price: $599.99
This powerful Denon receiver can connect just about anything to anything else, delivering a rich and vibrant sound in the process. There are nine HDMI inputs, a bevy of video connections, and all the requisite hookups for a surround-sound speaker system. There's built-in WiFi and Bluetooth, as well as Apple AirPlay, so streaming options abound. There should also be no problem linking up with your smart speaker of choice, and there's even an iPhone and Android app you can download to control the system if you've misplaced the remote.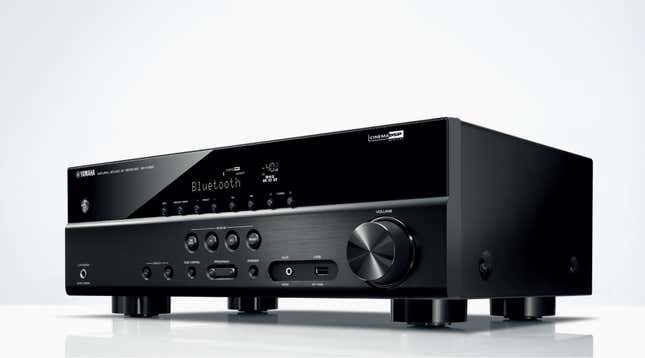 Yamaha RX-V383
Price: $279.99
If you want something a bit simpler, but equally good looking, that doesn't require firmware updates or apps, Yamaha's receiver may be your choice. It comes with Bluetooth, so you'll be able to stream from apps on compatible devices. It doesn't have quite as many ports as Denon's offering, but for a simple home audio system, it'll more than suffice.
Streaming device
Apple TV 4K
Price: $179.00
Apple's latest streaming device can connect to just about any cord-cutting service you're after, with a design and interface that iPhone owners will be used to. It can also stream in 4K, and the device's remote doubles as a motion-sensitive games controller, much like the original Nintendo Wii remote. It also has Apple's sometimes-helpful assistant Siri built in, to help search for movies and TV shows. You can also control your Apple TV with your iPhone if you can't remember where you put the remote.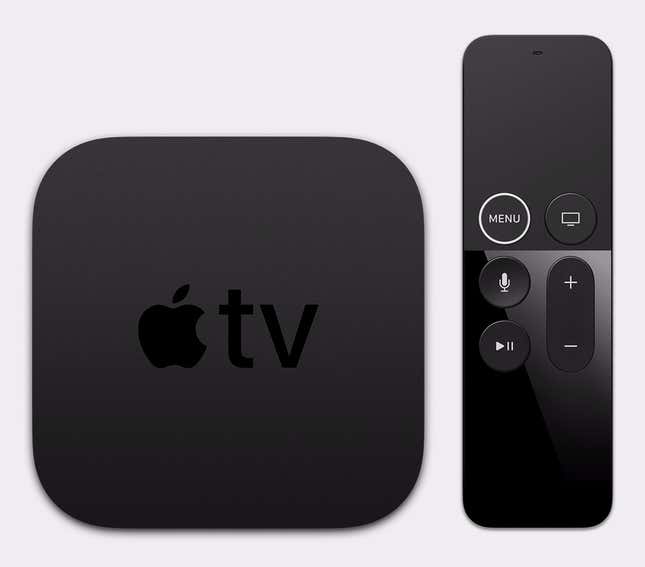 Google Chromecast Ultra
Price: $69.00
Google's answer to the Apple TV is cheaper, and also stays hidden out of sight, plugged into the back of your TV. It can connect to the same services as Apple's—as well as, crucially, Spotify. You need to use your smartphone to control it, as there's no remote included. It can also be controlled by Google Home smart speakers, in case you've ever wanted to impress a houseguest by telling an AI to turn on the latest episode of Westworld for you.
Record player
Orbit Turntable Lab Edition
Price: $419.00
Originally starting life as a Kickstarter project, Orbit has been making well-reviewed turntables for about four years now. The Turntable Lab Edition features a built-in preamp, meaning the stylish-looking record player will pair up nicely with the Denon receiver we've recommended above.
Fluance RT81 High Fidelity Vinyl Turntable
Price: $249.99
If you're after something a bit more affordable, but equally sleek, check out Fluance's turntable. Its walnut-wood cabinet will add a bit of a retro feel to your living room setup, while providing a reliable playback of even your oldest records.
Gaming system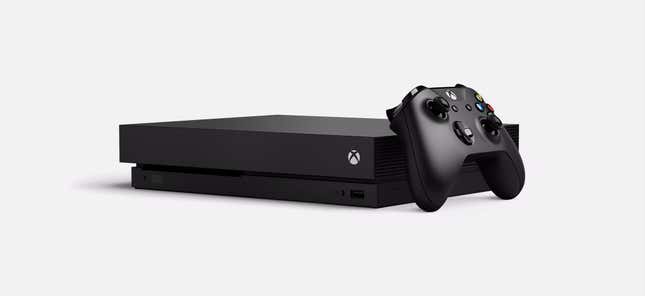 Xbox One X
Price: $499.00
Microsoft's latest gaming machine is its most powerful yet. It can easily play games on large 4K screens, stream from all of your favorite streaming services, and even tie into your cable box, meaning you can keep playing your games while watching your favorite shows in picture-in-picture mode. It'll also play any Xbox One game released over the last four years, and work with any accessory.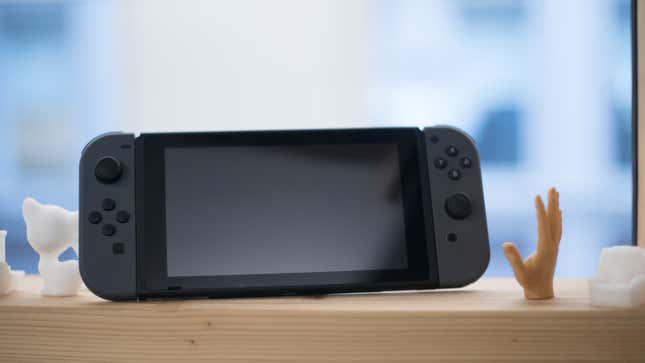 Nintendo Switch 
Price: $299.99
The Nintendo Switch is likely to be one of the hottest commodities this holiday season. It's unlike any console before it: You can plug it in and play on your television, or pull out the main tablet section, whip off the built-in controllers, and take your game with you anywhere. There's something special about being able to keep playing the same game on the airplane, the taxi home, and then in your living room, all from one machine.
Cables and other items
Tripp Lite Protect It! surge protector
Price: $26.53
Make sure to keep your new living room setup protected from power fluctuations with a decent surge protector, like Tripp Lite's 10-outlet suppressor.
Blue Jeans cables
Price: varies, $29.25 for 10-foot subwoofer cable
While there are some cables out there that promise perfect audio at an insanely high price, the truth is, for most people there's not a huge difference between cables. As long as you get the right gauge for the distance of cable you're running and and make sure they're made of oxygen-free copper with gold plated connectors (if you're using connectors), you should be fine. Blue Jeans' cables offer all of these features, plus you can customize the length.
Record storage shelves 
Price: $288 (for four)
How you store you records will be a matter of personal taste. But if you want something that will blend into your surroundings as much as possible, you won't go wrong with floating record shelves like these from UBD. Plus, you'll be able to show off just how great your taste in music is to everyone that visits your living room.
Correction: An earlier version of this post said that a subwoofer is included with the Sonos Playbar when it is in fact sold separately.