The newest Barbie doll has—as usual—a set of great cheekbones, a thousand-watt smile replete with pearly whites, enviable eyebrows, and another beautiful outfit to add to her Dream Closet. She also has brown skin and wears a hijab—making her the first Barbie in the 58-year history of the Mattel-owned doll franchise to sport the Muslim head-covering.
American beauty has long been defined by blonde-haired, blue-eyed Farrah Fawcett lookalikes. But icons of beauty such as Barbie, Allure, and Vogue have finally started recognize the full breadth of American women—some of whom are Muslim and wear the hijab.
The newest doll is based on a real American woman: the 31-year-old Olympic sabre fencer Ibtihaj Muhammad, who was the first Muslim American woman to wear a hijab while competing in the games for the United States. It's part of the Barbie Sheroes collection, celebrating accomplished women from various spheres.
Mattel has always described Barbie as a trendsetter, role model, and trailblazer for American women—a US President Barbie was first released in 1992, for example. And indeed, Muhammad said, the iconic doll inspired her as a child in New Jersey.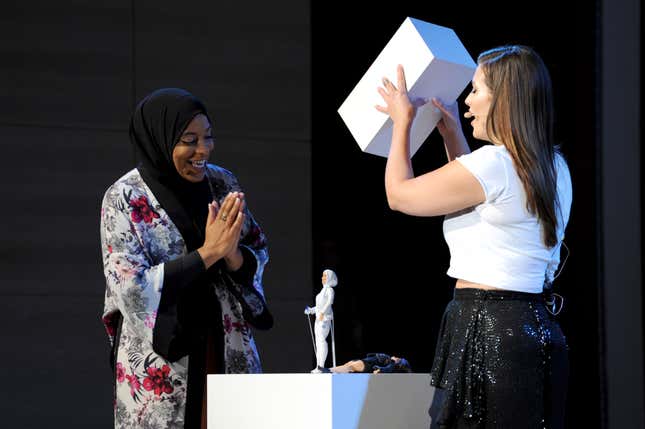 "Through playing with Barbie, I was able to imagine and dream about who I could become," Muhammad said in a public statement. "I love that my relationship with Barbie has come full circle, and now I have my own doll wearing a hijab that the next generation of girls can use to play out their own dreams."
In a video released by Glamour magazine for the Glamour Women of the Year Awards, Muhammad takes a tour of the Mattel factory and explains how the doll is exactly like herself—from the hair in a bun, to the muscled physique, to the fencing uniform complete with red-and-white Nike sneakers. She shows the design team how to tie a hijab.
In the video, she chats onstage with the plus-size supermodel Ashley Graham, holding her own Shero doll which was released in 2016. Both Barbie dolls were carefully constructed to not have the infamous and anatomically impossible Barbie body: Graham's doll has a round belly and thighs that touch and Muhammad's doll has the strong thighs of an Olympian.
"Growing up I was always told that my legs were big," Muhammad told ESPN. "Through sport, I've been able to learn to appreciate my body in all of its fullness and curviness."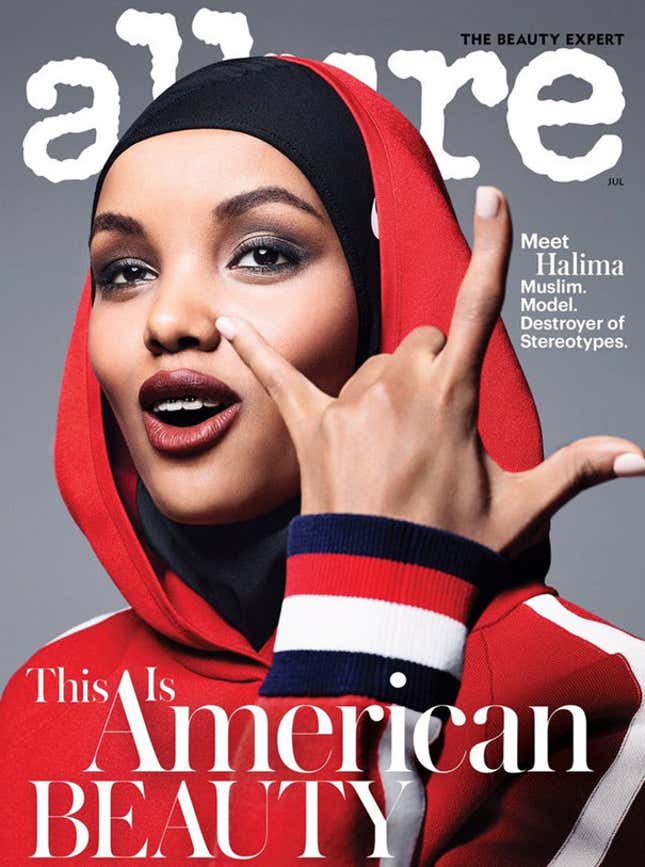 Earlier this year, 20-year-old model Halima Aden, the first contestant in the Miss Minnesota USA pageant to wear a hijab and burkini, was the cover star of the July 2017 issue of Allure, a Condé Nast beauty magazine led by editor in chief Michelle Lee. The tagline on the cover, and the theme of the issue, was: "This is American Beauty."
"Society puts so much pressure on girls to look a certain way," Aden told Allure. "I have much more to offer than my physical appearance, and a hijab protects me against 'You're too skinny,' 'You're too thick,' 'Look at her hips,' 'Look at her thigh gap.' I don't have to worry about that." (Aden was also the cover model of the very first issue of Dubai-based Vogue Arabia in June—an American Muslim model to represent Vogue in the Middle East.)
Barbie's Sheroes collection, which accounts for 5% of Barbie sales, has modeled dolls on the Olympic gymnast Gabby Douglas, the ballet dancer Misty Copeland, and the film director Ava DuVernay. Muhammad's doll will unfortunately not be ready for the holiday season. She won't hit shelves until 2018.